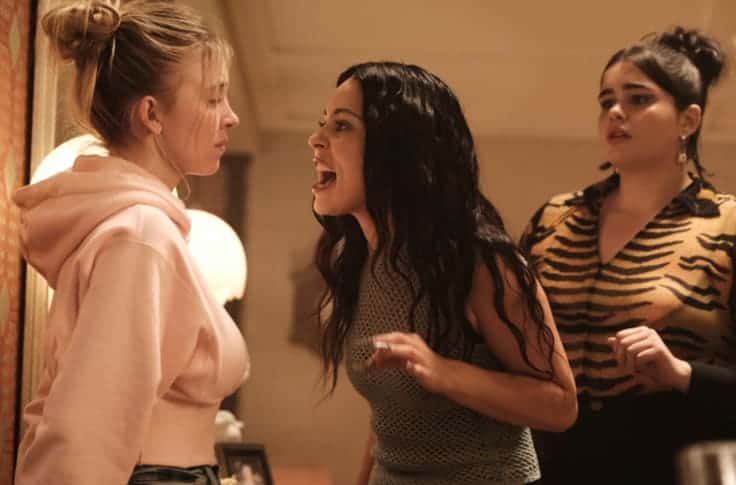 Even though it was one of the last streaming services to get up and running, HBOMax has quickly become a leader in the streaming space (mostly due to their affordable ad-free plans). Since the launch of HBOMax, and handful of originals have been released on the platform, and I've gotta say; I haven't seen one I didn't like yet. HBO is really hitting it out of the park with their original programming; and in order to get other people onto my HBOMax bandwagon, here's my suggestions for which original fits your zodiac sign!
Aries- Euphoria
Aries, you want something upbeat, overly dramatic, and plenty of pettiness to pick apart. Euphoria is just the thing for you (especially Season 2, girl, that was crazy). You'll be screaming at the screen saying, "Yes! You better freaking get it!". With Alexa Demie, Barbie Ferreira, Sydney Sweeney, and Zendaya at the helm, this show will take you on the trip of your life (quite literally–sorry, dumb joke). You'll live for the high-stakes drama, and completely forget these kids are supposed to be 17.
Taurus- Peacemaker
You want a solid, all-around choice, Taurus. You like your shows to have a little bit of everything; that's what's required to keep you interested. I really never thought I'd be saying this (seriously, read this article to hear my thoughts on Peacemaker), but it's a really solid show. It's got the humor, the mystery, the twists, the drama, and the emotional components that make this your overall choice. It's appealing to a mass audience, and the best part, is that you don't really have to know anything about the DC universe to dive right in!
Gemini- Run
You're a natural romantic, Gemini. You are the type of person that will stay up at night and think about your crush sweeping you off your feet and completely changing your life. And this show is absolutely perfect for you. It follows two young people who made a pact to run away together and drop everything in their lives if they both texted each other 'run'. Domnhall Gleeson outdoes himself in this performance, showing that he has so much more depth than just 'the funny skinny guy'. He's a bonafide heartbreaker in this thing. So grab those tissues, Gemini; you'll need them.
Cancer- The Sopranos
Cancer, you want something tried and true. You're not really into trying new things, especially new TV shows or movies. Fear not, Cancer, The Sopranos is the show for you. Follow the dramatic intricacies of the Italian mafia, and get invested in the unique storylines that are given to every single main cast member. It can be a lot to keep track of sometimes, but if you pay attention, you'll be hooked; watching this thing over and over and over again.
Leo- True Blood
Two words, Leo: Sex and Vampires. We all know that you're a passionate and aggressive individual, and you'll love the surprising gritty realism of this fantasy series. It's filled all the way to the top with genuine erotica and hard-hitting action sequences. It's all gas and no brakes for you, Leo, and this show comes completely off the hinges as the story unravels. You'll come for the sex scenes; you'll stay for the drama (even if you won't admit it).
Virgo- The Flight Attendant
The Flight Attendant surprised me, Virgo. I had heard some people say it wasn't good, but I actually really liked it. After a flight attendant wakes up hungover, in a random hotel room, with a dead guy in the bed and blood all over her; things start to derail. You'll invest yourself in the mystery, which doesn't reveal itself until the very last moment. It's poignant and heavy-hitting, plus it's a murder mystery, and we know you live for those, Virgo.
Libra- Chernobyl
Now, I have to warn you, Libra. Chernobyl doesn't hold back on its visual effects and storytelling. It tells the real story, the whole story, and nothing but the story of the tragic accident at the Chernobyl Power Plant in the late 80's. You get to see the entire disaster from start to finish, complete with sickening depictions of what real victims looked like just weeks after the accident. The series also does a great job keeping the drama and intrigue up until the very last second. You'll be nervous the whole time, especially the scenes between Jared Harris and Stellan Skarsgård; an absolute masterclass in tension.
Scorpio- Barry
You're an odd bird, Scorpio, so I had to pick something that was equally as odd as you are. Bill Hader stares as the title character, a former hitman and veteran who is now trying to become an actor in LA. Of course, things don't go well, and he gets swept back up into crime, detracting from his acting career and the normal life he wants to live. Yes, it's a comedy. Yes, it's a drama. Yes, there's genuine thrills and tension. And Bill Hader delivers the entire thing on a platter to you with a golden cloche. Such a solid show.
Sagittarius- The Righteous Gemstones
I don't know how, but this off-beat Danny McBride comedy became one of the funniest things on HBOMax. Sag, you live for a good comedy, because you're a naturally charming and funny individual. This show will deliver the laughs every. single. time. Every episode, from start to finish, is laugh-out-loud funny (especially if you're from a conservative Christian small town like I am). Never have I felt so seen by a TV show. Plus, who doesn't like taking a little jab at the fallacies of organized religion; it's all in good fun.
Capricorn- Mare of Easttown
Holy Mother Mary, Capricorn, this show is freaking amazing. Please, if you have never once taken my advice on a single zodiac article I've written, pay attention now. Kate Winslet reminds us why she's still one of the greatest actresses alive today, and Evan Peters absolutely serves as Detective Colin Zabel. Even for you Capricorn, and your typically high intelligence, this mystery is a tough one to figure out. And you'll never see anything coming–like, ever. Just watch it and thank me later.
Aquarius- Westworld
You were a freaky kid, Aquarius. So, I can only assume you grew up to be a sci-fi adult. In which case, there's no better stop for you than Westworld. Not only will this thriller serve you drama and mystery, but it also has the kind of social commentary that you live for; addressing the sentience of artificial life and intelligence. You'll keep yourself guessing with theories, but nothing will prepare you for the Season 1 finale–and it only gets more wild from there.
Pisces- The Sex Lives of College Girls
Pisces, watching these four young women bond and adapt over sexual exploration, social fumbles, and all the hardships that come with learning to fit in somewhere at college, will have you crying, laughing, and yelling at the television. The series comes from Mindy Kaling, so it's no shock that this show is funny, heartfelt, and poignant. You'll feel relieved at the cringe and heartbreak, knowing that we weren't alone, and some experiences are just universal.
Tell us what's wrong with this post? How could we improve it? :)
Let us improve this post!