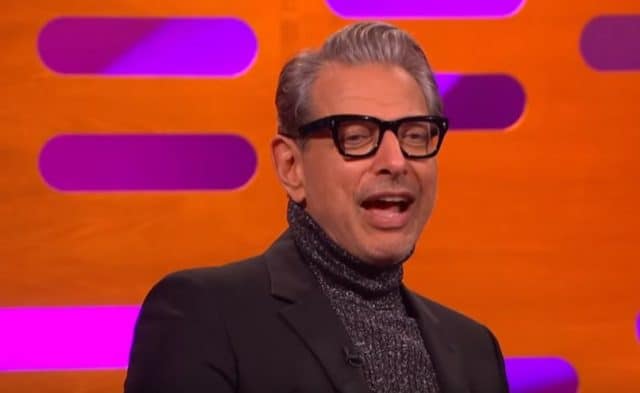 I kind of wonder if Jeff Goldblum's wife is as fond of these stories as he seems to be. Of course it could be a funny thing that she fully enjoys and would be nothing to worry over. Let's face facts, a lot of us have those stories about how we met our significant other or what happened within the first few dates. It's entertaining really to bring them up from time to time and let others in on just what happened. A lot of times it's funny enough or amusing enough to tell folks and expect them to laugh or at least smile in response to the story.
Besides, Jeff Goldblum is a lot funnier than he's made out to be sometimes. He has a manner that's just so calm, cool, and in the next second all over the place that you can't help but be excited to see what he'll do next. Every movie and TV show he's been in has been something special at one point or another simply because he's there and he's such a lively presence. Even the Independence Day movies, which were loved at first and then universally blasted it seems, were better with his presence than without.
Something about this guy just makes him the life of the party no matter where he's at. He's definitely been involved with some very ill-conceived projects but he's still played his part beautifully and without any real trouble. Now to think that he has a wife who is a contortionist is kind of funny since you can imagine his reaction and just how many stories he could get out of this fact. Given that she is a contortionist and is able to bend and fold her body in so many different ways I understand the naughty implications of it since he seems to be at least a little candid. It's natural, and so long as it doesn't get too dirty it's definitely okay.
His wife is likely already a very understanding woman, one would hope, and wouldn't mind him telling a few stories here and there about what she can do. So long as it doesn't go into anything too personal there doesn't seem to be anything to get truly upset about. And for as long as he's been acting Jeff Goldblum has been a class act and not prone to really being nasty or out of control. In fact he's often been the guy that won't go to that edge unless he happens to be playing a character that's being directed to go to that point. Remember the remake of The Fly? He got extremely edgy in that one and yet he was still great for the role.
This guy is just awesome, that's all that needs to be said. As an actor he gets underrated way too often and as a person he seems like someone that you could talk to for hours on end and not get bored. Plus, from all reports to date he sounds like a nice guy.