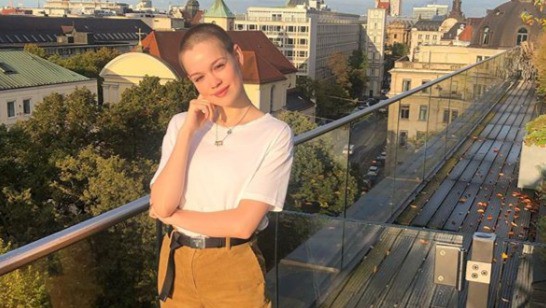 Our '10 Things' list this time around focuses on someone who really hasn't made a name for herself in the United States, and is just beginning to draw the world's attention to her work. Since most of the individuals that our lists are talk are people whose names we have heard and whose faces we have at least seen in magazines or on entertainment television, we thought it would be a refreshing change to feature a personality who we are actually introducing to most of our readers.
German actress Emilia Schule's name may not get brought up in our casual conversations, but in Germany she has appeared in around 25 films and television programs, has been nominated for awards for her work, and is very well known to the star-gazing public. At the ripe old age of 27, Emilia has been actively working since since 2005, when she was just 13-years-old. The fact is that we are the ones who are ignorant when it comes to Miss Schule; she is already a famous actress in Germany who has carved out her niche in the entertainment industry.
We think it's pretty safe to skip out on asking you how much about her you really know. Chances are it isn't much. She just isn't someone who graces our television sets or big movie theater screens, so therefore we aren't going to easily find an interview with her in 'People' or Entertainment Weekly'. As a matter of fact, you won't likely run into her on the Internet, either. No, you actually have to feed this girl's name into Google to learn about her. The good news is, that is a step that today's list does help you skip, because we've already done the homework. You won't be learning about Emilia on your own today, because all of this was news to us when we read it too. So, sit back, relax, and get to know this talented young German actress who we are sure to see on a regular basis here on the homefront before we know it.
Here are 10 things you didn't know about Emilia Schule:
1. A German Russian, or a Russian German?
Emilia was born on November 28, 1992 in Blagoveshchensk, Russia. However, she is of German ancestry, and she and her family moved back, taking up residence in Berlin, when she was only one. While still a child she studied ballet, modern dance, and street dance, which likely fed her desire to be in the limelight. While in her teens she went to a talent development workshop, which taught her a lot, and she also appeared in many commercials, including spots for Clearasil and IKEA.
2. American Ice Breaker
While she is famous in Germany, Emilia does have experience working on an American film, but not as you might expect. She did a voice part in 'How to Train Your Dragon', so her voice may be familiar to some of you out there, but without seeing her face, she isn't readily recognizable to any of us. So, the truth of the matter is that she has broken the ice here professionally, we just didn't know it. That changes today, thank you.
3. Social Media
The fact that Emilia is very active on the social media front will definitely help her build her American fan base. For those who are fast becoming fans, or anyone who is a fan after watching one of her German movies or TV shows, you can find her on Twitter at @Emilia_Schuele, and on Instagram at @emilia.shuele. She is also active on Facebook and LinkedIn.
4. Zodiac and Star Sign Traits
Since she was born on November 28, 1992, Emilia is a Sagittarius who was born in the Year of the Monkey. According to Compatible Astrology, Sagittarius women can be something of a handful due to their independent and wild nature. These females are the members of the zodiac that have something of a feisty, sassy streak, and they like to socialize, have fun, and go on different adventures. They don't like to waste a single second of their lives. Sagittarians say it like it is, and are typically honest to a fault. Though they like to be spontaneous and inspirational, people who are more laid back may view them as impatient and mean, as their honesty and spontaneity mix together and come out as harshness. Above all, they want to be independent and free, , and they despise feeling any sense of obligation or entrapment. Year of the Monkey children are usually laid-back and intelligent. They also tend to be physically beautiful, and have a knack for being the life of the party.
5. Awards and Nominations
As an actress on television and in film in her native land of Germany, Emilia has both been nominated for, and has won, awards for her work. She was nominated for a 2017 Bambi award for her work in 'High Society', as well as being nominated for a 2016 Bravo Otto Wahl award for another film. As far as awards, in 2007 she won both a German Actors' award, and she a Golden Cameras award for the same year. She also won an Undine Award, and in 2014 she won a German Screen Actors award for best young actress.
6. Net Worth
While there really isn't much information availably which would tell us Emilia's per episode or per movie salary, what kind of car she drives, and other superfluous stuff, can give you her approximate net worth as of this year. According to Wiki Famous People, she has a net worth with an incredibly broad range, between $100k and $1 million. Her main source of income is through her job as a film and television actress, and while we all know they make pretty good money, we have to consider the fact that she lives and works in Germany. With that being said, we'll add that Germany's film and TV industry is nowhere near where it is here in America. I would guess that since she has so many jobs on her resume, her net worth is closer to $1 million than $100k all day long.
7. Spouse? Married? Children?
Pretty much all sources out there say that Emilia is NOT married, and she has no children at this point in her life. When it comes to her current relationship status, Emilia is single, which is likely a wise move since she is constantly working, and projects are landing in her lap like mad. Pretty boring so far, right? Well, we'd hate to keep disappointing you, but to date there is no conclusive record regarding her past relationshpis, except for one. FamousGermans.com states clearly that Emilia was in a seven year relationship with fellow actor Jannis Niewohner; the two broke up in 2015. In all, the pair also co-starred in five different films together. We can also assume that this beautiful young lady has dated others, and very well may be right now, but most stars learn from the git-go how to keep their relationships off social media; she's likely just living under wraps and keeping to herself. Keep in mind that social media is a great place to pick up info on celebrity loves, and see some selfies as well.
8. Spoken Languages
Since she grew up in Germany, and since she is German by birth, Schule like knew how to speak German from a very young age, if not from the very time she began to speak. According to Lufthansa.com, she can also speak some Russian, though she makes clear that her Russian is far from perfect, and she can seem to get the rolling r's right. As for English, sources aren't clear on whether she can speak this language fluently or not, but we are more than willing to be that she is in the process of learning to speak English and project it. At least, she would be if her agent is any good at all; she'll need English to break out in film and television here in the western part of the world. The only real definitive word on whether or not she speaks English is the European Talent Network site, and they say she does, indeed, speak English. Well, maybe the rest of the online media world will catch on and update their information.
9. The Doctors' Daughter
Few may know that both of Emilia's parents are physicians, which makes one wonder where she got the yen to act from. Anyway, when they took Emilia to Germany to live at the age of one they didn't know how to speak German themselves, so the three of them learned their own native language together.
10. Acting Out the American Dream
2019"sUSA television series 'Treadstone' is actually based on the Jason Bourne series that has proven so incredibly popular over the years, yet is strictly a television series. The good news is that Emilia is in the show, so we can safely say that she has officially broken out into American entertainment. Now we can keep our eyes open with full expectations of seeing more of this talented actress in the future.
Well, Emilia Schule has certainly lived an entertaining life, between being raised by doctors, being a Russian-born German, and becoming a successful actress at a young age. No matter where entertainers reside, it seems that the ultimate goal is always to work in America, and since she has gotten a start in that area, she won't likely have to do much to keep the ball rolling in the right direction. We wish her nothing but the best, and hope she experiences success in all she does, both here in the States and her homeland.