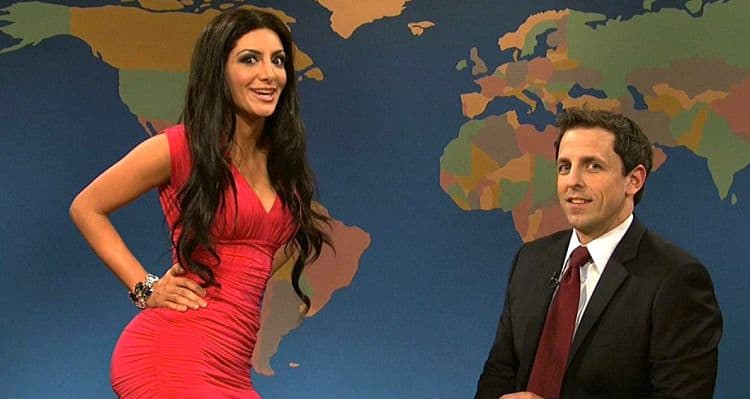 The issue of representation in Hollywood goes far beyond just black and white. People of all backgrounds should be able to look to film and television and feel properly represented, which will allow them to better connect with the movie or show. Thankfully, today's entertainment industry is overflowing with talent from all parts of the world. One of the most talented and hilarious performers working today is Nasim Pedrad, an actor and comedian from Iran.
Pedrad spent the first couple years of her life in Iran before moving to the US with her family. She has earned herself a considerable following thanks to her work on Saturday Night Live, although fans will also recognize her from New Girl, and Scream Queens. Today, she can be seen starring in the smash hit People of Earth. For those who want to know more about this gifted performer, here are five of the most interesting facts about Nasim Pedrad.
5. She started out with sketch comedy
Although today Pedrad is accustomed to playing recurring or lead characters in television series, she got her start with sketch comedy. Her background is nothing to scoff at, as she performed with some of the country's most prestigious organizations. This included performing with The Groundlings and the Upright Citizens Brigade. One of her most successful performances was her one-woman show, Me, Myself & Iran.
4. She is well educated
Pedrad has the type of comedic ability that seems effortless and spontaneous. However, she did not achieve the success she enjoys today through natural talent alone. Instead, she has devoted a great deal of time and effort into perfecting her craft. Most notably, this included earning a degree in theater from the UCLA School of Theatre.
3. She was encouraged to audition for SNL by an iconic cast member
Having the support of other actors is, of course, a big deal for a young performer. Having the support of one of SNL's greatest cast members is something else altogether. Pedrad was lucky enough to perform in front of the incredible Tina Fey. After the performance, Fey encouraged Pedrad to audition for SNL. Like anyone would, Pedrad listened to this advice and auditioned. She would go on to become one of the most popular and prolific cast members on the show.
2. She is not the only entertainer in her family
Hard work, education, and determination can account for much of Pedrad's success. However, she also likely benefits from genetics as well, as her sister Nina has also found success in the entertainment industry. Nina Pedrad has seen incredible success in the same industry as her sister, but she does her work behind the scenes. She is a highly talented comedy writer and has worked on shows like 30 Rock.
1. She was the first female Middle-Eastern SNL cast member
Pedrad brings a great deal to the shows that she works on, such as her humor and talent. However, she has also helped shows become more diverse and representative for audiences. Most notably, Pedrad has the distinction of being the first female Middle-Eastern cast member on SNL. Her work is important because it shows that people of all backgrounds and heritages can contribute to the North American entertainment industry.
Final Thoughts
Nasim Pedrad has emerged as one of the most hilarious, talented, and charismatic performers working today. Her characters on SNL were some of the funniest and most creative in recent history. With her education, background in sketch comedy, and support from fellow performers, it is no surprise that she has achieved such tremendous success. Pedrad is an excellent example of why Hollywood needs more opportunities for Middle-Eastern women to showcase their abilities.