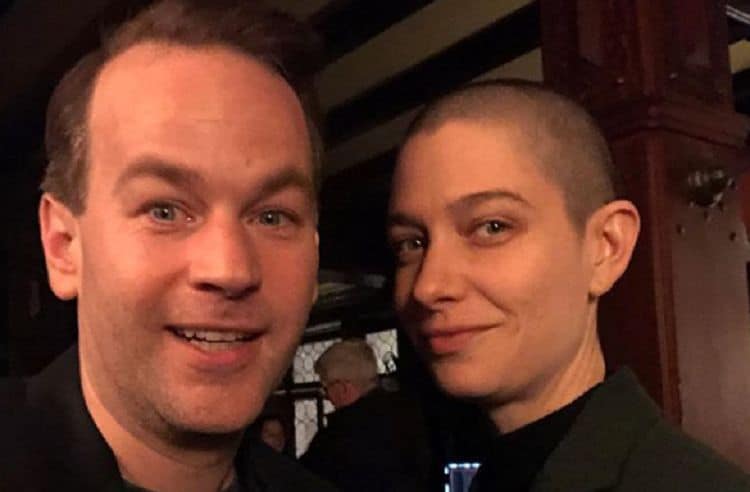 In the world of comedy, you need to reinvent yourself constantly to remain relevant. If there is one comedian who has managed to stay afloat in the industry for a sustained period, it is Mike Birbiglia. He is versatile and has sneaked into other ventures to remain relevant. Unlike many in the entertainment industry, Mike keeps his personal life on the lock behind the scenes. As such, not much is available about him unless the little he shares. To know more about this standup comedian, hold on as we take you through ten things you may not know about him.
1. His Ethnicity
Mike Birbiglia is an American born in Worchester, Massachusetts. He is of mixed ethnicity, where he describes himself as of part Italian ancestry. His father, Vincent Paul Birbiglia, is of Italian descent. On the other hand, his mother, Mary Jean, is of mixed ancestry, with his maternal grandfather being the son of Irish migrants. Apart from Irish ancestry she also has some English and Dutch origins as evident from Ethnicity of Celebs. Mike has a diverse background when looking at his vast ethnicity.
2. Comedy Beginnings
Mike Birbiglia traces his beginnings in comedy to when he was sixteen years old. According to the Washington Post, he attended a Steven wright show where he laughed until his face muscles ached. The show changed Birbiglia's view of the world and later that day at home, he took out a notebook and pen ad started putting down jokes, despite having no idea on how to go about it. Using his first style in comedy, he created a foundation for himself, which saw him win a Georgetown standup competition. He joined the improv group while on campus and helped cement his career in comedy.
3. Education
Mike attended was in St. John's high school in Shrewsbury, Massachusetts, where he attended school for a year. He then moved to St. Mark's School in Southborough, Massachusetts, where he graduated from in 1996. At St. Mark's, he was classmates with future Star Trek: Discovery co-executive producer, John Nardino who describes him as a hustler and a go-getter. Nardino, who is also best friends with Birbiglia, later joined him at Georgetown University, where they were also classmates. He majored in English and graduated in the class of 2000.
4. Family
Mike Birbiglia is the youngest son to Vincent and Mary Birbiglia. He has three other siblings, two sisters, Gina and Patti Birbiglia, and a brother Joe Birbiglia. His brother is an award-winning screenwriter. He is married to Jen Birbiglia who he credits to being a large part of his career, primarily his source material. She is a poet and a writer, and together, they have a daughter Oona Birbiglia who was a source of daddy jokes from Mike before her birth. The two got married in 2007.
5. Writing Career
Aside from standup comedy, Mike is also a proficient writer doing some work on screenplays and even books. Described as a great storyteller, he gives life to his stories the same way he does with comedy – adding some humor to liven up the plot. Among his works include Sleepwalk with Me: And Other Painful Stories, which he published in 2010. The other is 2013 published My Girlfriend's Boyfriend, and the to-be-published The New One: Painfully True Stories from a Reluctant Dad.
6. Career Behind The Silver Screen
Being in the entertainment scene, he has been able to get into film and television quite easily. He has a rich filmography that has had him nominated and win awards. Most of the films he features in are comedies, including 'Going The Distance' released in 2010, 2011's 'Your Sister's Sister', and 2014's 'Adult Beginners', where he takes the role of Braden among several others. In television, he features in several episodes of shows such as 'Orange Is The New Black', 'Billions', and 'Summer Camp Island'. His transition from writing, standup comedy, and acting shows how versatile he is in every role he takes as he brings his best.
7. Nominations and Awards
Throughout his illustrious career, Mike Birbiglia has managed to get a ton of nominations and awards to his name. If you understand the entertainment scene, you know how significant awards are to the recipient. Among his nominations include 2009 Nightlife Awards, Outer Critics Circle, and Drama Desk for Outstanding Solo Show on 'Sleepwalk With Me'. He won the Nightlife awards. Other winnings include the 2012 Sundance Festival's Best of NEXT award for the 'Sleepwalk with Me' film. He also took home the award for Screen Actors Guild Award in Outstanding Performance by an Ensemble in a Comedy Series category for 'Orange is The New Black'.
8. He Has A Sleep Disorder
Birbiglia suffers from a sleep disorder, rapid eye movement. It causes the affected to act out in their dreams. As per reports from The Gazette, Mike Birbiglia had such a bout in 2005 which caused him to jump off a window of a hotel in Washington where he was on tour. From the incident, he got 33 stitches on his leg.
9. Philanthropy
The comedian takes part in philanthropy for various causes. A notable effort that he and fellow comedian Jim Gaffigan and John Mulaney, all alumni of Georgetown, raised $1million to support the university's first-generation students.
10. Political Views
He is not so much into politics but will once in a while talk about an issue or two on his social media handles or interviews. In 2017 he chimed in on how Trump is killing comedy courtesy of his antics as seen on Slate.
Final Word
Mike Birbiglia is a key figure in the world of comedy, noted for his smooth transition into other fields such as acting and writing. He is excellent in standup comedy having being in the scene for almost two decades. You can watch some of his films, or previous comedy shows to have a glimpse of his performance.