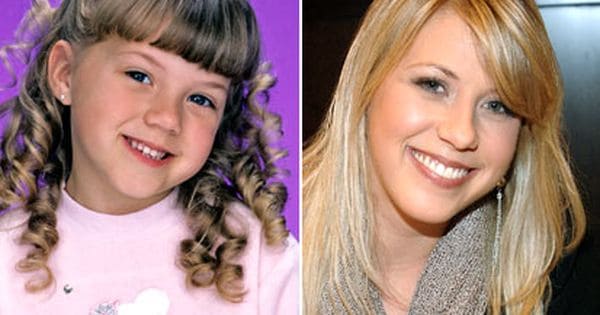 When Full House went off the air it was enough for some people to wonder just where everyone would go now that one of America's favorite TV shows was gone. A few of them went on to do other things and stayed busy for a while, while a couple others kind of dropped off the map to do their own things that didn't amount to much but were still capable of keeping them afloat. Jodie Sweetin was one of the most recognizable of the bunch to those that had watched the show, and yet she was probably one of those that didn't do a whole lot once the show was over, at least not until she got a little older. You've got to remember that she was 13 when the show ended, and by that measure she still had a lot of potential to tap. But despite that she didn't really start making a comeback until just a few years ago.
Here are a few other things you might not have known about Jodie.
10. Jodie's career started when she was 4 years old.
She was in a hot dog commercial to start with and this was how she managed to get noticed by those that would take an interest in keeping her career going. She's been in a few commercials throughout her career, but Full House was by and large the one thing in her history so far that's been the clincher when it comes to her legacy.
9. She's stayed pretty close with some of her Full House costars.
In truth she still is pretty close with them since the group spent a lot of time together throughout the years and became like another family to each other. Candace Cameron was even the matron of honor at her wedding, so that says that they did in fact become pretty close.
8. Her goal was to become a set tutor for underage actors.
Jodie wanted to be a teacher when she started out but acting seemed to call to her instead. There's nothing to say she couldn't still reach her dream since she's got enough experience and the kind of pull that might be able to allow her to get her education and then perhaps tutor those young stars that have no time for a traditional school experience.
7. At one time she had a heavy meth addiction.
One thing that many of us know by now is that a lot of child stars have gone down this rather depressing road since history has been filled with those underage drinkers and drug users that have had to learn the hard way that a quick high is not a solution to their problems. She's been very candid about her problem and has thankfully recovered over the years.
6. She's been open about the fact that she's adopted.
There was a time when adoption seemed to be likened to a dirty word since it seemed to imply that a mother couldn't get pregnant on her own and therefore she wasn't cut out to be the mothering type. Obviously this has been proven wrong since adoption is now something that people see as a chance for many children to lead a better life than they might if left to the system.
5. Jodie is the only one to show up in every episode of Full House.
That's saying a lot considering how many episodes there are and the fact that as a child the schedules that are normally run on such sets would be increasingly difficult since show business doesn't always slow down for younger stars.
4. She's not really interested in acting full-time.
Jodie has other things she'd like to do and other interests to explore, but leaving show business entirely is not her goal. She's enjoyed herself on the set too much to just give it all up and walk away.
3. She's still easy to recognize, though people are somehow surprised by how much she's grown.
It's amazing that some people seem to think that stars are meant to be trapped in time like a mosquito in amber, never changing and always staying just as they were. There's no doubt she's still easy to recognize, but she's matured into a woman and yet somehow that still causes people to wonder where the time went.
2. Jodie was married in Las Vegas at a place on the Vegas strip.
The only reason this is really seen as something is because a lot of times you hear about celebrities of any rank or stature getting married in impressive hotels, churches, or various other sites that are meant to inspire awe and a sense of grandeur. The Vegas strip is the kind of place you get married when you're dead drunk according to some people.
1. She skipped a grade in elementary school.
A few of us have likely known at least one or two people like this in our lives that have been able to skip a grade since they were simply too advanced to be held at the same level as their peers.
Jodie has definitely established herself as a mature and confident woman, now it's a matter of keeping her career alive.