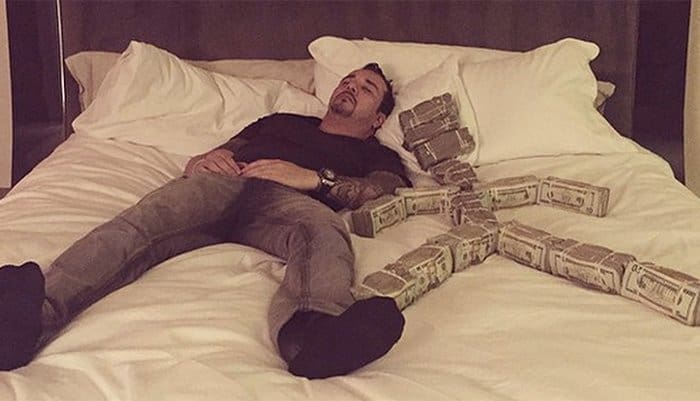 There was once a time where Tony Toutouni was best-known for posting bizarre content on Instagram. Since 2018, however, he's become most well-known for an equally bizarre lawsuit in which he alleged that Instagram model, Deyana Mounira, was sexually inappropriate with his dog during a photoshoot. Deyana has always denied the claims, and now she is fighting back with a lawsuit of her own. The new suit has both of them back in the spotlight and it's left lots of people wanting to know more about Tony. After all, many of the stories involving him often sound stranger than fiction. Continue reading for 10 things you didn't know about Tony Toutouni.
1. He Believes Feminists Hate Their Lives
If you've ever seen any of Tony's posts on Instagram, it's clear to see why he and someone who strongly believes in women's rights wouldn't see eye to eye. After all, many of Tony's posts are what many would consider degrading to women. Tony, however, believes that feminists and women's rights groups are the problem. He said, "I get a lot of feminist groups and religious groups that message me and say things on my direct messages, I get slaughtered by them, they send so many messages. They probably hate their own lives."
2. Deyana Mounira Has Made Some Major Allegations About Him
As mentioned earlier, most people are familiar with Tony because of the 2018 he filed against Deyana Mounira. In her counter suit, not only does she claim that Tony's allegations involving her and his dog are false, she also makes some allegations about Tony. In her lawsuit, Mounira claims that Tony sexually harassed her during the photo shoot.
3. He's Gone Private On Social Media
Tony is popular for posting all sorts of wild things on his Instagram, but these days it looks like he isn't wanting to draw as much attention to himself. At the moment, his Instagram account is private. This may have something to do with Mounira's lawsuit against him.
4. He Is Originally From Iran
Tony was born in Iran and there are many people who consider his story a classic tale about the magic of the American Dream. We're unsure when he relocated to the United States, however, he has spent much of his life living in California where he still resides.
5. He Bought A Nightclub When He Was Just 19-Years-Old
When it comes to this entrepreneur life, Tony isn't new to it; he's true to it. He bought his first nightclub in California when he was just 19-years-old and after growing the business, he sold it for a profit. Tony has continued this pattern with clubs and other businesses throughout his career.
6. He Doesn't Care What Anyone Thinks About Him
If there's one thing that has always been true about Tony, it's the fact that he doesn't care what anyone has to say about him. In fact, his money seems to be the only thing that he really cares about. His Instagram bio reads, "When you are rich, powerful and live life to the fullest you're a bad person to the poor, weak and boring losers, unless you give them money."
7. He Used To Have More Than A Million Followers
According to sources from 2018 and prior, Tony once had around 1.5 million followers on Instagram; that isn't the case anymore, however. Currently, Tony has just 439,000 followers and it's unclear what happened to the rest of them. There's a good chance that many people unfollowed him after finding some of his content to be a little too controversial.
8. He's A Very Private Person
One of the things that's most surprising about Tony is the fact that he is a very private person. In reality, very little is known about him outside of what he has chosen to post on Instagram. The mystery that surrounds him makes his story even more interesting because it begs the question of whether the Tony we've seen on social media is the real him or just a persona he's created for the internet.
9. He Was Engaged At One Point
Tony may not seem like the settling down type, but he has gotten close. In 2016, he proposed to a woman named Juliann Nicole who is almost 20 years his junior. At the time of the proposal, many of Tony's followers were shocked and assumed it was a joke. As you can imagine, Juliann got lots of flack for agreeing to marry someone with Tony's reputation. Although there was talk of a wedding, we weren't able to find any information suggesting that they ever really did get married.
10. He Doesn't Live Life On A Budget
Tony have tons of money and he isn't afraid to flaunt it. While there are lots of wealthy people out there who still talk about the importance of financial literacy and smart spending, Tony isn't one of them. He doesn't live his life with a budget and buys whatever he wants whenever he wants.