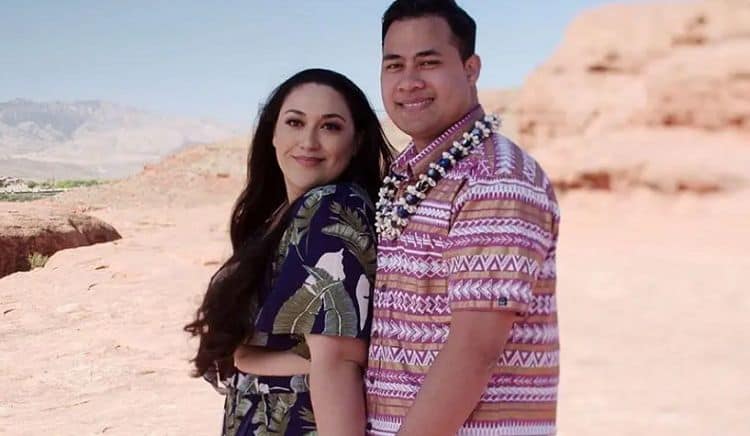 90 Day Fiance has introduced the world to some of very interesting couples. The fact that there are so many people willing to marry someone they hardly know within 90 days has become somewhat of a phenomenon. As half of one of the show's most memorable couples, Kalani Faagata's love story has certainly made for good TV. She met her husband, Asuelo she was on vacation in his home country of Samoa. Although she was a virgin at the time, she decided to have sex with Asuelo and shortly after, she found out she was pregnant. In an attempt to make the family 'work', she decided to bring Asuelo to the United States on a K1 Visa. Now a wife and mother of two, Kalani's situation seems to be getting increasingly difficult, and many fans wonder what the future holds for her and her husband. Keep reading for 10 things you didn't know about Kalani Faagata.
1. She Has Samoan Roots
Kalani was born and raised in the United States, but she is actually half Samoan. Her father was born in Samoa and immigrated to the United States with his parents and siblings during the 1970s. Although Kalani is proud of her heritage, there has been some controversy surrounding comments that her father made about Samoan culture. During Kalani's original appearance on 90 Day Fiance, she and her father made comments suggesting that he would prefer his daughter to be with someone from the United States.
2. She And Asuelo Started A Couple's YouTube Channel
Like many other 90 Day Fiance stars, Kalani is doing her best to capitalize on all of the attention she's gotten from the show. She and Asuelo have started a couple's YouTube channel where they post vlogs and other updates. So far, they have gained nearly 60,000 subscribers and their videos have been watched more than 2 million times.
3. She's A Fan Of Sister Wives
Not only is Kalani a TLC star, but she's also a fan of the network as well. Just like the rest of us, she can't resist the drama of reality TV, and she is a big fan of the show Sister Wives which has aired on TLC for the last decade. Like the Brown family, Kalani has also spent a good portion of her life living in Utah.
4. She Speaks Samoan
When you're dating someone from another country, it's important to try to understand their culture. Since the start of her relationship with Asuelo, Kalani has made a conscious effort to learn more about Samoan culture. She has even learned the language and often speaks Samoan. However, it looks like she hasn't yet reached fluency.
5. She Grew Up In The Mormon Church
Kalani's religion isn't something that is really discussed on the show, but apparently she was raised as a member of the Mormon Church. However, she has since announced that she is no longer a member of the church. She explained that she chose to part ways after an inappropriate experience with the Stake President.
6. She Isn't Always Happy With The Show's Editing
It's no secret that editing in reality TV can be very misleading. How many times have you seen a clip from an upcoming episode, only to watch the episode and see things unfold in a completely different way? If that frustrates you as a viewer, imagine how frustrating it is for the people who have their words twisted around by heavy editing. Kalani has been critical of the way the show is edited, especially in regards to comments and she father allegedly made in regards to race.
7. She's Sick Of Doing Everything By Herself
Kalai and Asuelo have a seven year age difference, and at times it's glaringly obvious that he wasn't really ready to be a husband or a father. Unfortunately, these often means that Kalani takes the brunt of the responsibility when it comes to raising their children and taking care of the house. However, it looks like she is on her way to the breaking point if Asuelo doesn't step it up soon.
8. She Loves Relaxing By The Water
With two kids under two years old, it goes without saying that Kalani doesn't get to have much time to herself. When she does have free time, she likes to spend it relaxing. As a true California girl, one of her favorite places to recharge and collect her thoughts is by the water.
9. She Enjoys Traveling
Kalani is the type of person who likes to get out and enjoy her surroundings. Although it looks like most of her travels have been domestic, she still likes to do a good bit of exploring. Even though it's not easy to travel with two small children, Kalani and Asuelo still manage to get out and about.
10. She Went To Cal State
Kalani attended California State University and graduated in 2014. However, it's unclear what she majored in or what she wants to do with her degree. One of the things that isn't really clear on the show is whether or not Kalani has a job or any career goals. At the moment, she seems to be a stay at home mom.
Tell us what's wrong with this post? How could we improve it? :)
Let us improve this post!