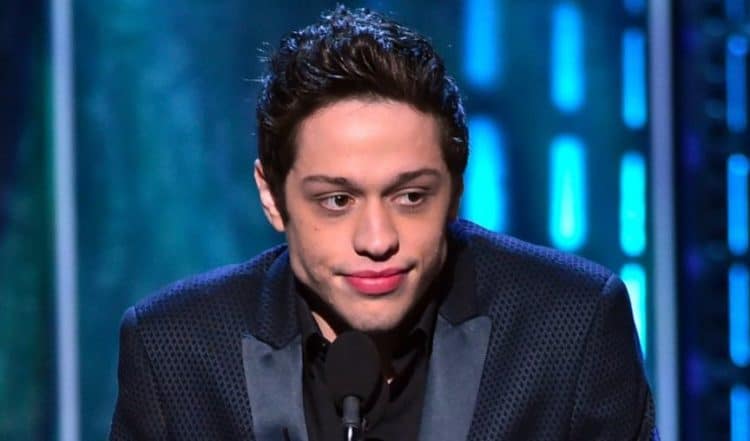 The world is familiar with the romantic relationship between Pete Davidson and Kim Kardashian. He's managed to make quite the reputation for himself with some of Hollywood's most beautiful women, and while many speculate as to what it is about him that these women cannot seem to deny, other people are curious about the SNL host's tattoos. He has many of them, but it was recently discovered that he is sporting several tattoos that might just commemorate his time with Kim. Many people will argue that tattoos aren't the best way to share your love for someone else – because they're pretty permanent – but he continues to give people reason to believe he's sporting many about her. For example, it is believed that the Disney "Aladdin" tattoo he got on his collarbone signifies the first time he and Kardashian shared a kiss dressed as Jasmine and Aladdin when they met on the set of SNL. And, while he has not confirmed this one, he does have a tattoo on his neck that reads "KNSCP" that fans believe stands for Kim, North, Saint, Chicago, and Psalm – the names of her children. Of course, there are more, but what we are wondering right now is just how many celebrities decided to permanently brand themselves with the names of their partners on their body? And were these tattoos a terrible idea?
Chrissy Teigen and John Legend
It's not exactly a secret that the model and mother have been in the press for some less than flattering things as of late. She reportedly has a nasty habit of telling underage girls to commit suicide, and people aren't exactly thrilled with her considering just how serious this is and how many kids actually do this every year. However, if you're looking for a slightly less offensive thing to discuss John Legend's wife, how about the fact that she has a tattoo commemorating him going down her back? She took a quote from a song he wrote called "Ooh Laa," and had it tattooed down her spine. Considering they are still happily married as of 2022, it doesn't seem like it was a bad idea for her to have this tattooed down her back. On the other hand, this couple also has matching name tattoos. They both have one another's names tattooed on their bodies along with the names of their two children. As a family, this does seem like such a sweet gesture. They got their matching tats in 2019, and they're still working out for this married couple.
Justin Bieber and Hailey Bieber
The world is admittedly unsure of this couple. It's not that their marriage is a problem or that people dislike Hailey Baldwin. It's just that people LOVE Selena Gomez, and the world is still holding on to hope that these first loves will end up back together. However, the truth of the matter is that Bieber is a little tired of people making his wife feel bad about herself by wishing he married Gomez, and she made the choice to get his initial tattooed on her ring finger. She's got a sparkly J tattooed on the same finger as her wedding ring, and it brings her joy. Additionally, he has a tattoo on his face – one that is barely visible – that he got her for. She has matching tattoos, and the words she has on her body match the words he has on his face. It's a very personal tattoo for each.
Gigi Hadid and Zayn Malik
These two have been very on and off over the years. They were together, and then they were not. Then they were, and then they were not. Back in 2018, it was noticed that Malik had a pair of eyes tattooed on his chest that looked a lot like Hadid's. No one confirmed or denied the rumors until Hadid said "I don't need his follow – my eyes are tattooed on his chest," as a clap back to someone who pointed out the model's singer boyfriend wasn't following along on her Instagram journey. Is that confirmation enough? They did welcome their first baby in 2020, but the couple broke up again in 2021 when reports that he hit Yolanda Hadid – Gigi's mom – began to surface. We cannot confirm or deny this happened, but their inability to stay together longer than a year or so at a time without breaking up might indicate getting a tattoo of his significant other wasn't the best decision he ever made.