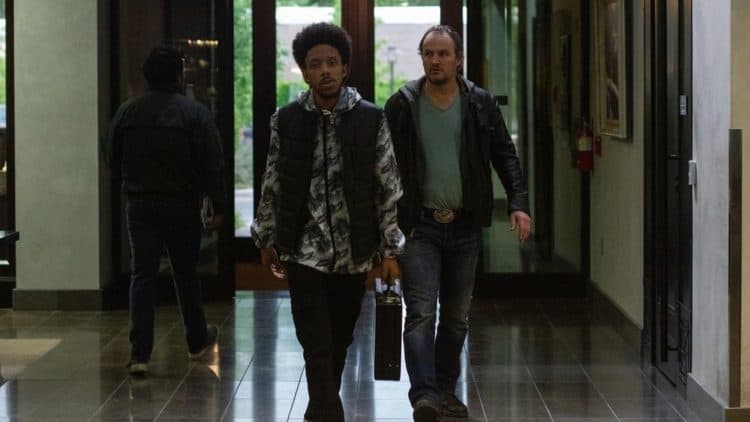 Anyone who has ever seen Darrell Britt-Gibson's work would probably agree that he doesn't always get the credit he deserves. Not being recognized has never stopped him from giving it his all, though. Darrell made his on screen debut in 2006 when he joined the cast of The Wire. His role as Darius 'O-Dog' Hill helped even more doors for him and he has been acting consistently ever since. Recently, he has been getting a lot of attention for his role in the movie Judas and the Black Messiah. His effortless ability to keep people entertained certainly hasn't gone unnoticed and it's one of the many things that makes his work such a pleasure to watch. Here are 10 things you didn't know about Darrell Britt-Gibson.
1. He Is Named After His Slain Uncle
Darrell is the son of author/journalist, Donna Britt who is originally from Gary, Indiana. Donna's brother was shot and killed by two members of the Gary Police Department. She went on to write extensively about her brother's murder and Darrell was named in his uncle's honor.
2. He's A Maryland Native
Darrell was born and raised in Maryland, a place he is very proud to be from. He is on a long list of talented people to originate from the DMV area. We weren't able to find any solid information on where he lives these days, but it appears that he's in the Los Angeles area .
3. He's A Formally Trained Actor
After high school Darrell went on to study at his mother's alma mater, Hampton University. He eventually decided to transfer to the University of Maryland, Baltimore County where he he focused his studies on theater. It's unclear whether or not he earned his bachelor's degree.
4. He Was In An Episode Of Shameless
Darrell has gotten the chance to be a part of several successful projects during his career. Even though his roles haven't always been major, he still has some great titles on his resume. In 2013, he was in an episode of Shameless as a character named Nick. Some of the other shows he's been in include Power and Major Crimes.
5. He's A Musician
Acting is what has been getting him the most attention, but music also has a very special place in Darrell's heart. He is a member of a band called She Taught Love. When talking about his experience in the band he told Complex, "It's exciting, man, because it's the purest form of expression that I feel that I have as an artist. It's the most exciting and it's the most vulnerable which, to me, makes it the most beautiful."
6. He's Been Nominated For Awards
Darrell hasn't won any major awards yet, but his time is certainly coming. He's already been nominated for two Screen Actors Guild Awards, both for Outstanding Performance by an Ensemble in a Comedy Series for his role in Barry. Many are hoping that Judas and the Black Messiah will also earn him some nominations.
7. He Didn't Get To Meet Bobby Rush Before Filming Judas And The Black Messiah
Darrell was honored to bring the legendary Bobby Rush to life on screen, and he hopes to get the chance to meet him some day. While talking to Complex he said, "I did not have the opportunity to meet Mr. Rush yet, but there are rumblings that I'm going to be able to make that happen very soon, which excites me and frightens me at the same time."
8. He Enjoys Traveling
Life is all about making the most out of every moment and creating memories, and that's something Darrell is all about. Traveling has been the perfect way for him to do both of those things. He has been blessed to be in a position where traveling is something he's able to do relatively frequently.
9. He Supports Women's Rights
Darrell has always been the kind of person who isn't afraid to stand up for what he believes in. Darrell is an ally in the fight for women's rights. In January 2017 he participated in the women's march in downtown Los Angeles. He has also been very open about his political stance.
10. He's A Writer And Producer
If you thought Darrell's acting work was great, just wait until you see what else he has to share with the world. He is also a talented writer and producer. In addition to the project he's already completed, he's also been working on a lot of stuff over the last year or so. He was especially productive during quarantine.
Tell us what's wrong with this post? How could we improve it? :)
Let us improve this post!