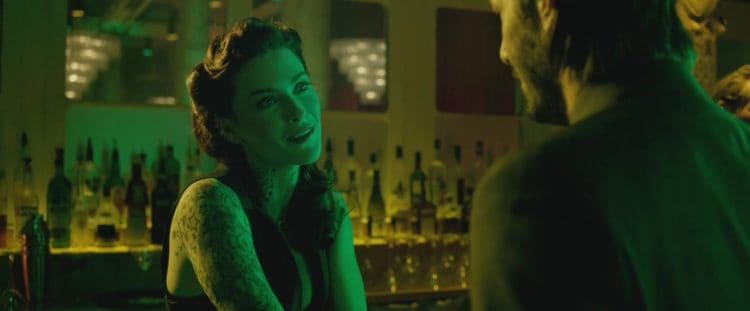 Who is Bridget Regan? You might already know that she's an actress, especially well known for television series like The Last Ship and White Collar. However, that doesn't really tell you very much about who she is as an individual. If you're like most people, you like to know more about the people you enjoy watching on television. Check out the 10 things below about Bridget Regan and see if you can get a better insight into what her life is all about, at least to a certain extent.
1. She likes holidays
She has a habit of posting a lot of stuff on her social media, and she likes holidays. She is especially fond of Christmas movies, even when she's already seen them over and over.
2. She is of Irish descent
As you might have already guessed by her name, her parents are Irish. Like most people that have Irish roots, she's proud of her heritage. She never has made a habit of shying away from it but instead, has always been very willing to discuss it.
3. She was raised Catholic
This probably won't come as a surprise to you, especially if you know anything about Irish families. A lot of them are Catholic so it's no wonder that she was raised in that particular faith.
https://www.instagram.com/p/BisToDBj1Sl/?hl=en&taken-by=bridgetregan
4. She started acting early
Unlike a lot of children that start acting in commercials or something similar, she started acting on the stage. She was only a child when she landed her first role and even though it wasn't a very big role, it made her realize how badly she wanted to act for the rest of her life. From that point forward, acting was the thing that she focused on and she never really considered anything else as a career path. For her, failure was not an option because there wasn't really anything else she was interested in doing.
5. She went to college on the other side of the country
Like most kids that are old enough to go to college, she wanted to spread her wings and find her own identity. She accomplished that by attending college in North Carolina, on the other side of the country from where she was born and raised. There, she really started to come into her own, both as an individual and as an actress.
6. She took her studies in college quite seriously
She studied at the University of North Carolina School of the Arts. At a time when most people her age were more concerned with partying or finding a way to get out of a strenuous assignment, she was completely immersed in her studies, all with the intention of learning as much as possible about acting so that she could continue to perfect her chosen career.
7. She moved to New York
After she graduated from college, she made the decision that she was going to commit to moving to New York in an attempt to find work as an actress. This is a big move for anyone, and it can be a little on the scary side, but she was determined to make it work so she packed her bags and went anyway. Obviously, it was a good decision, because her career really started to take off and she's been acting ever since.
8. Her husband is a writer
She actually met her husband while she was shooting Legend of the Seeker on location in New Zealand. The two of them really hit it off and before they knew it, they had fallen in love. It only makes sense that she would fall in love with someone who shares her passion and creativity for the Arts, even if he does express it in a slightly different manner.
9. They have two children
Together, she and her husband have a son that was born in 2010 and a daughter that was just born last November.
10. She has a passion for acting to this day
Some people dream about having a career and then once they achieve it, they realize that it isn't what they thought it would be. In fact, many of them find themselves quickly losing passion for their chosen career field, even to the point of looking for something else to do with rest of their lives. This has never been a problem for her, as she still feels just as much passion for acting now as she did when she was a child.
Tell us what's wrong with this post? How could we improve it? :)
Let us improve this post!