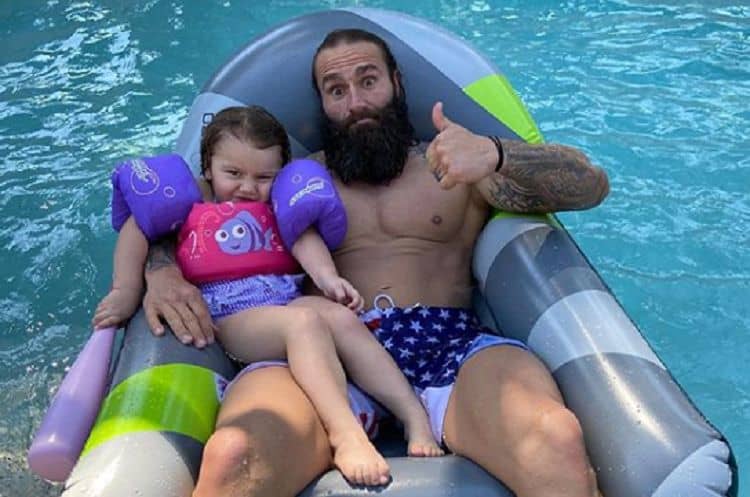 When Jaxson Ryker steps into the ring, you know you're going to get a good match. The professional wrestler, who has been in the business for almost 20 years, is known for his vicious and intimidating presence. Over the course of his career, he's won several championships, and it doesn't look like his winning days are behind him. However, despite all of the success he's had in the ring, he's had equal amounts of drama outside of it. Jaxson has been involved several moments of controversy, and some of them could have a lasting impact on his legacy. Interested in learning more about what Jaxson is all about? Here are 10 things you didn't know about Jaxson Ryker.
1. He's Been Accused Of Racism
In 2019, Jaxson caught a lot of heat when a social media post surfaced in which he called the Black Lives Matter movement "garbage". The post had been all but forgotten until recently, when Jaxson tweeted "Thankful for the @POTUS we have! God bless America. Built of freedom. Forgotten No More." The tweet stirred controversy because many people felt that it was not an appropriate thing to say amid the current protests happening across the country. Several fans and fellow WWE stars responded to express their disgust with Jaxson's words.
2. Jaxson Ryker Isn't His Real Name
Like many other professional wrestlers, the name Jaxson uses in the ring isn't his actual name. Jaxson's real name is Chad Lail. Prior to wrestling under the name Jaxson Ryker, he also competed for a few years under the ring name Gunner. While wrestling as Gunner, he won a Total Nonstop Wrestling Action (TNA) championship.
3. He's a Devoted Family Man
Jaxson may be rough and intimidating when he gets in the ring, but outside of it, he appears to be a teddy bear. He is a very loving father and husband who enjoys spending as much time with his family as he can. Jaxson and his wife, Stacy Lail, have one child together.
4. He Loves Ice Cream
In Jaxson's line of work, it's important to stay in good shape. Running around and performing stunts in the ring isn't as easy as it may seem. But despite the fact that health and fitness are at the top of his priority list, Jaxson still likes to enjoy some ice cream from time to time. However, even when he does have ice cream, he prefers healthier brands like HaloTop.
5. He Was In The Military
Before becoming a wrestler, Jaxson was a member of the Marine Corp. During an interview with WWE, he said, " I was in the United States Marine Corps from 2002 to 2006. It was probably the best decision I ever made in my life. I was a motor transport operator by job title, but a lot of the times what I would do overseas was called the ring mount. That's the guy on the top of the truck operating any type of weapon that may be on top of the truck."
6. He Was Inspired By Ken Anderson
Regardless of what line of work you're in, it's always nice to have a mentor who can teach you and support you along the way. For Jaxson Ryker, that person was Ken Anderson. Jaxson says that from the early days, Ken took him under his wing and helped him learn the ins and outs of professional wrestling.
7. His Dad Has Always Been One Of His Biggest Supporters
No matter how many fans a person has, nothing means more than strong support from the people they love the most. Jaxson credits his father with teaching him to believe in himself and says that his father has always supported his dream of becoming a professional wrestler.
8. His Faith Is Very Important To Him
Although wrestling may not seem like the most spiritual sport, Jaxson is proof that faith and headlocks can coexist. He is a devout Christian and his faith is at the center of everything he does. Jaxson told Pro Wrestling Post, "My faith really helps me realize that you better go on out there and get it."
9. He's Always Dreamed Of Being Part Of WWE
Like many people who grew up watching wrestling, Jaxson has always dreamed of being of making it to the big time. In the world of professional wrestling, that means being signed to WWE. Jaxson also dreamed of competing in WrestleMania. Not surprisingly, both of those dreams have come true for Jaxson.
10. He Tries To Keep A Positive Outlook
A positive mindset is one of the things that keeps Jaxson motivated to keep moving forward. Life and wrestling are both filled with their fair share of setbacks, but he doesn't let them keep him down. He says, "Whatever life brings me I realize it's not the end of the world. It's not my last day here on earth. There are bigger and better plans for me."
Tell us what's wrong with this post? How could we improve it? :)
Let us improve this post!