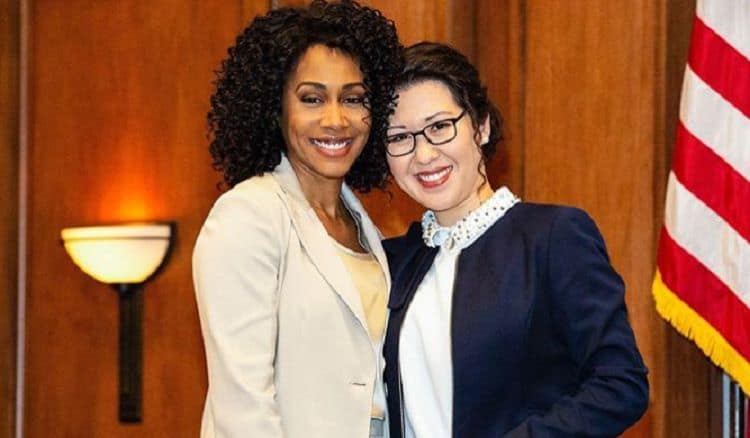 Much like her character on the series, All Rise, Ruthie Ann Miles is a quiet force to be reckoned with. Although she hasn't had a lot of on screen roles, she is will known in the theater world for her incredible talents. Since 2014, she has been in nearly a dozen theater productions. In 2015, she won a Tony Award for Best Featured Actress in a Musical for her role in the play The King and I. Now that she's becoming a little more active on TV, she's been able to share her skills with a wider audience. Keep reading for 10 things you didn't know about Ruthie Ann Miles.
1. She Studied Theater
Ruthie Ann has been a student of the acting craft for decades. She attended Palm Beach Atlantic University in Florida where she earned a bachelor's degree in theater. In an interview with Stay Thirsty Media, Ruthie Ann said, "At PBA, I found friends who would hold me up and become partners in life with. It was a place where I could know and be known."
2. She's Suffered Some Tragic Losses
In the fall of 2018, Ruthie Ann Miles (who was 7 months pregnant at the time), her husband, and their five year old daughter were involved in a serious accident in the Park Slope neighborhood of Brooklyn. Miles and her family were crossing the street with another group of pedestrians when a driver ran a read light. Miles' 5-year-old daughter, Abigail, was killed in the accident along with another little boy. At the time, it was reported that Miles' unborn baby had been unharmed. Sadly, the child was stillborn. Although the pain of losing two children will never completely go away, Ruthie Ann and her husband have been doing their best to move forward and make their babies proud. In 2020, Ruthie Ann and her husband welcomed an adorable baby girl named Hope.
3. She's Lived In Hawaii
Ruthie Ann was born in Arizona, but she spent most of her childhood living in Hawaii. She has a deep appreciation for Hawaii and enjoyed and learned a lot during her time there. Although she know longer lives there, Hawaii will always be the place she considers home.
4. She's Dealt With Mental Health Issues
Throughout the years, Ruthie Ann has struggled with anxiety and depression. She told The Interval, "When I was in school, I was on anti-depressants and beta blockers for anxiety because I didn't know who I was and I was trying so desperately to play all of these other characters, but I didn't know who Ruthie was."
5. She Had A Close Relationship With Her Grandmother
Family has always been very important to Ruthie Ann. She cites her mother and grandmother as the two most important women in her life. She dedicated her role as Lady Thiang in The Kind and I to her grandmother Wang HeeSook. Ruthie Ann noted that HeeSook was "the strongest, most faithful woman the family ever knew."
6. She Lives In New York
After completing college, Ruthie Ann and some of her classmates from Palm Beach Atlantic University moved to New York to continue to work on their craft. Ruthie Ann attended grad school at NYU and has remained in the city ever since. She currently lives in Brooklyn with her family.
7. She Begins Preparing For Her Roles At Home
Each actor has a unique method they rely on when preparing for a role. When it's time for Ruthie Ann to embody a new character, she doesn't waste any time getting ready. She says, "My process for getting into character starts at home. I have to start my voice at home…and then, as I'm walking to the subway, I start expanding and getting into better placement for talking. That way, when I get here, I'm not starting from scratch."
8. She's a Very Visual Person
When it comes to absorbing new information, Ruthie Ann Miles is a very visual person. When she reads the script for a new character, she immediately begins envisioning the person even down to the minor details. Doing this helps Ruthie Ann get a better idea of the role and makes it easy for her to fully immerse herself.
9. She Doesn't Usually Read Reviews
Being a celebrity means being constantly inundated with opinions. However, Ruthie Ann chooses not to engage with the comments people make about her performances. She typically does not read the reviews for any of the roles that she plays.
10. She Cares About The Environment
Ruthie Ann is a big proponent for environmental issues. In her acceptance speech at the Tony Awards, she urged people to recycle. She has worked with the Broadway Green Alliance for years to help spread awareness and education to encourage people to make more eco-friendly choices.