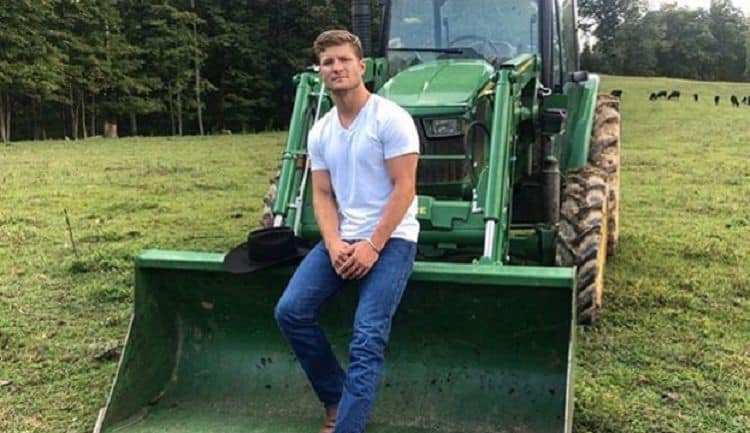 Tyler Cottrill's time on season 16 of The Bachelorette may have been short lived. He was sent home right when the season began after Clare Crawley felt like he was in the middle of some drama. But just because Clare doesn't have an interest in him doesn't mean that he's completely out of luck. Since being on the show, Tyler has been put on lots of people's radar and there are countless women out there who would love to have a chance with the handsome West Virginia native. Thanks to his short time on the show, Tyler now has a substantial social media following which means those DMs are probably packed. Continue reading for 10 things you didn't know about Tyler Cottrill.
1. He's More Than A Decade Younger Than Clare
At 39-years-old, Clare Crawley is the oldest Bachelorette in the history of the show. Many fans have raised a few eye brows because most of the male contestants are still in their 20s. Tyler, for example, just turned 28 in September of 2020. While some people believe age is nothing but a number, others think it's slightly unrealistic for Clare to find the kind of relationship she claims to be looking for with someone so much younger.
2. He Was A Professional Boxer
Don't let Tyler's handsome face fool you, he isn't a pretty boy at heart. In fact, he's the exact opposite and he isn't afraid to get his hands dirty of break a sweat. For several years, Tyler was a professional boxer fighting in the middle weight division. According to BoxRec.com, he was undefeated.
3. He Loves Spending Time Outdoors
Tyler is very proud of his West Virginian roots and he is a cowboy at heart. When he isn't busy working, one of his favorite things to do is spend time enjoying the beauty of nature. He loves a wide variety of outdoor activities including fishing, boating, and horseback riding.
4. He's Very Family Oriented
Since Tyler was sent home so early in the season, there are many things that Clare will never get to know about him. One of those things is that he is a family oriented person who has great relationships with his loved ones. In an Instagram post in 2018, Tyler referred to his parents as his "greatest blessing".
5. He Participated In Blackout Tuesday
On June 2, 2020 Tyler showed his solidarity with the Black Lives Matter movement by participating in a virtual protest called Blackout Tuesday. For the protest, people were asked to upload an image of a black square on Instagram to show their support for the fight to end racism.
6. Lots Of Women Have Already Confessed Their Love For Him On Twitter
A quick search of Tyler's name on Twitter revealed that there are lots of fans who already have the hots for Tyler. One user named ur_fav_gal said, "Tyler Cottrill if ur reading this I am available next Thursday Tyler Cottrill so please let me know if u want to go out for dinner next Thursday Tyler Cottrill I would happily accept that invitation Tyler Cottrill". Unfortunately, Tyler doesn't have a Twitter so he'll probably never see that invitation.
7. He's A WVU Alum
Not only was Tyler born and raised in West Virginia, but he attended college there as well. He earned a bachelor's degree in criminology from West Virginia University and went on to earn his law degree from there as well. He is currently a practicing attorney in West Virginia.
8. He's A Dog Person
As if his good looks and southern charm weren't enough, Tyler is also a dog lover and lots of women seem to have a soft spot for men who love dogs. It's hard to tell whether or not he has a dog of his own at the moment, but there's no shortage of dog photos on his Instagram.
9. He Likes To Stay Low Key
Many people would probably assume that a person who is willing to be on a reality TV show is also the kind of person who likes to put their business out there. That isn't always the case though, and definitely doesn't seem to be the case with Tyler. He's a low key type of guy who doesn't really have an interest in sharing lots of information about his personal life.
10. He Briefly Lived In Pittsburgh
Even though he has spent the majority of his life in West Virginia, Tyler also got a chance to live outside of the state. According to his LinkedIn profile, he worked as a law clerk for a law office in Pittsburgh during the summer from 2018 before completing his law degree.