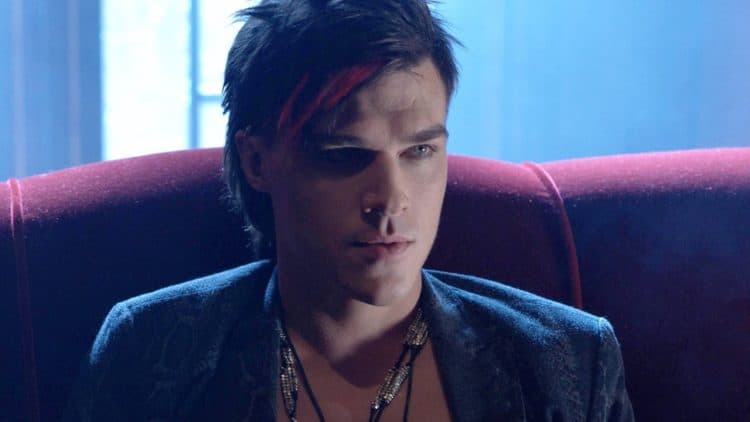 Today we're used to stars who get instant gratification by becoming overnight sensations on reality television or through one social media platform or another. What begins as a fluke that consisted of being in the right place at the right time managed to lay the foundation for a career that the celebrity really didn't have to work much for. It's fairly rare nowadays to find a young actor or actress who actually set their sights, and their goals, at a young age and took the difficult steps day after day, year after year, to achieve the success the public sees.
But there are some exceptions to this modern-day rule. Yes, there are still those who actually have a dream and follow specific, and sometimes long and arduous, paths to get to the end result they desire. Actor Finn Wittrock is one of those actors. Having grown up in and around the theater, he likely knew what he wanted to do from a young age, and he made the decisions and sacrifices necessary to get there. No, success hasn't happened overnight for the man; he has had to take things one step at a time from the start. But he is finally at a place where he is getting the recognition he longs for as an actor.
It would be difficult to not recognize Wittrock by sight. He has been featured on 'American Horror Story' in three seasons: 'Hotel', 'Freak Show', and 'Roanoke'. He also spent two years with the daytime serial 'All My Children', and has won a couple of Emmy awards to boot. But as we said, these things all came about due to blood, sweat, tears, and determination, not after uploading a video to YouTube or by posting his day-to-day life to Facebook Live. Perhaps it is only his face that rang a bell when you started this article, but we're sure that you will be hearing more about this actor, and his name, in the future.
So, to familiarize you a bit better with him, we have put together a list of ten things you didn't know about Finn Wittrock. You will find it below, and there is no particular order to the facts. They exist merely to give you a better feel for what this man is all about. Get in a comfortable chair with whatever palatable delights you may crave and read on to learn…10 things you didn't know about Finn Wittrock
1. Early Life
Born in Lenox, Massachusetts on October 28, 1984, Finn was brought up by his father, actor Peter Wittrock, and mother, Kate Claire Crowley, a professor of occupational therapy at the University of Southern California. He also has a younger brother by the name of Dylan. During his youth, Finn spent a majority of his time at his father's place of employment, The Shakespeare & Company Theater; he was often a messenger or pageboy at the theater. This early exposure to acting no doubt influenced his desire to act professionally.
2. Zodiac Information
As you may have already determined, Wittrock is a Scorpio. Scorpio males are said to possess an abundance of self-awareness and self-confidence, and it pleases them when one desires to know and understand them better. Their self-confidence can interfere with relationships, however, so potential mates should also be very self-confident if the relationship is to work. Other traits may include a high level of jealousy, intensity, a predisposition to holding grudges, competitiveness, and a high sex drive. We think that Wittrock's self-confidence is spot on with this description, and it can be seen in the way he carries himself and responds to others.
3. Personal Life
In 2015 Wittrock was married to girlfriend/fiancée Sarah Roberts. The pair had their first child earlier this year, but is, as of this writing, remained unnamed to the public. Wittrock and his wife met while attending acting school, and the pair has been together ever since, according to Famous Birthdays.
4. Education
Until his teen years Wittrock attended public school. When he entered high school he began his studies at Los Angeles County High School for the Arts, where the curriculum consisted of filmmaking, acting, and participation in classes for the actor's movement. Prior to high school graduation Finn was accepted at the Julliard School, but he ended up turning them down to pursue active acting parts in his area. Facing much rejection and few real parts, he auditioned for Julliard the following year, and once again was accepted. As a student there he participated in Group 37, which was part of the Drama Division, and he was an active member in several of the school's productions. Wittrock was also a winner of the Julliard School's 'Julliard Journal Award', which is given in recognition of outstanding contribution to the school paper, 'The Julliard Journal'. He was also a recipient of the Stephanie Palmer McClelland Scholarship from the drama department. Wittrock graduated from Julliard successfully in 2008 with a Bachelor of Fine Arts degree.
5. Is 'Finn' A Nickname?
Wittrock's actual name is Peter Wittrock, Jr., as he was named for his father. 'Finn', according to Finnwittrock, is actually his middle name. Though it is not clear if it is his father's middle name or not, Finn adopted it to differentiate between the two, not to mention the fact that he has gone by this name for some time. It was said on 'The Late Show with Stephen Colbert' that Wittrock 'has the coolest name of all-time'.
6. Net Worth
Well, the actor has worked hard for years to achieve what he has, and taken his hard knocks as lessons and applied them properly. It is through dedication and hard work that we succeed, and net worth will reflect this. Wittrock reportedly has a current net worth of more than $5 million, according to Celebrity net worth, so we can say with confidence that he is heading in the right direction!
7. Awards Received
It would be difficult, if one is an actor of any talent, to perform in as many things as Finn without earning some type of award, or at the very least, several nominations. To date, the actor has been nominated for 14 awards and has won 2, the Gold Derby TV award for TV Movie Best Supporting Actor for 'American Horror Story: Freak Show' (2011) and the Palm Springs International Film Festival's Ensemble Cast Award for 'The Big Short', which was won with ten other actors and actresses, including Brad Pitt, Christian Bale, Marissa Tomei, and many more.
8. Other Works
To be honest, Wittrock's list of credits is so long that there is no way we could fit them all here, but we can give you some that you are likely to be familiar with. We were surprised at how many things he has appeared in that we had seen, but were unaware that he was a part of until we were able to think back and remember in retrospect. Included in his credits are 'American Crime Story: The Assassination of Gianni Versace' (2016) and 'LaLa Land' (2016), according to IMDB. He also appeared in 'The Normal Heart' (2014), 'Sweet Bird of Youth' (2011), and the play 'Death of a Salesman' (2012), just to name a few.
9. How Tall is He?
This may seem like a redundant question, but you would be surprised how many people actually ask. To give you an answer, Finn Wittrock is not quite as tall as the camera makes him look. He stands 5'9" (or 1.75 meters).
10. Does He Do Anything Besides Act?
Funny you should ask, because he does, in fact. Besides acting, Wittrock is also a screenwriter. While he collaborated with another on the film 'The Submarine Kid', he does not have many screenwriting projects that are credited to him. We expect, however, that this will change, as he is motivated to get involved in this area much more in the future.
Now that you know a bit more about this ambitious actor, you are sure to recognize him without fail when you see him in movies or on television. He is multi-talented, funny, and driven enough to leave his mark in the business, and has already been doing so, for all intents and purposes. If you hadn't heard of Finn before today, be sure to check out some of his prior works, and you will certainly be able to recognize something you have