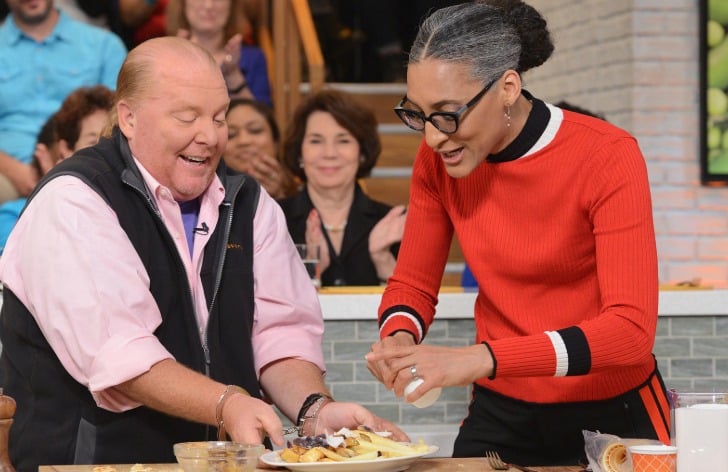 At one time Mario Batali was a very prominent name when it came to his restaurants and his status as a chef. But when things start to go wrong, especially in the past few years, they tend to snowball and create an effect that can ruin careers and essentially destroy a person's life and credibility. Unfortunately for Batali the behavior that he at first denied was what became his downfall when he was accused of sexual misconduct by no less than four women. This created an avalanche effect that eventually saw him kicked off of the airwaves, forced to give his restaurant businesses, and basically just step out of the public eye as much as possible. Going from being one the biggest stars in the food industry to being nothing more than another byline caught up in the wake of the MeToo movement that managed to implicate a large number of people.
Who would play Mario in a possible biopic is hard to say, since it would need to be someone that can be completely objective.
5. Anthony Hopkins
It's not so much that Hopkins couldn't do this, it's a matter of whether or not he would want to. He's played despicable characters in the past, but they've usually been somewhat respectable and able to be embraced by people despite their savage nature. One thing you can say about this biopic, especially if it was going to be fair and objective, is that it would likely show Mario as a nice and engaging person before really digging into the behavior that finally caught up with him. Anthony could portray him without much effort and likely nail the role out of the park, but again, it would be a matter of whether he wanted it or not.
4. Tom Hanks
Among the legends that have come about and are still around Tom Hanks is yet another person that could possibly do just about anything. If you've watched Cloud Atlas then you know that he can play a villainous character and an upstanding character in the same film. It almost makes you think that the guy isn't playing with fully tightened screws to keep all the personalities in check, but upon watching him switch from one role to another you definitely get the feeling that he's in full control and can pull them out whenever he needs to. In terms of this role he could definitely nail it down without much effort.
3. Robert De Niro
This is another case of whether or not the actor would want to take on the role since De Niro has been adamant about who he is and what he stands for. But it does seem as though he would be able to take it on without much hesitation if he wanted to do since he's accepted roles that were questionable in the past. His ability to get into character is legendary since he has been seen to bring forth some of the greatest roles in the history of show business. But as of late he's been seen to be extremely opinionated and has thrown his hat in the ring when it comes to certain issues within the US. If he wanted, he could perform in this capacity easily.
2. Nicolas Cage
Nicolas Cage is a guy that's been all over the map in his career and not exactly in a good way since at one point he was insanely popular while at another he's been kind of on the fringe when it comes to show business. It's kind of common knowledge at this point that he felt the need to start pushing movies that have been able to fill DVD shelves with roles that are good to moderate to absolutely horrible. He's not a bad actor to be honest, but he has taken on so many projects at this time that his reputation has kind of run itself through the muck and mire long enough that the feeling is that he might actually need something like this.
1. Jack Nicholson
Jack Nicholson is yet another legend. That's not even debatable since no matter what he's like off screen or on he's created characters that we both love and remember fondly throughout the years and there's nothing else to be said about it. He has made some films that were miles above the others but in every role there's been some aspect of his character that you can't help but love and admire since he puts a great deal of himself into each role. That would be great to see in a biopic such as this since it seems that he would bring a great deal of his personality to the fore and possibly create a movie that people would pay to see whether it was on TV or the big screen.
It might be an interesting piece.