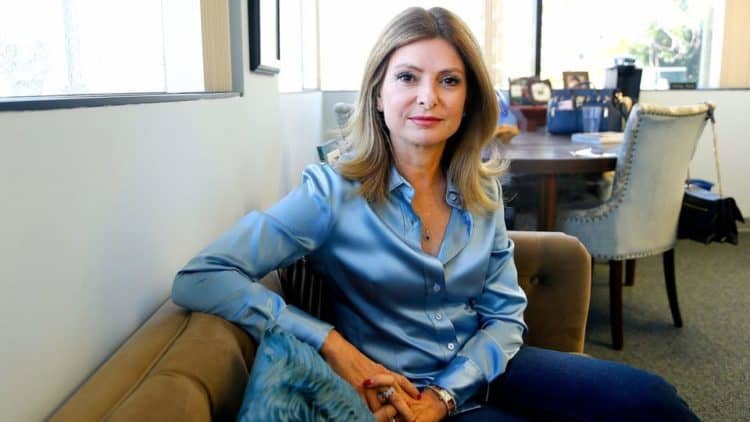 Most people who watch the news at all, will probably recognize this name, Lisa Bloom. Bloom was born Lisa Bray on the 20th of September in 1961 and she is an American civil rights attorney who has spent a good portion of her career fighting for the rights of women, especially in sexual harassment cases. She hails from a legal background, with both of her parents in the business of law, both her mother, and her late father, it seems it was a natural decision to follow their footsteps. Bloom is the only child and she has not only made a name for herself in the field of law, but in Hollywood and in the media. She has not only anchored her own television show, but she's appeared on numerous news broadcasting shows, too, including, CNN, CBS News, HLN, and MSNBC, among others. If you recognize the name and face of this well-known attorney, keep reading to learn more, because here are teen things you didn't know about Lisa Bloom.
1. Mother is a prominent attorney
Lisa Bloom's mother is just as savvy and prominent in the legal world as her daughter. Most people also recognize the name, Gloria Allred, who is one of the country's most prominent and most notable civil rights attorneys. She has taken several cases relating to President Trump, representing his accusers, as well as she has represented the family of O.J. Simpson's late wife, Nicole Brown, and one of the Spice Girls, Scary Spice, plus many more.
2. Father committed suicide
Bloom's mother and father had a very short-lived relationship where they were married and divorced, while in college. Bloom's father was diagnosed with Bipolar, and later committed suicide. It was after the death of her father that she adopted her mother's maiden name, Bloom, and her mother remarried when Bloom was seven years old. Her step father is William C. Allred.
3. Founder and owner of her own law firm
After working at her mother's law firm for many years, Bloom founded her own firm, The Bloom Firm, which is a general-practice law firm that focuses on civil, family, and criminal cases. Bloom is currently licensed to practice in two states, New York and California, both of which are known to be home to some of thee biggest celebrities.
4. Sued the Boy Scouts of America
When Bloom started her career after law school, she began working with her mother's law firm, Allred, Maroko & Goldberg. While working at her mother's law firm, Bloom took part and assisted in a case that involved the Boy Scouts of America. The firm represented a young girl, Katrina Yeaw, who wanted to join the Boy Scouts of America organization but was turned down. Bloom and her colleagues filed the case under sex discrimination, but were unsuccessful in the case. Bloom was also a part of a child sexual abuse case that involved suing the Roman Catholic Church, as well as she sued the LAPD while working at her mother's firm.
5. Has represented some high-profile celebrity figures
Bloom is well-known for working with some high profile names in Hollywood. She has represented actresses and models, and was even involved with a case surrounding one off the Kardashians. Bill Cosby has been in the news over the years with many women coming forward with claims of sexual abuse against the actor. One of the cases involved the model and actress, Janice Dickinson, who she represented in a case that stated Cosby defamed Dickinson. Model Blac Chyna hired Bloom to help her obtain a restraining order against the famous socialite, Rob Kardashian. Bloom's name was also tied to actress, Mischa Barton, in a revenge porn case, just to name a few.
6. Offered to represent four women who had accused Donald Trump of sexual assault
President Trump is a constant in the news, both before his presidential election, and since. He is synonymous with scandals involving women and Bloom has been a part of some of the stories and potential law suits against him. Four women came forward with allegations of sexual misconduct; two of which were Lisa Boyne and Jill Boyne, while the other two would not give their names. One of the women, referred to as "Jane Doe," claimed she was raped by Trump when she was thirteen and was supposed to have a press conference with Bloom on November 2, 2016 during the election, however, due to claims of threats against her life, "Jane Doe" cancelled it. Several donors came forward and offered to give this woman money to help ensure her safety, including an offer from Bloom herself, who is said to have offered her as much as $750,000, which the women is said to have declined.
7. At odds with her mother over famous case
Since Bloom's mother is also a civil right's attorney and represents the victims of sexual harassment and sexual abuse, when Allred discovered that her daughter, Lisa, was working with the infamous, Harvey Weinstein, and agreed to help represent him in his own, high profile sexual harassment case where he was being accused by many women of sexual misconduct, Allred was not pleased. She told her daughter that she only represents the victims of sexual abuse and not those who are being accused. The case put a wedge between them and a strain on their relationship. Bloom eventually Tweeted that she had resigned from the case, but with no explanation.
8. Has two adult children
Bloom is currently married to Braden Pollock. The two married on December 5, 2014, and although he is known for being the founder of Legal Brand Marketing, he currently works as the manager of his wife's legal firm. Prior to her marriage to Pollock, Bloom was married before and has two adult children, Sarah and Sam, with her previous husband. Currently Bloom lives with her husband in Los Angeles, and the two have a foster son in their care.
9. Bloom's strict diet
Bloom has been an advocate for veganism for years. She is often heard trying to convince people to stop eating dairy products sand meat, arguing on behalf of the rights of animals. She also advocates for the planet, stating that by switching to a vegan lifestyle, it will protect the planet from climate change. Bloom wasn't always a vegan, although she has been anti-meat, for many years. Her beliefs started at the age of 16, when she became a vegetarian, but switched to a full vegan in 2009.
10. Graduated from Yale
Yale is one of the most recognized Ivy League schools in the country, and one of the hardest to get into. Bloom received her bachelors degree from UCLA, where she graduated Phi Beta Kappa, and was National College Debate Champion. After college, Bloom went on to get her Doctor of Jurisprudence degree from Yale Law School, graduating in 1986.