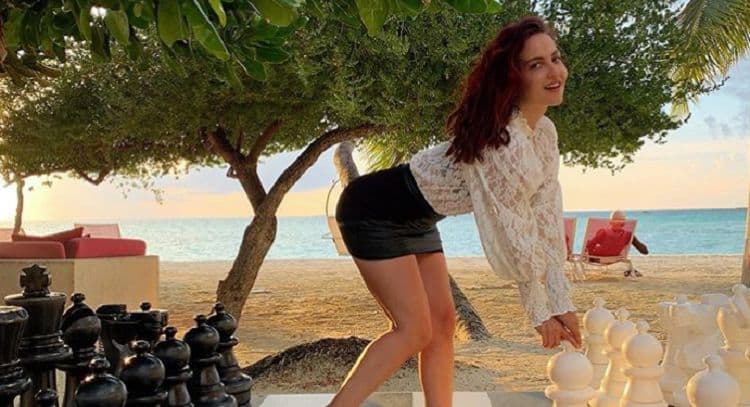 If you believe in destiny, then you probably believe that some people were destined to be stars. Elli AvrRam was one of those people. Elli was born and raised in Sweden, and it didn't take her long to realize that she wanted to become an actress. After starting her career in her home country, made a major leap that resulted in her becoming an international star. In the early 2010s, she was able to break into the Bollywood industry and she had been finding success ever since. While her road hasn't been easy, Elli has stayed the course and her fans have come to love her for it. As her resume continues to grow, Ellie continues to prove the doubters all of her doubters wrong. Keep reading to learn 10 things you didn't know about Elli AvrRam.
1. She's A Painter
Most creativity is driven by a desire for self expression, and that is exactly what fuels Elli. While acting has been the main way she's expressed herself over the years, it's not the only way. Elli is also a talented artist who loves to paint and she uses her skills to help spread messages of positivity and equality.
2. Her Mother Is An Actress
Elli isn't the only person in her family who has ventured into the world of professional acting. Her mother, Maria Granlund, is a Swedish actress who started her career before Elli was born. Maria made three on screen appearances during the early 80s but hasn't been in any TV shows or movies since. Elli's father, Jannis, is a musician.
3. She Was A Dancer
Elli's creativity don't begin and end with acting and painting. She actually began her career as a dancer and her love for dancing is what initially interested her in Indian culture. When she was a teenager she joined the Pardesi Dance Group and began performing to Bollywood songs.
4. She Loves To Box
Elli loves to look and feel her best, so staying active is an important part of her life. Like every other area of her life, Elli likes to take a creative approach with her fitness routine. Instead of simply going to the gym, lifting weights, and running on the treadmill, she also likes to incorporate boxing into her workouts.
5. She's Been Sexually Harassed By Directors
Everybody should be able to move through their career without having to worry about unwanted sexual advances, but that isn't the case for everybody. This is something Elli has experienced first hand. During an interview with PinkVilla Elli said, "I met these two directors who especially shaked my hand and scratched it with one of the fingers. After that one meeting, I asked my friend about it. He was shocked and said, "Oh, no did he do that? Do you know what that means?' I didn't know and he told me that he wanted to sleep with me."
6. She Speaks Four Languages
Being able to speak more than one language can be beneficial no matter what path you choose in life. For someone working on an international level, this knowledge is even more helpful. Luckily for Elli, she speaks four language: English, Swedish, Greek, and Hindi.
7. She Was A Pageant Girl
After making her acting debut in 2008, Elli decided to take a quick break. During that time, she made her way into the pageant world. In 2010, she participated in the Miss Greece beauty pageant. Unfortunately, we weren't able to find any information on how she placed.
8. She Loves Riding Horses
Elli has always been an adventurous person. When she was younger, she took horseback riding lessons which has resulted in a lifelong love of horses. While she may not get the chance to ride as often as she would like, she tries to fit it into her schedule whenever she can.
9. She's Been Criticized For Her Appearance
When Elli initially moved to India, she found herself being heavily criticized for not meeting the industry's beauty standards. She told PinkVilla, "I was told I needed to lose weight. They said I'm short and I was told about my forehead and my teeth. One girl who was connected to Bollywood told me, 'Oh, but sweetheart you can never become an actress because you're too short…Some felt I looked old like an aunty because of my long hair."
10. She's An Avid Traveler
Most people would agree that if they had more free time and more money, traveling would be right at the top of the list of things they'd want to do. Elli has been blessed to be in a position where she has the time and money to travel on a regular basis. She has gotten the chance to visit lots of places including Maldives and Scotland.
Tell us what's wrong with this post? How could we improve it? :)
Let us improve this post!