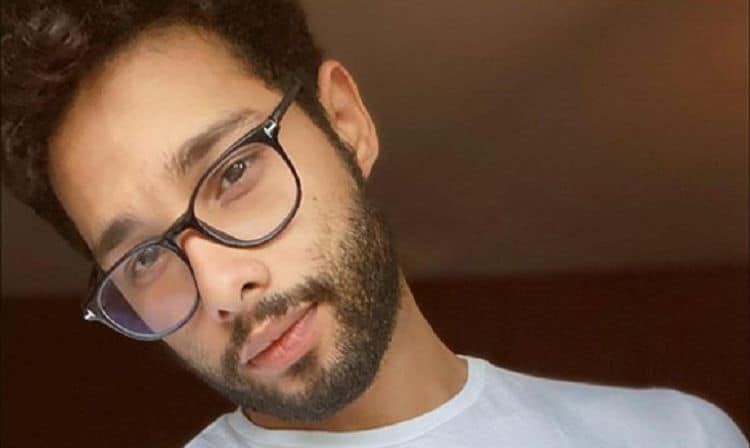 2019 is set to be Siddhant Chaturvedi's year. The young actor achieved international attention and much acclaim earlier this year when he appeared in Gully Boy, a Hindi -language musical drama directed by legendary Bollywood director Zoya Akhtar. The coming-of-age story about Nurad Ahmed (played by Ranveer Singh), a would-be rapper trying to escape the slums of Mumbai, sees Chaturvedi take the role of MC Sher, a local rapper who takes on a mentoring role to the younger boy. Since its release in February, Gully Boy has become the highest grossing Bollywood film overseas, cementing Chaturvedi's status on an international level and securing him a very bright future in the process. Read on to find out more about the rising star.
1. He almost became an accountant
Chartered accountant vs Bollywood star? Not too difficult a choice, you'd think, but for Siddhant Chaturvedi, that's exactly what it was. After completing his primary education at Mithibai College, 26-year-old Chaturvedi decided to follow in his father's footsteps by becoming a chartered accountant, all the while continuing to perform in local theatre. After struggling to juggle the demands of his studies with his passion for acting, Chaturvedi eventually decided he'd need to decide between one or the other. Fortunately for cinema-goers (although slightly less fortunate for accountancy), he chose acting.
2. He suffered multiple rejections
After deciding to abandon charted accountancy for acting, Chaturvedi started doing the rounds at auditions. Given his stellar performance in Gully Boy, you'd have expected him to have had no problem in finding work. In fact, Chaturvedi struggled to crack the industry, and it would take several years of rejections before he finally found his big opportunity. "I struggled for six years and there were many rejections and low points along the way. I started from the bottom," he told DNA India. "But I always had this raging ambition to go out there and prove myself with that one perfect opportunity."
3. He's featured in several commercials
We all know the route to stardom is a long and winding path. On the way to the top, more than just a few actors have kept themselves in pocket money by taking TV commercial gigs. The unlucky ones often find themselves the face of cut-price pimple cream. The lucky ones will land deals with major, international brands that secure their fortunes and future careers like nothing else. Chaturvedi falls into the latter category. Not only has he fronted an international ad campaign for one of the biggest brands in the world (Coca Cola), he's also secured a nice little endorsement deal with Tata Harrier, one of Tata Motors newest motors of 2019.
4. He won Bombay Clean and Clear Fresh Face
The acting awards may not have started piling up just yet (although a few surely can't be far off) but in the meantime, Chaturvedi can take consolation in knowing he's already a winner. In 2012, the multi-talented actor took part in the Bombay Clean and Clear Fresh Face modeling competition and came home the winner.
5. He's made his parents proud
When Chaturvedi dropped a serious, sensible career in accountancy for acting, his parents were probably more than a little concerned about his prospects. The success of Gully Boy has thankfully laid all their worries to rest, and they're relishing the opportunity of watching their son do his thing on the big screen… to the extent that they've already watched Gully Boy 15 times. Or so they've told Chaturvedi, at least.
6. He held out for the big one
One of the lessons Chaturvedi's father instilled in him from a young age was to never do anything if his heart wasn't in it. Chaturvedi took this lesson and ran with it, refusing to accept roles in lesser films that might pay the bills, but would do little to satisfy his artistic ambitions. Fortunately, his patience was eventually rewarded with Gully Boy. 'They say beggars can't be choosers but here I was being choosy because that's what makes or breaks an actor," he's explained to Indian Express "I just kept myself ready for a good film. I knew that 'Gully Boy' was one such film where every actor will get to shine and that's what has happened."
7. Deepika Padukone gave him his biggest compliment
Given the praise Chaturvedi has been showered with of late, you'd think he'd have a hard time choosing which of the many, many, compliments he's received as his favorite. But no. As the Times of India reports, when asked to decide his top pick, Chaturvedi has no hesitation, citing Ranveer Singh's wife Deepika Padukone's "Oh! He is just a boy. He is so cute," as the one he considers the best.
8. He has his own MC Sher
Just as Gully Boy benefited from the mentoring attentions of MC Sher, so too has Chaturvedi benefited from the attentions of his own mentors — although unlike Gully Boy, Chaturvedi has more mentors than he seems to have anything else. "I don't have one MC Sher, I have lots of MC  Sher's in my life," he told HT India. "My dad is my MC Sher, there is Ritesh Sidhwani and Farhan Akhtar, and Zoya Akhtar was my sherni. And last but not the least, Ranveer Singh…. he used to give me that confidence; I am a huge fan of his work."
9. He's starred in a sitcom
Chaturvedi may have been holding out for the big one when it came to films, but that didn't stop him from taking the odd role on a web show in the meantime. One of Chaturvedi's earliest successes was on the coming-of-age sitcom, Life Sahi Hai. The series, which premiered in June 2016 ran for 1 season on YouTube, and a further 1 season on Zee 5. Chaturvedi also starred in the acclaimed web series, "Inside Edge", a series which not only won a Best Drama series nomination at the International Emmy Awards but secured Chaturvedi's big break after Zoya Akhtar was impressed enough with his performance to ask him to audition for Gully Boy.
10. He's not decided what the future holds
Gully Boy may have been hugely successful, but what Chaturvedi will do with that success is still in the air. Without even a manager or an agency contract in place, whatever he decides will be 100% his own decision… and if his comment to The Week is anything to go by, he's unlikely to be swayed by anything that brings in the money but lacks artistic integrity. "I don't want to be a star for money or fame. I want to be a star because then you have a better choice of roles. You need a bit of luck and hard work for that."
Tell us what's wrong with this post? How could we improve it? :)
Let us improve this post!