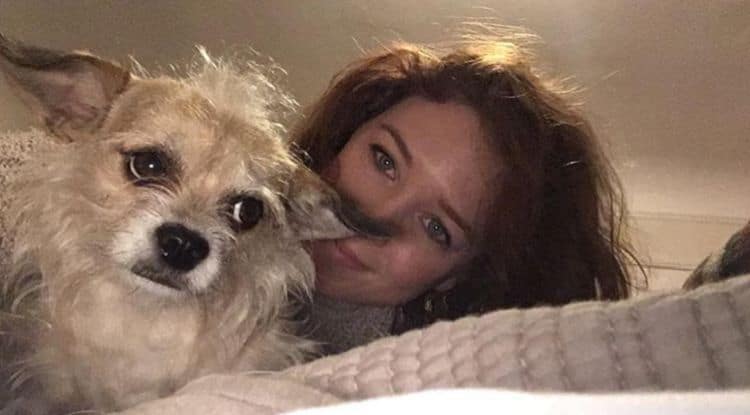 If you are a diehard fan of the Starz series Power you might probably remember Lucy Walters famously known as Holly. Her acting was so phenomenal that fans couldn't help but hate her. So much was the hate that there was a twitter party to celebrate her death. If you are curious about Lucy Walters here are the ten things you didn't know about her.
1. Early life
She was born in Pittsburgh but moved to Texas at two years old. This was due to her father's job as a marine biologist. Lucy is the second born of four siblings. One older sister and two younger brothers. After college Lucy moved to New York where she currently resides.
2. Education
According to her LinkedIn account, Lucy studied at the University of Texas. While there, she pursued an undergraduate in Economics as well as major in Theatre and Dance.
3. Musical Background
Besides being an actor Lucy is a talented Violin player. According to an interview with The Sunday Sit Down with EmEz. Lucy's sister who is 3 years older than her was a piano prodigy. According to their piano teacher, Lucy just wasn't as good as her sister. To avoid competition among sisters her parents wanted her to take a different path. At the age of three, she was inspired while watching an episode of "Sesame Street" to start playing the violin. She even attended master classes at The Shepherd School of Music at Rice University. In high school, she did some musical theatre. She was not particularly good but she could sing on key and had a knack for music owing to her good foundation.
4. Acting career
Since playing the violin was a very intense exercise and Lucy didn't see herself pursuing it as a career, she then started on a path to her acting career. Since she had not come from a prestigious theatre college it was not easy. According to an interview with Sag Harbor Express she could not land jobs immediately as she did not have an agent. So she had to start working on commercials to help her get her feet on the ground. Her first job was in a pizza commercial. Her skill as a violinist also came in handy. She was able to leverage and land some musical gigs which propelled her further into her acting career. After much hard work and persistence, she was able to start working in some films and make appearances on TV shows. Since then Lucy has appeared in many films and TV shows. Her most famous work includes her role as Holy in "Power", Katie in "Get shorty" and her role in "Here alone"
5. Overcoming insecurities
We all have certain insecurities and stars are no exception. Lucy admitted in an interview with Sway Universe that she previously had insecurities because of her small breasts. She would often wear push-up bras to make her breasts look bigger. Her role as Holly has made her appreciate her body more as she had scenes where she had to pose nude. She has come to realize that people are different and bodies are different. This has led her to appreciate her body more. Lucy also admitted to being insecure about her crooked teeth. However, in recent days she has come to embrace her insecurity. Instead of being ashamed of her flaws she is using them to her advantage. For example,her crooked teeth enable her audition for period drama parts.
6. Awards
Lucy's hard work has surely paid off serving as a great example to all. In her career according to IMDb, she has had the pleasure of being an award nominee and winning an award. She received a nomination for the Best Actress in the film "Lies I Told My Little Sister". Lucy also won the Golden Strands Award in 2016 for an outstanding female performer award in the film "Here Alone".
7. Her roles are different from who she is
In an interview with Fashion Swift Magazine, Lucy admitted her roles are different from who she is. Growing up she was a good girl and hoped to get cast in such roles. However, in shows like "Power" and "Get shorty" Lucy plays the bad girl. She says this is liberating as she can channel her inner self – who she doesn't get to show in her real life.
8. Lucy didn't fit in
Just like some of us who have had a hard time fitting in, Lucy is no different. Lucy admitted she didn't always fit in as she often felt like an outsider. Therefore, she encourages inclusivity for more women and people of culture in the film industry. This is because she always feels right at home with the people not otherwise considered the majority.
9. Favorite movie genre
As an actor, Lucy likes to be in the know of what is going on in the film industry. Therefore, she makes a point to watch every pilot of upcoming TV-shows whether good or bad. However, due to her busy schedule, she is unable to catch up on much TV. But when she is not working she relishes on complicated TV dramas. However,when she is tired,after a hard day of work, she watches comedies as a means to unwind.
10. Favorite cartoon
According to an interview with Indie London, growing up, Lucy's parents were quite strict and she was not allowed to watch much of television except PBS. However, on a Saturday morning just like most kids, she would indulge in some cartoon watching. In an interview with have A Nice Day Show – Roxanne Shante. Lucy admitted that her favorite cartoon growing up was "Josie and the Pussycats". As a girl, she was very inspired by the powerful woman trio in the cartoon.
Conclusion
Lucy's path has not always been a soft breeze. The odds were not always on her side and as a result, she had to work very hard over the years. This show of resilience is an inspiration to many that hard work does indeed pay off.
Tell us what's wrong with this post? How could we improve it? :)
Let us improve this post!