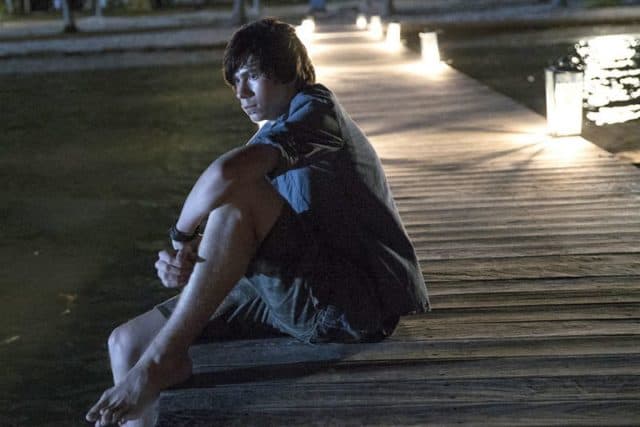 He's not exactly a newcomer but he's still gaining his acting chops in Hollywood despite having had roles in several films and TV shows. Teague is considered to be one of the best up and comers around and is still honing his abilities as he continues to get better and better with every appearance. Several of his characters have already been seen as bad boys or truly disturbed individuals but his range is so great that being typecast is not a concern. Owen has been in the spotlight from a young age and will no doubt stick around as long as he continues to grow in experience and can apply that knowledge and wisdom to his parts on the big or small screen.
Here are a few things you might not know about him.
5. He started acting at age four.
It was at a very young age that Owen decided to tell his parents that he wanted to be in a movie. The film that inspired him was none other than Beauty and the Beast. From that time on he starred in as many stage productions as he could, and would eventually manage to get himself on the big and small screens so as to push his influence even further.
4. He played the younger version of Walt Disney in Walt Before Mickey.
The movie wasn't very well known but it was another chance for Owen to get his name out there and to showcase his acting skills. Despite not receiving that great of reviews the film was still a popular selection on Netflix and would continue to be streamed for some time before it was taken off. Most people probably don't even recall seeing Owen in the film, but he was there.
3. He made his breakout performance in Bloodline.
He came in during the very end of season one, proclaiming that he was the son of the recently deceased Danny, a son that no one knew Danny had ever had. The real trick of this role and a few others is that it is nothing like Teague in real life. He's a complete nice guy compared to his role in Bloodline, and even had to learn how to smoke just to get the part down.
2. He was in the 2017 version of IT.
He was most recently seen in the new version of IT as Patrick Hocksetter, a disturbing young man that likes to set things on fire and in the book went so far as to smother his own brother while he was still in his crib. There's no denying that Hocksetter is crazy and even a bit dangerous. In fact it's safe to say that he might be more dangerous than Henry Bowers.
1. He's interested in film making.
He's already made a few short animated and live action films that have gained noticed in his hometown and has expressed interest in going even further with it. Chances are that Teague will end up being an astute learner when it comes to find his way into the director's chair.
Keep your eye on this kid, he should be going places.
Save
Tell us what's wrong with this post? How could we improve it? :)
Let us improve this post!