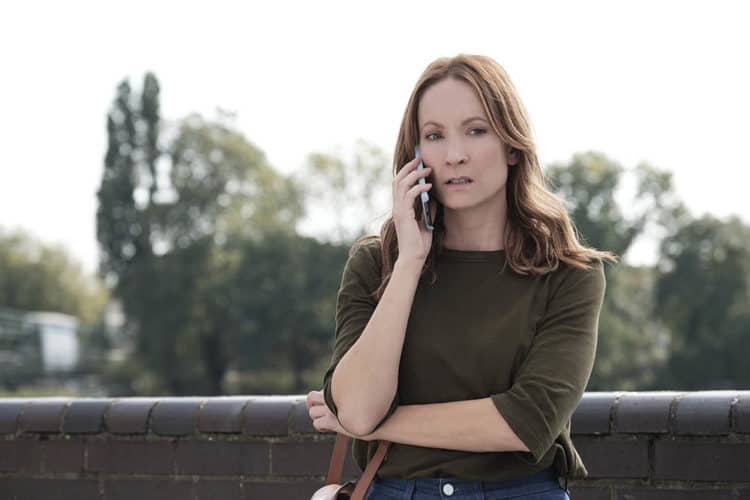 Spectrum's Angela Black tells the story of a wife and mother whose life is not as outsiders believe it to be. She has two adorable children and a loving husband, or so it seems. Behind closed doors, Olivier, portrayed by Michiel Huisman, is physically and verbally abusive to his wife, Angela, played by Joanne Froggatt. Determined to be a good wife and protect her children, Angela lies about where her injuries come from, but everything changes when she is contacted by a private investigator named Ed, played by Samuel Adewunmi, who claims that Olivier is far more dangerous than she realizes. This six-episode limited series is intriguing on many levels, including in its portrait of a main character who knows that she is in a bad situation but cannot leave it, in part because her husband is so manipulative and blames her misfortunes on her rather than on his own deplorable behavior. When Angela does speak up, people don't necessarily believe her, wondering how it is that she didn't say anything earlier and how the likeable Olivier could be capable of such things. Safeguarding her children is a difficult task when she knows that the man who might hurt them most is the one who spends the most time with them. Angela Black also offers a thrill ride where it is continuously unclear what's real and what's not, with Angela herself convinced that maybe she has started to believe something that came from a story and not an actual experience. This format makes for great television, and here are five other shows with similarly alluring premises to watch after you've had a chance to finish Angela Black.
1. Liar
This show is the best place to start because it stars Froggatt and comes from the same creators, Harry and Jack Williams. Froggatt plays Laura, a popular teacher who goes on a date with Andrew, the father of one of her students. When she says that he raped her, some people don't believe her and she is determined to make the truth known. Ioan Gruffudd plays Andrew, who, like Olivier, is violent and threatening in private and able to dial up the charm when he's out in public. The show pivoted to a new direction for an even stronger second season, one that used the existing characters and showed that the appeal was still there. Ultimately, the best reason to watch this series is to see Froggatt deliver another knockout performance. Both seasons of Liar can be streamed on Sundance Now or AMC+.
2. Behind Her Eyes
Having one enigma of a character or a single situation that's murky and requires investigation is interesting enough, but this show doubles that with a protagonist who is equally intrigued by two people who happen to be married. Simona Brown stars as Louise, a single mother working in a psychiatrist's office who has an affair with her boss David (Tom Bateman) and also becomes close friends with his wife Adele (Eve Hewson). This six-episode series is heavy on the questions but delivers well, enhanced considerably by terrific performances all around, especially from its lead actresses. The entire limited series can be streamed on Netflix.
3. Losing Alice
We all love watching movies and television, and the lives of those who create it are also inherently interesting. Ayelet Zurer, best known in the United States for playing Vanessa Fisk on Daredevil, stars as a filmmaker who has a meeting with a young and promising screenwriter, Sophie, played by Lihi Kornowski, only to later learn that there is much more than meets the eye. The show's title references only Alice but it's very much about both of them and the way in which they get drawn into the worlds they imagine, which in this case may not be quite as out-of-control as what they're actually going through in real life. It's easy to be entranced by this Israeli series and the many puzzles it presents for viewers to unpack. Season one is streaming on Apple TV+.
4. Possessions
What Angela didn't have was a witness who could corroborate what Olivier was doing to her, and this show presents exactly the opposite. The story of a bride, played by Nadia Tereszkiewicz, accused of killing her own groom at their wedding is certainly sensational, but it also involves collecting the accounts of all those in attendance and figuring out what actually happened – and why. There's so much embedded in just six episodes of this French-Hebrew thriller, with an exceptional cast of characters and a plot that only gets more interesting as it goes deeper. Season one is streaming on HBO Max.
5. The Sister
Everyone would prefer that the things they did in the past didn't come to light, especially when they seem so distant that no one could possibly remember them. That's the premise of this four-episode drama, which finds Nathan, played by Russell Tovey, utterly undone by the return of Bob, played by Bertie Carvel, years after a terrible event that threatens to permanently disrupt Nathan's idyllic life. What happened exactly is part of the mystery, and it's a dark journey to discover the lengths Nathan will go to in order to keep his secrets hidden and make certain that the past stays in the past. The entire limited series is streaming on H