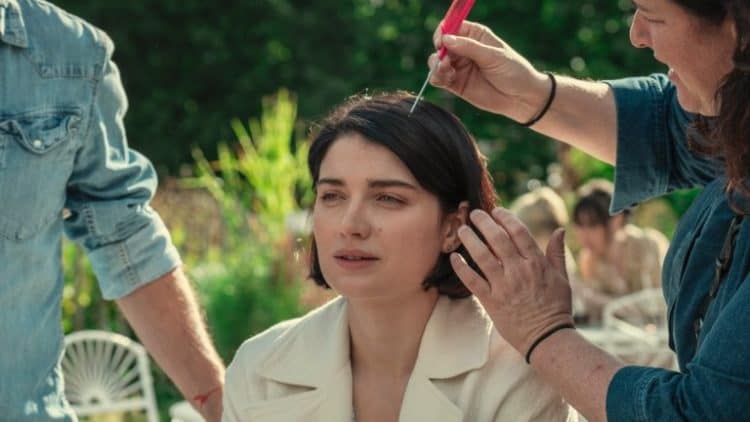 Every once in a while there's an actor who seemingly comes out of nowhere and takes the world by storm, and Eve Hewson is one of the latest actors to do just that. She started gaining attention in 2014 when she was cast as Nurse Lucy Elkins in The Knick. After a year on the show, Eve had a number of film roles before returning to the small screen in 2020 with a role in the TV mini-series The Luminaries. Now Eve is turning heads once again thanks to the net Netflix thriller, Behind Her Eyes. Now with more eyes on her than ever before, Eve wants to continue to show everyone just what she's capable of. Here are 10 things you didn't know about Eve Hewson.
1. She's Bono's Daughter
Born Paul David Hewson, Bono has used his stage name for decades so most people won't instantly make the connection between him and Eve. As the daughter of one of the most well-known musicians on the globe, Ali has spent her entire life around the entertainment industry.
2. She Developed An Interest In Acting At 13
Eve is what some people would consider a late bloomer when it comes to acting. Unlike lots of other actors, she didn't know that she wanted to act when she was still in diapers. She didn't develop an interest in the art until she was 13-years-old. Once the acting bug bit her though, she knew she had found her calling.
3. She Dated A One Tree Hill Star
Eve was romantically linked to actor James Lafferty from 2010 to 2015. Most people will remember him from his role as Nathan Scott in the popular teen drama series, One Tree Hill. It's unclear why the couple ultimately decided to go their separate ways, but they have both moved on.
4. She's Thankful She Grew Up In Ireland
With a father who is well-known around the world, Eve could have grown up in any country/city, but her parents decided to raise her in their home country of Ireland. She told The Irish Times, " I'm really lucky I didn't grow up in London. I'm really lucky I didn't grow up in LA. Being in Ireland and just how Irish people don't care about fame, it's not our currency at all … I think that really helped."
5. She's Very Stylish
Eve may not be a professional model, but she definitely has what it takes. She has a great sense of style and she loves being able to show off her personality with the clothes that she's wearing. She knows how to pull of an outfit for any occasion and she isn't afraid to get a little creative.
6. She Was In A Music Video For The Script
TV and film roles aren't the only things that have gotten Eve in front of the camera over the years. In 2010, she starred in the music video for The Script's song "For the First Time". To date, the video has gotten more than 56 million views. That appears to be the only music video she's been in.
7. She's Passionate About Activism
Eve's mother, Ali Hewson, is an activist and it appears that her work has rubbed off on her Eve. While Eve may not consider herself an activist, she is a strong supporter of human rights and social justice and she has consistently used her platform to highlight causes that are important to her.
8. She Studied At NYU
Eve attended New York University where she studied at the Tisch School of the Arts and graduated in 2013. For Eve, being accepted into the program was a dream come true and it looks like her time at the school has paid off. NYU/Tisch has a long history for producing successful actors and Eve is one of the many to join the ranks.
9. She Wants To Do Some Directing In The Future
Acting has been Eve's main focus for several years, but that won't always be the case. While talking to The Irish Times she said, "I don't think acting will sustain me forever … I'm going back to my control problems. I would love to have more creative input and more say in the things I am making and putting out into the world. It's difficult being in a position where you don't have a voice and you know in your gut people are making bad decisions for you."
10. She's A Cat Person
Knowing whether someone is a dog or cat person can often give you some additional insight into that person's personality. For those who were wondering, Eve Hewson is a cat person. She has a pet cat who has made a few appearances on her Instagram profile.