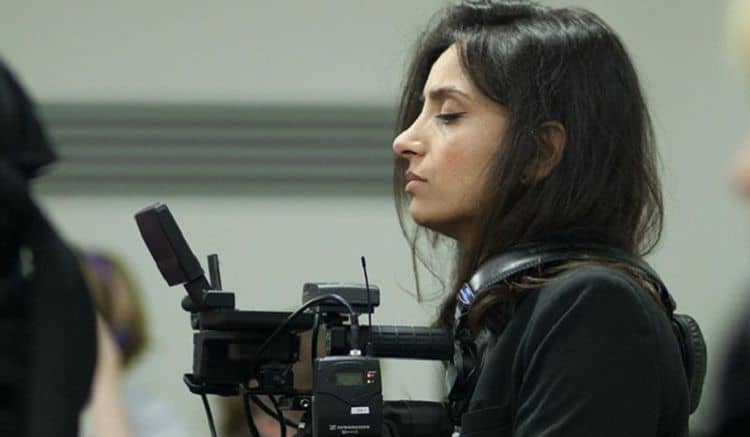 Most people think being a director is all about entertaining audiences, but it's about much more than that for Deeyah Khan. The talented and highly respected director has been using her work to help share meaningful stories. She is best-known for directing documentaries that tough on sensitive social subjects such as Islamophobia, racism, and abortion. Deeyah's work has become to popular because of its honesty and integrity. Her most recent project Muslim In Trump's America focuses on how Muslims in the United States have faced a new set of challenges during Trump's presidency. Continue reading for 10 things you didn't know about Deeyah Khan.
1. She Feared For Her Life While Making White Right: Meeting the Enemy
Deeyah is the kind of director that will stop at nothing to bring the truth to her work. During the making of White Right: Meeting the Enemy, she met face to face with some neo-nazis and it didn't take long for her to start to feel unsafe. She told The Guardian that at one point she thought she wasn't going to make it out alive.
2. She Started A Magazine
Filmmaking isn't the only way Deeyah has chosen to share stories with the world. She also started a digital magazine called Sister-hood. She is also the editor-in-chief of the publication. During an interview with UNESCO she said that the magazine "is an international platform where the woman of Muslim heritage is at the centre. Everybody talks about Muslim women, but rarely do we actually talk to them. I wanted to start creating work that refocused our attention on what it is like to be that girl who is suffering, that man who is wanting to go out and fight in Syria."
3. She's An Emmy Award Winner
Deeyah's work has gotten lots of attention over the years, and it's earned her quite a few accolades including two Emmy Awards for: one for Best International Documentary and another in the Current Affairs category. She has also been nominated for more than a dozen other awards.
4. She Was Born In Norway
Deeyah comes from a very diverse background, and the experiences she's had because of this have played a huge role in her career. She was born and raised in Norway, however, her parents immigrated to the country from from Afghanistan (her mother) and Pakistan (her father). Deeyah was raised in the Sunni Islam faith.
5. Her Brother Is An Actor
There definitely seems to be a creative gene that runs in Deeyah's family. Her brother Adil, is an actor and dancer who has been working professionally for nearly 15 years. In 2009, he got the chance to perform a Michael Jackson song for President Barack Obama's sister, Auma.
6. She Is A UNESCO Goodwill Ambassador
In November of 2016, Deeyah became a UNESCO Goodwill Ambassador for artistic freedom and creativity. She is the first person to ever hold the position and she works with the organization to help promote peace, education, and safety through her creative projects.
7. She Was A Singer
These days, Deeyah is best-known for her work as a director. There was one a time, however, when she was best-known for her career as a singer. She began her musical career when she was just a child and eventually got the opportunity to travel all over the world to perform. She also released three albums and one of her songs made it to the UK charts.
8. She's Been Surrounded By Politics And Activism For Her Whole Life
Deeyah comes from a family where discussions around political issues aren't anything new. When she was just a child, her father began to include her in such conversations. Being exposed to different ideas and points of view at such a young age definitely helped mold her into the woman she is today.
9. She Gave A TedTalk
Deeyah isn't just a director, she's also an activist and she does whatever she can to help people's voices be heard. In 2016, she gave a Ted Talk titled "What We Don't Know About Europe's Muslim Kids and Why We Should Care" in which she shared her experiences as someone who felt like she was torn between two cultures. The video of the talk has gotten more than 1.4 million views since its release.
10. Her Work Has Taught Her An Important Lesson About People
Over the course of her career, Deeyah has learned lots of interesting things. One of the most interesting lessons, however, is actually one that is quite simple on the surface. She told Baktash Ahadi, "I think what I've learned is that people are people, despite the kind of caricatures or even the self image that they try to portray as being monsters, because there's power in being a monster. Being the monster, you have a really important part in the story. You matter."