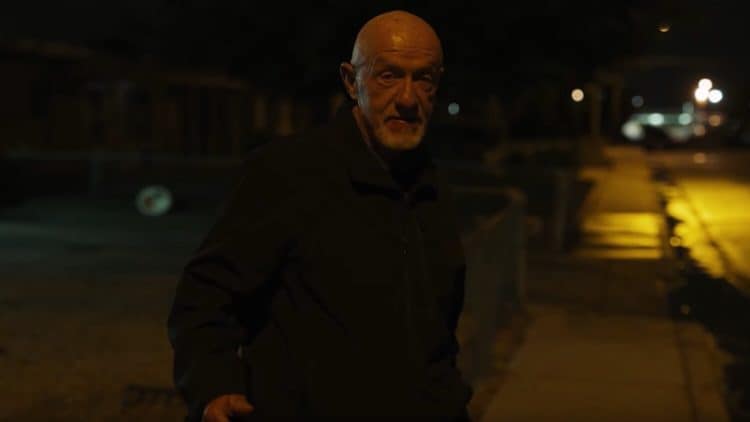 Saying things are going to change is kind of a weak lead-in since really they have already changed and Saul Goodman is now firmly in business thanks to his burner phones, his apparent heartfelt moment when it came to scheming his way back into a law practice, and the continual slip-slide that has been going on for a while when it comes to everyone's favorite shady lawyer. Considering how much the story has focused on Gus and his part in the entire mess it's just a little surprising that the show is still considered to be about Saul, or Jimmy, or Saul, depending on how you want to know him. But when one thinks about taking Gus and Mike's parts out of this show it becomes evident that Saul really can't fill the whole time slot by himself even if he is the main character in the story. His character arc has been extremely interesting to watch though and the entire story has been building and building in a way that a lot of Breaking Bad fans are likely to enjoy since it give a background for a lot of what happened during the show. Given that the events of Better Call Saul are starting six years before Breaking Bad comes along the show has done quite well in securing the back story of many characters that have helped to make the entire timeline what it currently is. Marissa Shapiro of AMC has more to say about the show.
Sticking with Saul as much as possible it's more than fair to say that he's become a sleazeball with no peer in this show since even the bad guys have more going for them than he does when it comes to the levels to which they'll stoop. It has to be said that reading a heartfelt letter written by one's own brother and breaking down just a bit while doing so is a mark of humanity that a lot of people didn't know Saul had, but doubling back and admitting that the suckers fell for it not that long afterward is pure Saul, and a return to character that a lot of people should have been expecting. In the coming season the trailer is already showing that Saul might be thinking twice about the course he's decided to take, or maybe he's just thinking of how much he can get for whatever case he's about to head into since really from the start Saul has been deemed the kind of guy that's not going to care about his clients if the money isn't there. Ross McIndoe of iNews has more to say in his own opinion.
Mike and Gus are still doing their thing and the buildup towards the drug trade and empire is still coming along as the show continues to push the narrative that things are reaching the desired stages, meaning that everything will be ready by the time the show is over and it's time to connect with Breaking Bad. The progression of Jimmy/Saul has been interesting to watch since it's basically the devolution of a man that might have been honest and caring at one point but has been allowed to sink into a mire of dishonesty without any real hope of redemption other than what money and more lies can bring him. It's true that Saul has had plenty of chances to be a decent person and he would likely have several more, but in the world he's chosen to do business in those chances don't come all that often and the same chances aren't bound to come around again on a continual basis since each missed chance is almost like a burned bridge that he's had to let go of as time has gone on. Saul has done plenty to ingratiate himself with the crowd that would eventually become his client base, but it's also been chipping away at his morality throughout the seasons and it would appear that the damage to his integrity is complete. Saul Goodman was at one point the alias he took on to present a false face to those that he was dealing with, but eventually the name became who he was, and who he was bound to define himself as. Daniel Furn of RadioTimes has something to say about the show as well.
From what it looks like in the trailer Mike and Gus haven't changed, the rest of the cast hasn't really changed, but Saul has undergone a transformation throughout the last couple of seasons that's going to become a monumental shift that will see him go from being Jimmy, who wasn't a bad guy even if he was a little misguided, to Saul, who's willing to break or bend whatever law he has to in order to obtain the verdict he wants for his client and to continue practicing law on his own terms. The next season is going to be interesting, that's for certain, but so far it also looks like it's going to be pretty dark.