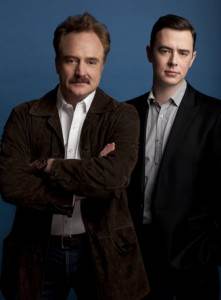 Jack and Dan are being shot at. These guys get shot at every week. The day before, they're stuck in the evidence locker organizing everything. If that's not enough, Liz's mom turns up — her car's been stolen and she wants Jack to find it. Also, Lee Thompson Young (FlashForward) guest-stars as a guy who's helping his brother sell guns to Guatemalans. I have no idea what any of these things have to do with each other, but that's usually how this show starts.
Liz is not too thrilled that her mom has recruited Jack and Dan. Dan has decided to plant a submachine gun from the evidence room on Liz's mom's front lawn. Jack doesn't know any better. Forensics finds a fingerprint on the gun that belongs to Lee Thompson Young's dead brother. 'We have reason to believe that your brother is alive and well and has stolen the world's ugliest sedan,'Jack says. Colin Hanks really is the master of deadpan line delivery.
Company shows up unannounced. A car chase ensues in which Dan destroys some people's lawns. The perp? One of the Guatemalans. Lieutenant Ruiz is not impressed by all this nonsense. Liz, however, turns up to make Jack's unpaid overtime a bit nicer. Again they kind of have a moment that doesn't really go anywhere, except for that we find out Liz's mom really likes Jack, no doubt having hoped he was her future son-in-law.
Jack finally figures out that the brother is dead and Dan planted evidence. He goes ballistic yet realize they're already in so deep they may as well finish what they started. Meanwhile, Lee Thompson Young steals the world's ugliest sedan and goes to pay a visit to Mrs. Traynor, while his not dead brother is off to kill the cops…by sitting in the parking lot of the police station. That's smart. No sooner has Jack assured Liz her mom is safe, then her mom gets taken hostage. Darn it, I knew Agent Gough was evil somehow!
Our boys turn up to the storage place where Dan found the gun in the first place, squabbling like usual. They open up the storage unit to find a lot more guns — and the dead brother's body. On cue, they start getting shot at by the not dead brother, and now the beginning of the episode makes sense. The two brothers argue over how nothing makes any sense, while mistakenly thinking Jack and Dan have blown up. Ruiz is still not impressed.
Jack gets a call from Liz thanking him for recovering her mom's car. This is how he knows something is really wrong. They turn up at Liz's mom's house to walk right into a hostage situation. The world's ugliest sedan gets a couple of speed holes in it.
Flashback to four years earlier when we find out dead brother was accidentally shot by not dead brother, not the Guatemalans. Brotherly argument ensues and deteriorates into a fistfight. It's Jack to the rescue (except for when he's knocking himself in the head with hanging plants). He ends up becoming a hostage himself, until Dan saves the day by driving the world's ugliest sedan through the living room and running over Lee Thompson Young. Even Ruiz has to admit she's impressed…although she tells Dan he's never allowed near the evidence locker again. Jack, meanwhile, drops unconscious in the driveway…and isn't really there when he wakes up, so maybe he can't hear Dan playing Foghat in the car.
The Good Guys is uniformly a good watch, and this is another quirky, entertaining episode. Perfect summer TV, and Frances Fisher was perfectly cast as Liz's mom. What do you think of this week's episode?