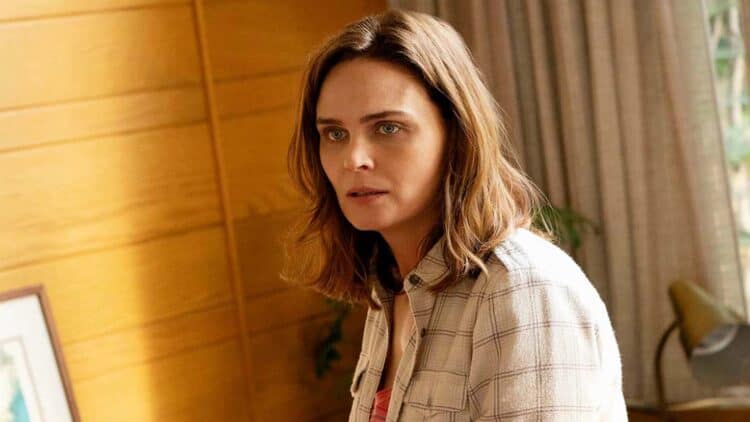 Based on the book by writer Daria Polatin, Devil in Ohio is an upcoming suspense thriller limited series set to drop on Netflix later this year. The show will consist of eight episodes and promises to feature an intriguing set of cast members. Devil in Ohio will be executive-produced by Polatin, alongside Rachel Miller and Andrew Wilder. Here's the synopsis of the show, according to The Hollywood Reporter: "Currently in production in Vancouver, Canada, Devil in Ohio is inspired by a true story and revolves around what happens when hospital psychiatrist Dr. Suzanne Mathis shelters a mysterious cult escapee, her world is turned upside down as the strange girl's arrival threatens to tear her own family apart." If you want to know more about the actors expected to appear in the series, read ahead. Here are the performers expected to appear in the upcoming suspense thriller limited series Devil in Ohio.
Emily Deschanel
TV star Emily Deschanel is set to star in the limited series Devil in Ohio. She will be playing the part of Dr. Suzanne Mathis, a psychiatrist at a hospital. Deschanel is most popularly known for her role in the hit crime procedural series Bones, portraying the character of Temperance Brennan. The show ended in 2017, and since then she's appeared in shows like Animal Kingdom and The Rookie. On the big screen, Emily has worked on projects like Boogeyman, Glory Road, My Sister's Keeper, and Unity. In an interview with The Hollywood Reporter, Deschanel explained how she got into acting, saying: "But then I went to Crossroads for high school and I discovered theater and discovered acting, and I really loved doing it. I think I wouldn't have become an actor if I hadn't gone to the conservatory at Boston University for theater. You get to do four plays a year there, and I think I wouldn't have had the experience to give me the confidence to pursue being an actor after college if I hadn't done something like that."
Sam Jaeger
Sam Jaeger will portray Peter in the upcoming series Devil in Ohio. Most fans would recognize him for his role in The Handmaid's Tale, portraying the character of Mark Tuello. He's also appeared in Why Women Kill, Tell Me a Story, and The Politician. Jaeger has also frequently appeared in movies, having performed in blockbusters like The Eyes of Tammy Faye, Brave New Jersey, American Sniper, and Inherent Vice.
Gerardo Celasco
Gerardo Celasco is set to portray Detective Lopez in Devil in Ohio. A soap opera veteran, Celasco played the role of Miguel Lopez-Fitzgerald in the NBC daytime drama Passions, becoming the second actor to take on the character. Celasco has appeared in projects like How To Get Away With Murder, Bones, The Players, The Haves and the Have Nots, and Moneball.
Madeleine Arthur
Madeleine Arthur will be playing Mae in Devil in Ohio. The young actress is most notably known for her role in the Netflix series Snowpiercer. She also played characters in The Magicians, X-Files, Legends of Tomorrow, The Family, and The Tomorrow People. She's also appeared in a few popular movies, including To All The Boys I've Loved Before and its sequels, To All The Boys: PS I Still Love You and To All The Boys: Always and Forever, Lara Jean.
Xaria Dotson
Xaria Dotson will be playing Deschanel's character's daughter, 15-year-old Jules Mathis, in Devil in Ohio. Here's her current acting experience, according to her IMDb profile: "She went on to study digital media while also working on commercial sets such as Lincoln Navigator and Google, which has helped prepare for larger more substantial roles. In 2013 she won the best acting award as a new talent in the Portland 48 hour film festival for her performance as Elizabeth Jensen in "Red Courage."
Alisha Newton
Alisha Newton will be playing Helen in Devil in Ohio. The actress first appeared in The Wyoming Story in 2010, in her film performance debut. Since then she's worked on Supernatural, Percy Jackson: Sea of Monsters, and Scorched Earth. Currently, she stars in the Canadian family-comedy drama Heartland, a show that has been on TV since 2012. For her role in Heartland, Newton won Best Actress in a TV Drama Leading Role at the Joey Awards in 2015.
Naomi Tan
Naomi Tan will portray Dani in Devil in Ohio. She's worked in Gabby Duran & The Unsittables, Are You Afraid of the Dark?, and The Baby-Sitter's Club.
Djouliet Amara
Djouliet Amara will play Tatiana in the upcoming miniseries Devil in Ohio. She's appeared in Superman & Lois, and Hello, Goodbye and Everything in Between.
Jason Sakaki
Jason Sakaki will be playing Isaac in Devil in Ohio. Sakaki has an extensive experience working in theater productions, according to his IMDb: "Appearing on some of Canada's largest stages, he has received rave reviews for his roles in comedies, musicals, and Shakespearean productions, and frequently collaborates with Bard on the Beach, Gateway Theatre, Urban Ink Productions, and Arts Club Theatre Company."
Marci T. House
Marci T. House will be playing Adele in Devil in Ohio. The American-Canadian actress has experience on stage and film and has also worked as a producer.
Samantha Ferris
Samantha Ferris has been confirmed to join the cast of Devil in Ohio as Rhoda. She previously starred in the sci-fi series The 4400 and played a recurring role in Supernatural, portraying Ellen Harvelle. Prior to Devil in Ohio, Ferris appeared in Salvation, Hit the Road, Somewhere Between, and Mistresses. She's also done some video game work, voicing characters for CSI: Crime Scene Investigation, CSI: Dark Motives, and SSX on Tour.
Bradley Stryker
Actor Bradley Stryker will play Sheriff Wilkins in Devil in Ohio. The actor is best known for portraying Trey Atwood in The OC. He played a lead role in the feature film Tillamook Treasure and appeared in movies like Bruce Almighty, The Brotherhood, and Wolves of Wall Street. Prior to Devil in Ohio, he performed in Law & Order: Special Victims Unit, Heartland, El Recluso, Lost in Space, and Chesapeake Shores, where he had a recurring role.
Other cast members
Other actors expected to play roles in the upcoming series Devil in Ohio include Evan Ellison, Ty Wood, Stacey Farber, Tahmot Penikett, and Keenan Tracey.