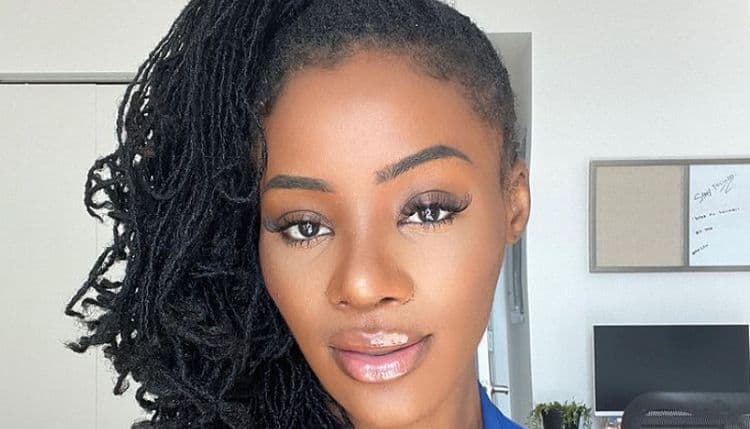 There is something unique about each woman who tries to find love on the Bachelor. Some women are truly there for love. Some are there to become Instagram famous and make some money doing as little as possible. Others are there because they'd rather become the next Bachelorette. Some are there without a job. Some are there with a great job. Some are between jobs. Some are looking for love after losing love. There are hundreds of reasons these women show up, and we are always interested in finding out more about each woman and why she's here. However, it's Marlena Wesh who has us curious this season, and not at all for the reasons we just listed. She's just…awesome. She's so accomplished and so cool, and we want to know more about her.
1. She's an Olympian
The year is 2012. The country is Haiti. She was there as a track and field star on the Haitian Olympic team. She is that athletic that she made the team, and she got to compete at the most prestigious sporting event in the world. Perhaps that makes her a great match for our fellow former athlete bachelor.
2. She's a Business Owner
Not only does she hold the title of vice president of human resources (at the Florida Credit Union), but she also has a real estate company. She's successful enough to run that, purchase several properties, and essentially be creating an empire for herself. She's doing well, which might be an understatement.
3. She Has Killer Energy
There's just something about her that makes you want to learn more. She's energetic, but not in an obnoxious way. She's got that something that makes you want to keep learning about her, and we have a feeling that Clayton is feeling the same way.
4. Bungee Jumping is a No
She will not do it. There is no one who can change her mind. There is no reason that she would change her mind, and that's the end of that discussion. For the record, she is not alone in that feeling. It is mutual not only for us but for so many across the world. Bungee jumping is a hard no.
5. She is a Hardcore Traveler
We say hardcore because her idea of a good trip is not one that involves a bunch of friends or family. She prefers to travel alone, which tells us she is going where she is going to really enjoy the views, the culture, the atmosphere, and the time with herself. That's hardcore, in our opinion.
6. She's Been Everywhere
Well, not literally, but it seems that way when you do the math. She's, so far, visited more than 15 countries across the world, which feels like everywhere. She has her favorites and her least favorites, of course, but she has a longer list of places she's yet to travel – if we can make some assumptions based on her personality.
7. She's a Professor
She started her job in 2020 working at a smaller college in a major college town. Not to sound like we are at all partial about that particular college town as Florida Gators, but she's teaching courses at Santa Fe College in Gainesville, Florida, which is home to the University of Florida. She's a Floridian, majorly local to us, and someone we just adore.
8. She's From Virginia
She was born and raised in Virginia. You might wonder how she was able to be an Olympic athlete in Haiti, then. Both of her parents are from Haiti, and things just worked out well for her. She's a woman who gets around, too. She is currently residing in Miami, Florida, and we get the feeling she has a particular affinity for the Florida area. We feel that.
9. She's 30
She is among the handful of women this season who are not in their 20s, and we have a feeling she's so much better for it. Not that there is anything wrong with being younger, but the bachelor is 28 and ready to settle down, and the woman who are already in their 30s definitely come across as more mature and more capable of living that married life without the dramatics that comes with being too young.
10. She's Confident
Here is a woman who oozes confidence. She's happy to be where she is in life, who she is in life, and she's not looking for validation. That, my friends, makes her powerful and confident. We have a feeling she's bringing it to the table this season.
Tell us what's wrong with this post? How could we improve it? :)
Let us improve this post!