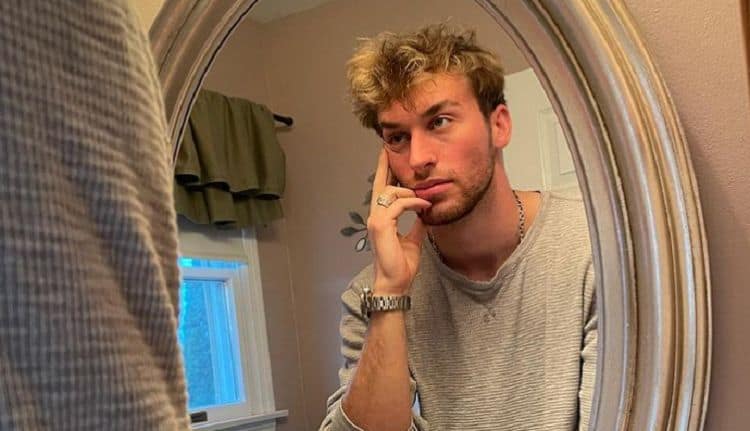 TikTok fans love Joe Mele almost as much as they love his dad. This TikTok star and his father have done something no one else has managed to do in the course of one year, and that is blow up because they spend their time together doing silly things on the internet. His name is famous, but his father is half the reason he is so famous. Of course, he does post a lot on his own, too. He's into performing skits and showing videos with his friends and family involved – but it's his dad who the world fell in love with. What's the story here?
1. He Grew Fast
It was February 2020 when Joe Mele thanked his 500k followers on TikTok for making him big. It was mid-June 2020 when he thanked his 7.5 million followers on TikTok for making him even more famous. It was a huge growth in what many would consider no time at all, and he is not lost on the importance of what happened to him.
2. He Gets his Humor From his Dad
If you ask Joe Mele where he learned his humor, it's from his dad. His dad learned from his dad, and his uncles, and it seems that it is a family trait. We don't know about you, but we do think that getting humor as a gene is a good one to get.
3. Ratatouille Started it All
When a fan pointed out that his father resembles a character from the hit movie, Joe Mele did some thinking. He got his dad to dress up as a food critic from the movie for a skit, and that is when his videos started going viral. They were picked up by the people at Buzzfeed, and things just blew up from there.
4. He is Very Close to His Family
If there is one thing you must know about Joe Mele, it's that his family is of the utmost importance to him. He and his mom, dad, and brother are exceptionally close, and he shows that off regularly on his Instagram feed. His mom and brother, however, spend very little time on his YouTube channel. He hopes to make that a difference.
5. He's Young
Joe Mele is not very old. In fact, he was born on December 15, 1998. He's only 22 as of June 2021. He's only been on TikTok making videos since 2019. To be more specific, he's only been online making videos since November 2019. He's gained all this fame in fewer than two years.
6. People Love His Father
While Joe Mele might be popular online, it's his dad, Frank, who is the one people love the most. In his 8th video on the app, people began to find his father and make a big deal about him. They knew that he would be the kind of guy that they wanted to see more of, and they flocked to this kid's account to see the dad behind the scenes.
7. He Creates the Content
When the younger Mele comes up with an idea, he jots it down. He comes up with his own content, and then he meets with his dad to talk about it. He wants to know if his dad is okay with it, then they come up with a plan together. The plans they create often include doing things like dressing dad up for fun.
8. He Doesn't Do Influencer Houses
He was invited to join an influencer house to live in LA with other infuencers, but he turned down the invitation. It's just not his style. He prefers to hang out at home with his family. He's a guy from a small town in New York, and he's not looking to move across the country to live in a house that's all party all the time. He likes to be home.
9. His Hobby is Now Work
What changed most for him is that he used to post on his account whenever he had a chance or when he had the time or the desire to do so. Now that he has more than 13 million followers, however, he has to do it all the time. He spends a lot of time creating content and doing things that make his life a lot easier, and it's changed the game for him.
10. He Gets a Lot of Offers
He's reached big-time influencer status. He's getting around 10 to 15 offers a day from companies who want to see him work for them promoting their brands and doing things that bring attention to them. He's doing some of it, and he eventually hopes to turn this hobby into a full-on business.
Tell us what's wrong with this post? How could we improve it? :)
Let us improve this post!