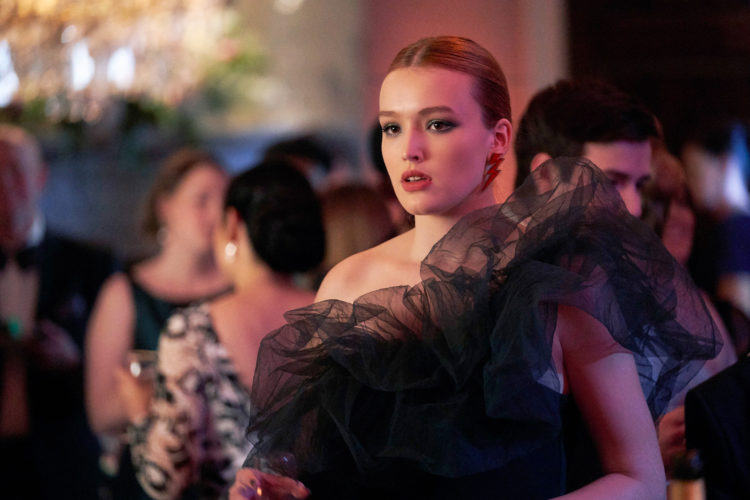 Until recently, the name Maddison Brown probably didn't ring too many bells. Despite starring as Kirby Anders in The CW show Dynasty, Brown isn't yet widely known outside her native Australia…or rather, she wasn't. At the beginning of October, the actress suddenly found herself at the center of a press storm after pictures emerged of her canoodling with the newly single Liam Hemsworth. As the first woman to be pictured with the Australian actor since he and his wife Miley Cyrus announced their split in August, the attention was perhaps understandable. Sources close to the pair have said they're taking it slow and just "enjoying each other's company" – although with some speculating that Cyrus and Hemsworth will eventually reunite, how long the new romance will last is anyone's guess. Regardless of whether the pair continue to "enjoy each other's company" or go their separate ways, there's no doubting the episode has elevated the Australian actress to a whole new level of stardom. Discover more about her with these ten quick facts.
1. She started acting when she was 6
Brown's first film credit can be traced to the 2004 TV movie Go Big, which offered her a glimpse into the industry when she was just 6 years old. Whether it was just her tender years, or whether the experience proved more of an anti-climax than a revelation, we don't know, but whatever the reason, it would be a long 11 years before Brown appeared on film again.
2. She's starred in a film with Nicole Kidman
Following her 11-year hiatus from acting, Brown choose the 2015 feature film Strangerland to make her return. Despite a starry cast of talents like Nicole Kidman, Joseph Fiennes, and Hugo Weaving, the film was a box office bomb, grossing just $1 million against its $10 million budget. Unfortunately, Brown's next project was no more successful…
3. Her TV debut was on The Kettering Incident
Following on from the failure of Strangerland, Brown next tried her luck on TV, making her debut on the 2016 Australian drama series, The Kettering Incident. Starring Elizabeth Debicki as Anna Macy, Matthew Le Nevez as Detective Brian Dutch, and Henry Nixon as Officer Fergus McFadden, the series picked up 115,000 viewers across its two-episode premiere, making it the most-watched TV show on Foxtel. However, despite going on to win several awards at the 2016 AACTA Awards, the 2nd season was canned before making it to the air.
4. Nicole Kidman encouraged her to act
At the point of filming Strangerland, Brown had been working as a model for several years, finding significant success with campaigns for the likes of Marchesa and Calvin Klein. Despite being convinced her future lay in acting, she still felt strong ties to the modeling world and found herself struggling to know which direction to take. She was eventually convinced to pursue acting by Nicole Kidman, who offered her the sage advice "You should keep doing this. You're good at it."
5. She finds acting a challenge
Having combined a successful modeling career with one in acting, Brown is well-positioned to draw comparisons. Of the two, she finds acting the bigger challenge. "The preparation for acting is insane," she's told I-D. "With modeling, you just have to do castings then stand there and leave. Acting is such an emotional investment. I hope I'm good at both. Modeling is less of an emotional effort."
6. Sydney will always be her home
Despite basing herself in Atlanta for the filming of Dynasty (and flitting between LA and New York when she's not), Brown still considers herself a dye-in-the wool Aussie at heart. "Sydney will always be home," she's told Yahoo. "It's hard to leave every time I leave. I don't want to."
7. She's taken the cast of Dynasty to her heart
Brown didn't join Dynasty until season two, and she's admitted to feeling slightly nervous about joining an already established cast. However, her worries proved unfounded and she's since spoken effusively about how much she enjoys working with her costars. "I felt like the new girl at school but everyone has been so warm and embracing and made me feel very comfortable from the start," she's shared with Vogue. "I'm so fortunate to be on a show where everyone wants to be friends with each other and make connections."
8. She has trouble connecting with people her own age
Having worked from such a young age, Brown has sometimes felt removed from her peers, admitting she finds it hard to connect with people who are more concerned with partying than they are with their careers. "I feel I have trouble connecting with people my own age because I've been working for so long," she told I-D, before adding "[I also have] trouble connecting to people in their late 20s and 30s because there is such a big age gap. It's about finding the right people, I guess."
9. She doesn't court fame
Fame may be part and parcel of the acting game, but it's not something Brown actively courts, and certainly wasn't the reason behind her decision to join the all-star cast of Dynasty. "I don't know if anyone signs up for a show thinking they're going to become famous," Brown told Vogue, before adding, "That's not something I've given much thought too. I have just been focusing on doing a good job and being present in the moment. Whatever arises, I'll take it as it comes. I've not been worrying too much with that."
10. She's big on Instagram
Brown has a huge Instagram following and seems to devote a lot of time to keeping her fans up to date with news about her personal and professional life. One of the most regular fixtures on her page is her adorable pet dog, who she's cited as one of the three things that make her happy (the other two being food and Australia).