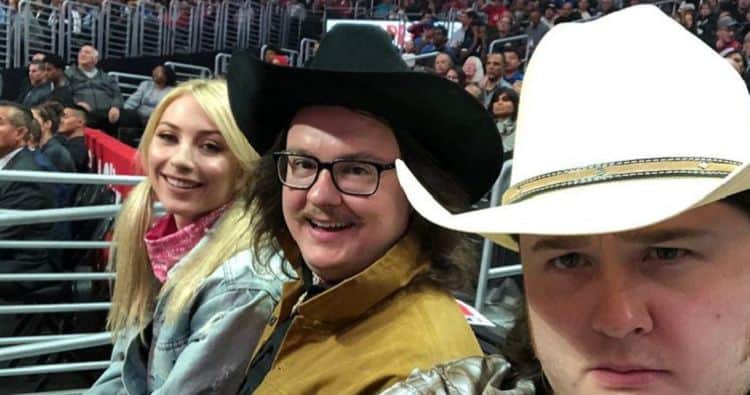 They saying 'time flies when you're having fun' must be true, because it's almost impossible to believe that Clark Duke has been working in the entertainment industry for more than 25 years. Best-known for his role as Clark in The Office, Clark's sense of humor and strong on screen presence are impossible to ignore. Over the course of his career, Clarke has entertained millions of people and he has shown that he's capable of doing lots of different things. From acting to writing and directing, Clarke is one of the few people who can be a Jack of All Trades and a master of them at the same time. Keep reading for 10 things you didn't know about Clark Duke.
1. He's Originally From Arkansas
Clark may be about that Hollywood life now, but that wasn't always his situation. He was born and raised in a small city in Arkansas called Greenwood. According to City Data, Greenwood's population is just over 2,100. Although Clark is very proud of his roots, you can probably guess that Greenwood doesn't have the strongest professional acting scene.
2. He's Wanted To Be A Director Since He Was 12
Many people make it all the way to adulthood without knowing what it is they want to do with their lives. Clark, however, was one of the lucky few who found his calling at a very early age. During an interview with The Hollywood Reporter, Clark shared that he's wanted to be a film director since he was 12-years-old. He cites some of his early inspirations as Quentin Tarantino and the Coen Brothers.
3. He Is A Loyola Marymount Alum
Clark attended Loyola Marymount University in California where he studied film. While there, he met Michael Cera and the two became best friends. Their friendship was the basis for the short lived series Michael and Clark. Clark actually directed the pilot episode as part of his college thesis.
4. He Is A Big Robin Williams Fan
People all over the world were shocked and saddened when news broke that actor/comedian Robin Williams had passed away. The loss was especially painful for Clark who had always been a huge fan of Williams'. In September 2020, Clark shared a photo of him and Robin together with a caption that read, "The kindest, most generous actor. And human. Getting to know one of your heroes and not being disappointed is one of the great, rare pleasures."
5. He Almost Quit Acting
Even though Clark loves what he does, he reached a point in his career where he was thinking about giving it up. He told The Hollywood Reporter, "I've done one thing over and over, and that happens to a lot of people, not just me. If you do one thing, you usually get put on those casting lists to do that same thing again. To be honest, I got to a point where I was really burned out with acting in general. I was just really tired of the kind of stuff I get offered and get to read for."
6. He Credits Liam Hemsworth With Getting Arkansas Off The Ground
Clark made his feature film directorial debut in 2020 with the movie Arkansas. While Clark put in a lot of hard work to bring the film to life, he gives Liam Hemsworth the credit for truly bringing the project to life. Having a star like Liam agree to do the film helped give it the credibility it needed.
7. He's Also A Voice Actor
Live action work is what most people probably know Clark for, but he's also a talented voice actor as well. He voiced several characters on the popular animated series Robot Chicken from 2008 to 2020. He will also be the voice of Thunk in the upcoming movie, The Croods: A New Age.
8. He Was In Superbad
Superbad is arguably one of the most popular comedy films mid 2000s, and Clark will always be able to say he was a part of it. In fact, Clark made his film debut with a small appearance in the movie. Although his role was very minor, it was still a great opportunity for him.
9. His Brother Is An Actor
Acting skills are clearly something that runs in the Duke family. Clark's brother, Chandler, is an actor and writer who also attended Loyola Marymount University where he earned a degree in screen writing. Chandler played the role of Nick in Clark's movie Arkansas.
10. He Was In A Kid Cudi Video
As if Clark's resume wasn't already impressive enough, he can also add that he was the star of a music video. He appeared in the video for Kid Cudi's 2010 single "Erase Me" where he played a member of a rock band. To date, the video has gotten more than 67 million views on YouTube.
Tell us what's wrong with this post? How could we improve it? :)
Let us improve this post!