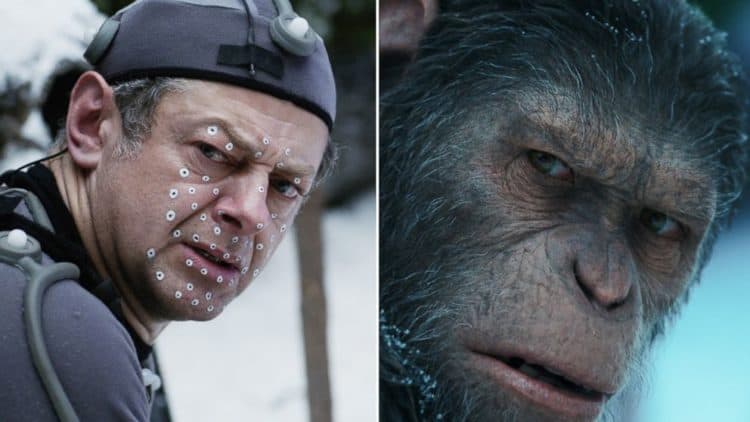 It's kind of amazing to think that we have favorite actors that we don't get to see that often. Well, technically we do see them, but the form and face they take on the screen tend to be something different and as a result, we don't see them, but instead, the character that they're playing, which in many cases happens to be motion capture and therefore only the movements and expressions that they lend to the character that we see on screen. In some cases, we actually get to know the characters they play far more than the actor since the reality that we hardly ever see them in live-action is enough to make it appear that we don't ever see them at all. Every actor on this list however has done plenty in their career that has allowed them to be known by the fans. But some of their best parts have included roles in which they've been heavily covered by makeup and prostheses that have hidden their actual features away and made them appear as someone or something else entirely. Knowing who's behind the makeup and motion-capture suit though is fairly easy, especially since a couple of individuals have made themselves famous with this type of acting.
Here are a few actors we don't get to see that often outside of their costumes.
5. Warwick Davis
Warwick kind of has to be picky about the roles he takes on sometimes since his stature limits him a little bit to what he can actually do when it comes to one role or another. But so far in his career, he's made things work by simply taking on some of the more memorable roles in cinema. Yes, even Leprechaun, cheesy as it is, still stands as a name that a lot of people happen to know. But Wicket from Star Wars is another name that he's known by, and he does have another character in Star Wars that people have come to know him by. Of course, his time as Willow Ufgood is one of his more popular roles, but it's one of the only live-action roles that people know him for.
4. Doug Jones
Doug has made himself well known in the movies by being the guy that's skinny enough to fit into the monster costumes that no one else can fit into and the guy that has dressed up as some of the creepiest characters ever made. His time in Pan's Labyrinth is one great example since he played a couple of characters that people still remember to this day. He's also taken on a couple of different water-born creatures that have added to his impressive repertoire as well, and it's fair to say that he's one of the more impressive individuals that don't often get a lot of recognition from the fans. But he is very skilled at what he does.
3. Tilda Swinton
Tilda is someone that hides in plain sight and does so with very simple shifts in her appearance since she could look absolutely divine at one movie and in another, she'll look tough as nails and ready to drop the hammer on an unsuspecting enemy. Then she'll turn into someone that you can't help but grimace at because the character is truly ugly inside and out. This goes to show that her acting talents are some of the best in the business though and that she can become whatever character she needs to be in order to be efficient in whatever project she's taken on. How a person can do what she does isn't hard to believe or explain, but it's still fun to watch.
2. Robert Englund
He's appeared several times as his regular-looking self, but it still feels as though people are hoping to see Freddy Krueger spring out suddenly to menace another set of teenagers in a given movie. Sadly he's given up that character as he's getting on in years, but while he was playing the burnt-face killer it was often seen that people were hoping to see him show up more often than not since his popularity was established with the first movie and only grew from there despite the cheesy sequels that were made.
1. Andy Serkis
Seeing Andy Serkis show his face is kind of like seeing a blue moon, it happens, but only once every so often. A good chunk of his career has been spent in motion capture suits as one character or another. There's nothing to complain about really, the guy has done a stellar job when it comes to the movies he's helped out on, but seeing him in person comes as kind of a surprise sometimes since it's not how we normally see him. Even seeing him in Return of the King as Smeagol pre-crazy was kind of nice.
Sometimes hiding your face is the way to become famous.