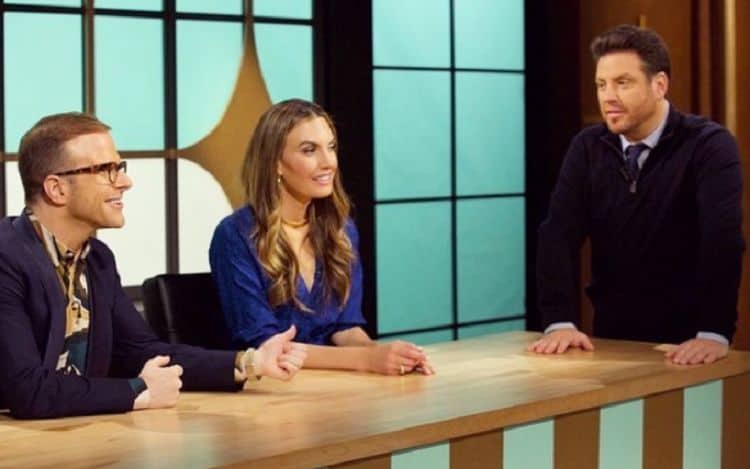 Elizabeth Chambers is the kind of woman who has a lot going for her. She's a business owner, she's a food host on the Food Network, she's gorgeous and intelligent. She's got it all, and she's making sure she continues to get even more. Most people are familiar with her, but maybe not with her personal life, upbringing, and her personal history. However, we want to be sure we can tell you more about her, and that's where we are starting right now. She's someone definitely worth knowing.
1. She Owns Bakeries
If you've not heard of the BIRD Bakery, we won't hold it against you. You might not be from San Antonio or Dallas, which is where her bakeries are located. Either way, though, you should make time to visit if you are in either area. She's got two beautiful bakeries, and she's good at what she does. This is why everyone who goes loves what they taste.
2. She's A Morning Fixture
She's been on the TODAY show more than a few times, but that's not her only television fixture. While she's a morning staple on the hit program, she's also spent a great deal of her time filming other news network shoes such as E! News and more. She's someone who gets around, and she's quite good at her journalistic endeavors.
3. She's Always Loved to Bake
She's loved it since she was a little girl. She loves to be in the kitchen. She loves to create. She loves to judge those who love to do the same thing, which is why she spends so much time on the Food Network judging other reality shows. She's just always had a love of it, and she's made it her life.
4. Food is a Family Business
She's not the first foodie in the family, if we are being honest. Her grandmother also owned a company. Hers was a catering company. Her mother owns a health food store. She, on the other hand, was more inclined to want to serve people their favorite meal: Dessert. No? That's just us? Oh, well, we thought dessert was everyone's favorite meal, and we bet Elizabeth Chambers does, too.
5. She's A Mom
When she is not busy being a totally amazing business owner, baker, journalist, judge, and everything in between, she's taking the mom game by storm. She has a daughter and a son who are two years apart. Her daughter is Harper, and her son is Ford.
6. She's Married
But not for much longer. She's married to actor Armie Hammer, with whom she shares her two children. However, they announced in summer 2020 that they've decided to split up and go their separate ways. They have not officially divorced as of yet, so they are still technically married. They were married in May 2010.
7. Her Husband is Younger
One thing that is very interesting is that she's the older party in her marriage. She's not that much older, but she did get married 10 years ago when she was only 27. Considering the fact that her husband is approximately 4 years younger than she is, they got married when he was only 23. That's a big age difference at that age, if we are being honest.
8. They Were Quarantined in the Cayman Islands
One thing that really shocked people was that this little family of four was quarantined together in the Cayman Islands. We don't know if they have a home there or if they were just there when things took a sudden change for the worse as the COVID-19 cases began to rise and the world shut down. However, we did learn that her husband left the islands a few weeks ago and that they have been on their own since.
9. She and Her Husband are Great Friends
When they announced that they were ending their marriage in early July 2020, they both used the same photo of their family as well as the same statement. They pointed out that they have been the very best of friends for 13 years, and that they will continue to be the very best of friends throughout this difficult time. They are not going to fight, argue, or make this ugly because they do have two very small children to take care of, and the don't want to put them in the middle of their issues.
10. She's Been Called A Lifestyle Guru
She's a wife, a mom, a business owner, a social media star. She's all of it, and she's gorgeous and well-spoken, and she is so much more. She's a force with which to be reckoned, and we think that is why she's been called a lifestyle guru for the Insta-age. She's probably loving that one, too.
Tell us what's wrong with this post? How could we improve it? :)
Let us improve this post!