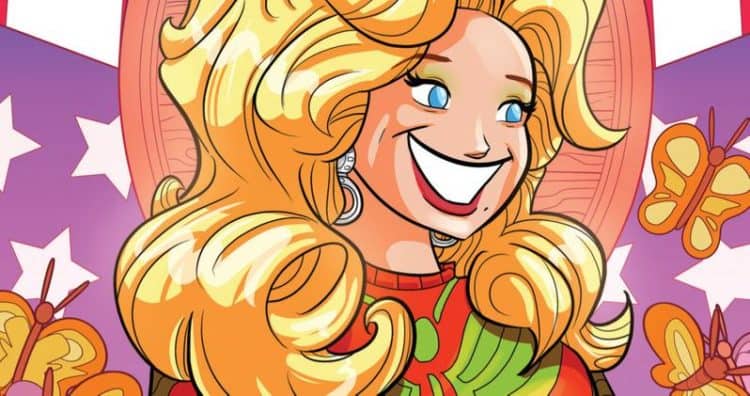 The ideal thing to do would be to congratulate Dolly Parton for reaching another pinnacle in pop culture since her own comic book in a series that's being run for Women's History Month will cap off the month of March as it arrives on the 31st. That's the expected thing to say, and it's well-deserved since the country star has been around for so long and done so many great things that saying anything openly disparaging about her is bound to be met with a tirade of defensive statements and ridicule that would send quite a few naysayers running for the hills with their tails between their legs like scalded dogs. Okay, maybe it wouldn't be that bad, but considering that Dolly has led a pretty impressive life and had such a stellar career it's easy to think that anyone daring to badmouth Parton would be on the receiving end of a nonstop litany of insults that would make them think twice about saying another word against the woman. Seriously, Dolly is loved by just about everyone that's ever heard of her, and respected at the very least by those that aren't huge fans. If anyone's going to bother wondering how a person could not be a fan of Parton's, all that needs to be said is that a person doesn't enjoy country music, or that they don't even know that much about Parton. It's all well and good to give respect to someone with a career that's spanned so long and accomplishments that aren't easy to count, but undying and obedient respect such as many of her fans have given for so long isn't something that every individual is going to give without pause.
For those that aren't big fans but know enough to be polite and offer congratulations, it's enough to think that she continues to be a driving force in the music industry and that her works are continuing to be recognized. It's one thing to recognize her though, and another to have her and any other celebrity shoved into the spotlight so that people absolutely have to acknowledge her. The best part about this is that Dolly doesn't exactly do this as she does what she does best and encourages others while inspiring them without being pushy. That's what PR people are for after all, and it's the efforts of those that want so badly for everyone worldwide to know how great of a person Dolly Parton is that tends to annoy people just a bit. One of the best parts of this is that if a person doesn't want to acknowledge it they can look away and call it a day, just as anyone can with anything. That's a freedom we all have and it's one that a lot of people exercise on a regular basis since it's so much easier to turn away from something we're not into or don't approve of than to start up an argument or campaign to say why what we don't like or don't follow shouldn't be getting this press. Besides, with Dolly it wouldn't be accurate anyway, considering that this is a woman that said no to a statue in her image. It does feel likely that whenever the day comes that she passes away that those Tennessee will see fit to commemorate her life with a statue, but for now she's decided that her presence within the industry is all that's really needed, as the issues that have been going on with statues over the years might not make this the best time to think about putting up another one.
Saying that Dolly Parton is one of the most inspirational women around is putting it mildly, and while there might be a good number of people that don't fully agree with the list of other women that will be on the list for this series, the fact is that someone believed that they're all worth putting in the series, and Dolly is one of those that has definitely earned her spot. One doesn't have to be a country music fan to acknowledge the idea that she's done a great deal for others and that she's had the type of career that many individuals only dream about since after all she's done and all she's accomplished it's very easy to say that the woman is one of those that are worthy of a great deal of praise and should be basking in it. Yet for all that, it does feel that Dolly is a somewhat humble individual at times that enjoys the fact that she's famous but also uses it in a manner that's far different than many others. There isn't much of a better way to cap off the end of Women's History Month than this, as many would agree.
Tell us what's wrong with this post? How could we improve it? :)
Let us improve this post!