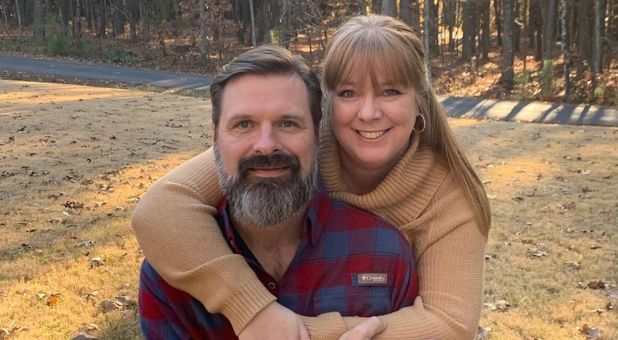 When it comes to Christian Rock (otherwise known as contemporary Christian, or simply 'contemporary'), the genre has come a long way, even entering the mainstream and staying there, in some cases. Modern Christian rock bands like Creed and Skillet have enjoyed incredible crossover success, though in some cases that success proves that it's not all it's cracked up to be. What began as a good thing turned into something of a nightmare, because the same success that caused the band to soar also brought them crashing down. Skillet, however, has managed to enjoy that success without a hitch thus far, while Creed had to find their way from the darkness of mainstream fame back into the light…and did.
But the struggle of temptation really isn't something that Mac Powell had to battle, at least, not to quite the same extreme. Mac is the lead singer for Christian rock band Third Day, and he is also a songwriter and producer. Mac and the band have been blessed enough to have many hit songs, win awards, and enjoy the fruit of his labor without many of the struggles that mainstream rock stars face, yet he's had to face demons of his own, for sure.
This is one awesome band that is well-known in the Christian rock scene. But for those of you who aren't familiar with Mac, you should definitely get to know him. That's why we're here today…to help you do just that. We've taken the great pleasure of providing you with a list of ten things you didn't know about Mac Powell and his life, and in the process, we've learned a thing or two as well. So sit back and enjoy; we're pretty sure you will.
1. Birth and Early Years
Born in Clanton, Alabama on December 25, 1972, Mac and his family moved to Georgia when he was still young. He attended high school at McEachern in Powder Springs, where he met bandmate Lee. Together they formed Nuclear Hoedown. Later, Mac and Lee would work together after Third Day was formed.
2. Life Now
Today Mac lives in Atlanta, Georgia with his wife, Aimee. The couple have five kids: Birdie Clare, Scout, Emmanuel, Cash, and Camie Love. Mac is a Grammy winner, and apart from his award-winning band, he has released four full-length albums, had five featured singles, and has worked on more than twenty projects independently (
3. Heart for Adoption
He and wife Aimee shared their heart for adopting orphans when they led Mac's second convocation at Liberty University in 2016. According to his wife, Aimee, they both loved children and the thought of adopting early on in their relationship, but it wasn't until they had three of their own and had a friend adopt a child from Guatemala that their own hearts began to feel the need to do the same. Aimee also explained that the Lord stirred their hearts to adopt two of their children when they were serving in an diverse 'after school program'. They also pointed out that while not everyone is led to adopt, everyone IS responsible to care for the orphans of the world somehow, and that there are many ways one can get involved and help. The Powell's diverse family includes their two adopted children, who are African-American.
4. Four Grammies is Nothing to Sneeze At
When a Christian rock band or artist is able to claim four Grammy awards, it really says something about that band or artist, considering the fact that the Grammy Awards focus mainly on mainstream music overall. As Third Day, Powell and the boys have been nominated for 26 awards and have won a total of 28 between the Grammys and the American Music Awards. They have also been featured in no less than ten Billboard Music's Best of 2000s categories on their lists. They have also been recognized several times by the Gospel Music Awards Association.
5. Estimated Net Worth
While Mac and his family will affirm that the rewards they reap for their work in Christian rock go far deeper than that of the financial, they have truly been blessed in the monetary realm as well. As of this year, Powell's net worth is estimated to be approximately $5 million, and he has been an incredible steward of these funds, spending them as they were meant to be spent in accordance with the morals and beliefs of him and his wife.
6. Prayers Needed
Only five days ago, on December 2, Aimee Powell was found to be suffering a brain aneurysm after a severe headache motivated Mac to call an ambulance and have her taken to the hospital. Tests showed bleeding on her brain, which doctors believed to be an aneurysm, according to Taste of Country and a post Mac made to his Instagram account. The family asked for prayers in that post. In an update he stated that doctors were able to put in 2 coils to keep the aneurysm from bleeding and rupturing, but she continues to suffer from severe headaches. He stated that she will remain hospitalized for a while.
7. Solo Country
With Mac having such an incredible voice that seems custom-made for southern rock and country, it is no surprise that the Third Day frontman has released his first solo country album. 'Southpaw' combines Mac's deep country drawl with powerful southern rock music, and then he throws in some pretty amazing ballads, to boot. It features ten incredible songs, and the entire things is worth more than a listen.
8. How He Came to Music
According to an interview he did with Rolling Stone, Powell stated that he grew up around country music, when music was played around the fire when he was a child. Being from the south, he was surrounded by it, as most everyone is. Enjoying it very much, he always wanted to get into country more seriously, but he postponed the urge for years for a variety of reasons. Now that he has completed 'Sounthpaw', Powell says he wished he had put those reasons aside and did the project five years ago.
9. Christian Values and Country Music
Powell also discussed the fact that many don't think that the country music of today expresses any kind of Christian values, as it is all about drinking and cheating. But Mac defends the genre, saying that the two can indeed be reconciled. He also gives a good defense on his new album, so give it a listen and see what he has to say about it.
10. The Family Reunion
Since he grew up with his parents playing music around the house, you know the stuff is in his blood, and he lets that fact show. His band The Family Reunion is all about down home roots and their relation to good music. He considers it to be a band of musical brothers that have been recording with him for some time (not his real brothers). Their live show is a blend of country, southern rock, Gospel, and American rock and roll.
A personal favorite, Mac Powell and Third Day, as well as all of the other projects he has been involved in, have set the standards for the music we listen to today. He doesn't just give us incredible tunes and lyrics, but he gives us words to live by, examples of faith and integrity that are desperately needed in this day and age. We hope that Mac continues to climb the ladder to success, and that his country dreams are as successful as his gospel ventures. To a wonderful future for him, his family, and his music.
Tell us what's wrong with this post? How could we improve it? :)
Let us improve this post!