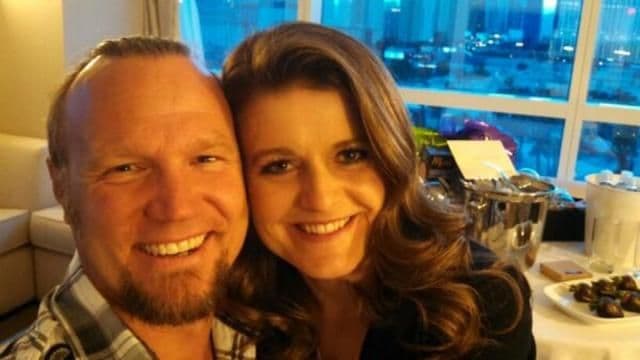 If Robyn Brown sounds familiar to you at all it could be that you've watched Sister Wives a time or two and seen the brunette on the show. What you might already know is that she's one of four brides that Kody Brown has wed over the years and quite possibly the last one since either he or his wives have nixed the idea of any more. Robyn is the youngest among them and also at times looked at by the other three with something that might approach envy or jealous no matter how much it's seen that they deny it ever occurs. One can't help but think however that the truth is that these folks possibly have more tensions running through their enlarged family than many since there are more of them to deal with and more attitudes, issues, and bits of drama to contend with on a daily basis.
Here are a few things you might not have known about Robyn.
10. Her social media account is fairly busy.
There are enough fans of the show it would seem that she manages to stay fairly active on social media. Let's be honest and say that the fans, a lot of them, are either trying to wrap their head around having four spouses or are just waiting for the inevitable train wreck.
This show is all about showing how polygamy can work for one family, though they don't call it by this name, preferring to call it 'plural marriage'. Apparently we need to be PC about this as we do with everything these days.
8. There's not a lot known about her early life.
She doesn't seem to have released much that she's not willing to talk about on the show about her past since there isn't much to be found or go on when it comes to who she is and what she's done. That might be a smart move really since otherwise people would be dissecting her life up and down.
7. She's the fourth wife in the bunch.
She's also the youngest so you can imagine that the other women do look at her differently no matter how much they want to admit it or not. There's simply no getting away from the fact that she's the one that can still have children without as much risk.
6. She and Kody were legally married in 2014.
Before that they were 'spiritually married' which is a nice way of saying that they were joined in heart, mind, and soul, but weren't legally recognized as husband and wife just yet. The laws of the land still do matter in many ways.
5. Apparently her kids have been bullied by the kids of her sister wives.
With this many kids in the mix you have to think that bullying is going to happen occasionally but given that they're all half-siblings if not full siblings it's also something that you might think some people might claim is pretty natural since sibling rivalry is still a thing when it comes to family dynamics. But Robyn isn't about to let another woman's kids bully her own, even if they are a part of her family.
4. Her husband was arrested on an assault charge.
Apparently he pleaded not guilty and was allowed to get off on a lesser charge before being released. Whether this was a precursor to a bigger problem or not is hard to know since it was made to go away pretty quickly. Whether that was the show's decision, which is likely, or the Kody's just tried to quiet it down is difficult to say.
3. It sounds like her husband has had to divorce one of his wives each time he wanted to get married to another one.
When you think about it polygamy is illegal in all 50 states so the practice would be condemned outright if Kody was legally married to all of his wives. But since he's a three-time divorcee that is now married to Robyn and 'spiritually married' to his three exes it would seem that everything is above board and entirely legal. A lot of us can't help but do a face-palm at the practice however. At the same time though it's not our lives.
2. A lot of people are pretty vocal about their family practices.
When they moved to Las Vegas there were a lot of people that seemed to speak out against the Browns' unusual lifestyle. But again, they're not breaking the law just by living together, so there's really nothing to be done.
1. It seems like there's been some unrest on the show.
The entire family seems to have denied anything truly disturbing going on, and even catfights that are rumored to happen between the wives from time to time are downplayed. But you kind of have to think that such things will and do happen.
It's not our lives remember.
Tell us what's wrong with this post? How could we improve it? :)
Let us improve this post!