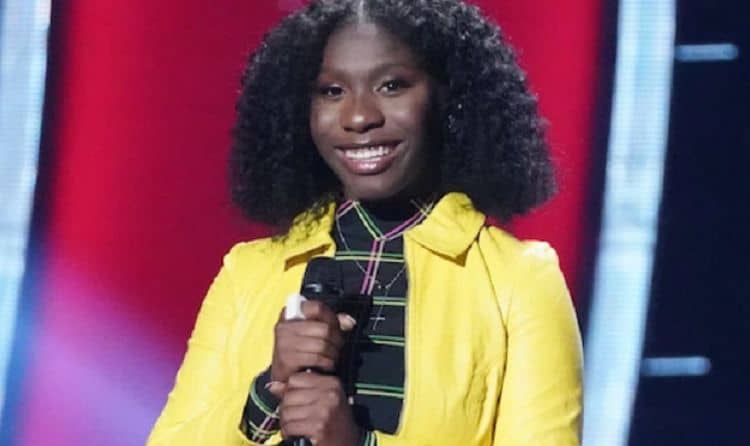 Due to the COVID-19 pandemic, season 19 of The Voice has been unlike any other. But even with all of the craziness going on in the world, the talented contestants are still putting on great shows. One of the singers who has been getting a lot of attention lately is 15-year-old Larriah Jackson. Although she's still just a high school student, she has shown that she has the skill and the poise to have a long lasting career in in the music industry. Larriah is hoping to make it all the way on The Voice, but even if she doesn't, the exposure she's been getting will certainly change her life. Continue reading to learn 10 things you didn't know about Larriah Jackson from The Voice.
1. She Started Performing When She Was just 3-Years-Old
For some people, the journey to finding what they're good at can take years, but Larriah discovered her singing abilities at a very early age. Larriah did her first performance when she was only 3-years-old and she's been going strong ever since. She told The Sacramento Observer, "Since age 3 until now, I've done over 350 performances. Probably more. We really can't count them all."
2. She's Also Done Some Acting
As someone who deeply loves performing, it doesn't come as much of a surprise that Larriah has also gotten some acting experience. She has been involved with some musical theater productions at American River College. Most notably, she was a part of their production of Hairspray.
3. She Writes Her Own Songs
She's been singing covers on The Voice, but Larriah also has some serious songwriting chops. She has already recorded two of her own original pieces, and there will likely be more where that came from. Having the ability to write music will definitely work in her favor throughout her career.
4. She's Opened For Some Well-Known Artists
Despite the fact that she's still very early on in her career, Larriah has already accomplished some pretty cool things. She's gotten the chance to open for well-known artists such as R&B singer Lyfe Jennings and gospel superstar, Yolanda Adams. It seems like only a matter of time before Larriah will have people opening for her.
5. Her Family Is Very Supportive Of Her Journey
When people decide that they want to pursue a career in the arts, it can sometimes be difficult for the people around them to accept. Larriah has been fortunate to come from a family who has supported her dreams since day one. While talking to The Sacramento Observer she said, "My mom and my grandmother, they have been there for every performance. Everything I ever wanted to do, they always said yes. The word "no" when it came to singing was not really a word. I got really really lucky to have someone who wanted to see me succeed and who wanted to see me go somewhere in life with my voice."
6. She Plans On Attending College
Lots of people in the entertainment industry decide to jump right into the professional world after finishing high school, but Larriah has other plans. She hopes to attend New York University or Juilliard where she wants to study music and continue to hone her skills.
7. She's All About Staying Humble
Once people start to see success, it can be easy for them to forget where they came from and let their ego take over. Larriah has made it a point to make sure that doesn't happen to her. She is a very humble person and was raised to be grateful and gracious in all areas of life.
8. Whitney Houston Is One Of Her Musical Inspirations
Larriah is all about carving her own path, but she has lots of respect and admiration for many of the talented singers who came before her. She cites Whitney Houston as one of her biggest inspirations. Other artists she's always looked up to include Jennifer Hudson and Michael Jackson.
9. She Has A YouTube Channel
If seeing her perform on The Voice every week simply isn't enough for you, you will be excited to know that Larriah has a YouTube channel where she has uploaded videos of herself singing. Her channel only has 94 subscribers at the moment, but being on The Voice should change that.
10. She's The Only Musical Person In Her Family
Since Larriah began singing at such an early age, lots of people may be surprised to know that she doesn't come from a musical family. In an interview with KCRA, she said that she is the only person in her family who has ever embarked on a career in the music industry.
Tell us what's wrong with this post? How could we improve it? :)
Let us improve this post!