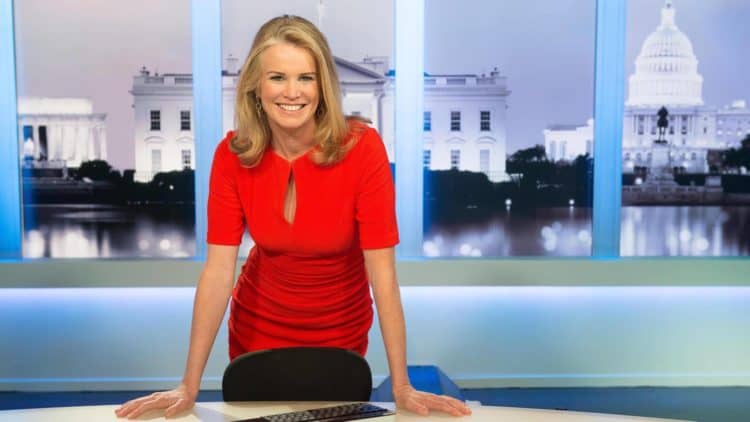 Katty Kay is originally from England, but over the years she's become known all over the world. Her work as a journalist has earned her lots of opportunities to report on some of the most interesting stories that have happened over the last 30 years. Now, after years of working with various news outlets, Katty is taking her talents to OZY Media where she will be a senior editor and executive producer. So far, there has been lots of positive feedback on the news and it looks like Katty's new journey is already off to a great start. While it may take a while for fans to get used to her not being on the BBC, the future is looking bright for Katty. Here are 10 things you didn't know about Katty Kay.
1. Her Father Was A Diplomat
Katty was born in England, but thanks to her father's job as a diplomat she got the chance to travel all over the world starting at a very young age. She lived in several countries including Morocco and Saudi Arabia. Her diverse experiences as a child have definitely played a big role in her work.
2. She Speaks Multiple Languages
When you've lived in as many places as Katty has, having the ability to speak more than one language is especially helpful. In Katty's case, being multi-lingual is also very beneficial for her career. Katty is fluent in English, French, and Italian. She also speaks a little bit of Japanese.
3. She's An Author
Reporting the news is the first thing that most people think of when Katty comes to mind, but that isn't the only thing she's done over the years. She is also an author who has co-written three books, all of which have earned spots on the New York Times Best Sellers List.
4. She Didn't Study Journalism
Consider what she does for work, a lot of people would probably guess that Katty studied journalism in college. However, that isn't the case at all. Katty attended the University of Oxford where she earned a bachelor's degree in French and Italian literature. After graduation, she briefly worked in banking.
5. She Has Had A Couple Of Acting Roles
While it doesn't appear that Katty has ever had an interest in making a career out of acting, she has dipped her toe into the acting waters. According to her IMDB page, Katty was an extra in a movie in 2009 called State of Play. That is her only official acting credit.
6. She Likes Connecting With Fans On Social Media
Like many people who work in the news industry, Katty is a pretty active Twitter user. However, she doesn't just use her platform to keep her followers up to date on the latest happenings across the world. She also enjoys using it as a way to interact with her supporters.
7. She Likes To Helping Others
Once people reach a certain level of success, it can be easy for them to forget where they came from. Katty, on the other hand, has always been interested in doing what she can to help others. For more than a decade, she has worked with the International Women's Media Foundation which is an organization dedicated to unleashing "the power of women journalists to transform the global news media".
8. She Was The Answer To A Question On Jeopardy
Katty has gotten to experience a lot of cool things over the years, one of which was having her name be used as an answer in an episode of Jeopardy. On top of that, she was also portrayed in a skit on Saturday Night Live. What's even cooler about both of these things is that they happened in the same week.
9. She's A Wife And Mother
Whoever said that it's impossible to have it all clearly hasn't met Katty. On top of having a great career, she has also built a great life at home. She has been married to Tom Carver since 1989. The couple has four children and currently lives in the Washington D.C. area.
10. She Made Some Questionable Comments About Terrorism
After the suicide bombing at the Manchester arena in 2017, people all over the world were saddened by the tragedy. Katty ruffled more than a few feathers when she declared that people in Europe were getting used to the attacks and there was nothing that could be done to fully eradicate them. Several sources added fuel to the fire by saying that Katty said that people should get used to them although her actual statement was, "Europe is getting used to attacks like this. We have to because we are never going to totally wipe this out."
Tell us what's wrong with this post? How could we improve it? :)
Let us improve this post!