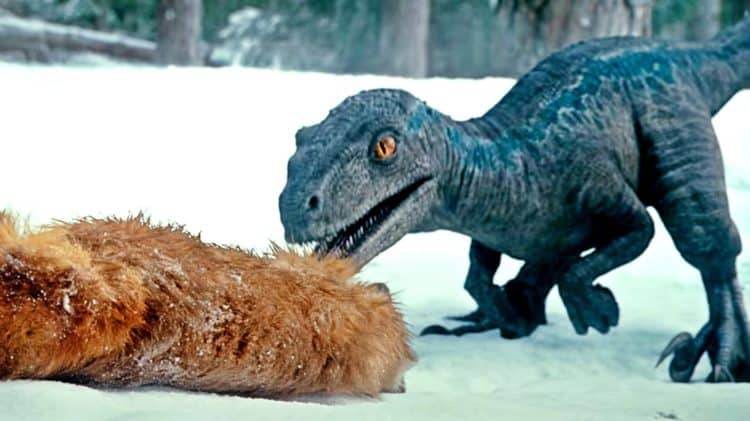 I must admit, after watching Jurassic World: Fallen Kingdom, I wasn't too excited for the third movie. There were a lot of good things to like in Fallen Kingdom, but the whole Lockwood's daughter actually being a clone twist kind of lost me. You know, that and the fact that the villain was just some money-grubbing weasel who tried to sell genetically altered dinosaurs on the black market. Boy, pretty much all those villains were irritating, so it was satisfying when they all got eaten. That means we'll never see them again and in the third movie, the biggest threat will once again be the dinosaurs. Okay, maybe that's a little too premature of an assumption, but the ending of Fallen Kingdom does make me believe that. Speaking of which, if you were already excited for the third movie, titled Jurassic World: Dominion, then you probably saw that trailer that recently dropped. I have to admit, I wasn't too pumped for Dominion before but after watching the official trailer, I am fully onboard. As of now, Jurassic World: Dominion has squeezed its way into my top ten anticipated movies of this year list. This year is packed with all kinds of big movies, but I think this one will hit home for people like me in particular.
The first Jurassic Park came out a year before I was born and shortly after it came out on video, my parents just had to show it to me. I mean, when you're a kid, you just have to be fascinated by dinosaurs. It doesn't matter what generation you're from or where you come from, the extinct race of prehistoric animals intrigues everybody. And when you're a kid, how can you not have a fantasy of interacting with dinosaurs? Heck, I'm sure some of us imagined a T-Rex chasing us. Maybe not a group of Velociraptors, because you just can't outrun those. After watching the first Jurassic Park, and on top of learning about dinosaurs in school, the movie holds a special place in my heart. Much like every other kid who grew up in the '90s, the news of Jurassic World releasing in 2015 did excite me. The movie itself was, in my opinion, very entertaining. Of course, it wasn't nearly as good as the original, but it was still a fun time to watch. That, and it was a significant improvement over Jurassic Park 3. Now that's not saying much, but I was happy the franchise came back. As a big fan of the first movie, I was one of those many fans who was anxious to see the original cast return in Jurassic World. Richard Attenborough was originally supposed to reprise his role as John Hammond in Jurassic World, but he sadly passed in 2014. The legacy of his character, however, was the driving force that inspired the formation of Jurassic World.
I just have to say, the very concept of Jurassic World confused me. So these scientist decide to mess with nature by creating genetically altered dinosaurs and showcasing them in a theme park. Sounds like fun, except when they all got loose and ate several people. Well, guess what? These guys had the brilliant idea of doing the same exact thing, but this time, they made the dinosaurs even more dangerous. You know, like giving a T-Rex arms so he could grab people before eating them. And one of the chief scientists responsible, Dr. Henry Wu, spearheaded this project, even though he had a big hand in creating the dinosaurs in Jurassic Park. On top of that, the man basically handed over the secret to creating these dinosaurs to very dangerous military organizations and was surprised when things went south. Oh, but don't worry, he managed to slip away in the last two movies. That means he'll pop up in Jurassic World: Dominion and will likely cause problems for the heroes once again. I'm sure this time, he'll get his long overdue comeuppance. And if doesn't, then he'll probably steal a formula for the dinosaurs again and give it to another bad guy in the fourth movie.
That's okay, because I think all we care about is the dinosaurs running amok in America. The trailer showed us exactly that, from seeing dinosaurs running with horses in open fields, to seeing the Mosasaurus (the fish dinosaur) tip over a boat, the human race is in serious danger of the dinosaurs once again becoming the dominant species of the planet. Will the humans learn how to co-exist with them or will they wipe out the entire human race? That's the big question will have answered for us in Jurassic World: Dominion and the best part is, the original cast will return. We got a good shot of the OG cast members and the new ones in one good shot or in other words, the money shot. Boy, the nostalgia was all kinds of glorious when doctors Alan Grant, Ellie Sattler, and Ian Malcolm showed their faces. Fans who grew up with the first Jurassic Park movie have been waiting for all three of them to reunite and now, we finally have it. That alone makes me want to see Dominion, but after actually seeing them all together in the trailer, I am seriously pumped.
I have a feeling this Jurassic World will be a big step up from Fallen Kingdom. We got the original cast coming back and Chris Pratt once again leading the charge, so what else do we need? How about the loyal raptor Blue having a baby? That was seriously unexpected, but let's just appreciate the fact that the dinosaurs actually look like the real thing this time. Check out the trailer again and you'll see some dinosaurs with feathers on them. Just go to a museum or read up on some books about actual dinosaurs and you'll discover that the real creatures actually had feathers on them. This is very interesting, as the Jurassic Park movies are finally adding in that detail. Is there a reason we are finally seeing some realistic dinosaurs? I'm sure some scientist finally decided to make them look like the real thing or maybe these dinosaurs are a result of natural birth. Either way, I'm excited to see the old and new cast encounter these creatures, especially after Chris Pratt had a James Bond-like chase scene with some raptors. Boy, there was just so many things to like in the trailer. I cannot wait. Jurassic World: Dominion comes out in early June and will likely kick off this summer's blockbusters. If you love dinosaurs and want to see some action, this movie will probably give it to you.