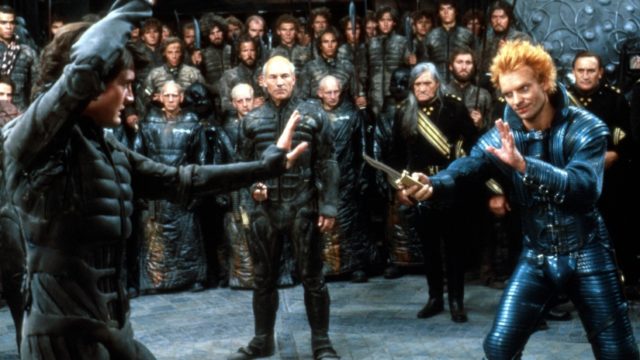 Dune is one of the most famous sci-fi novels that can be found out there, which became so popular that it went on to inspire a full-fledged franchise of the same name consisting of further novels as well as a wide range of official products. Like the name suggests, Dune is centered around the planet Dune, which is technically called Arrakis but is often called Dune because of its sand-covered surface. Said planet is the sole source of the drug called melange, which doesn't just give its users a longer lifespan, an increased awareness, and in some cases, outright prescience but is also the substance that makes safe and reliable interstellar travel possible by enabling the Spacing Guild and its Navigators.
Given the popularity of Dune, it should come as no surprise to learn that it has managed to make it way onto the screen on more than one occasion over the course of its existence. For example, there were a couple of mini-series that were broadcast on the channel that became Syfy, which met with such a positive reception that both of them managed to win Emmy Awards for their efforts. In contrast, the Dune movies have met with a much less pleasant fate, as shown by at least one spectacular failure to start filming because of what would have been a 14-hour script as well as a movie by David Lynch that was a failure from both a critical and a commercial perspective. Still, Dune is popular, so it should come as no surprise to learn that there is a Dune reboot being planned out at the moment.
Why Won't the Dune Reboot Be Based on David Lynch's Version?
For those who are curious, the current effort to make a new Dune movie is being supported by Legendary Entertainment, which picked up both the movie rights and the TV rights after Paramount Pictures put an end to its own efforts in this regard in 2011. So far, we know that Denis Villeneuve is the one who has been chosen to make the new Dune movie, which should be seen as somewhat encouraging news because the French-Canadian director is the one behind Sicario, Arrival, and Blade Runner 2049. Still, it is early in the film-making process, meaning that even the smallest morsel of information can be a feast for Dune fans who are starved for information.
Recently, Villeneuve stated that his version of Dune would not be taking cues from that of Lynch's Dune. He paid tribute to Lynch's talents as a film-maker but stated that Lynch's version was not what he had in mind when he thought of Dune, which is rather important when he is attempting to bring his mental vision of the franchise to the screen. With that said, it is entertaining to note that there is a good chance that Lynch would agree with Villeneuve's assessment, seeing as how he has distanced himself from that particular movie in the years since its release, which is perhaps understandable when it is considered to be his worst work ever.
Further Considerations
Regardless, more information about the new Dune movie is bound to come out as Villeneuve and his team continue to make progress. However, it remains to be seen whether their efforts will be able to win over the long-time core of the Dune fandom, which has been rather disgruntled in recent years because of what they consider to be the awful Dune novels written by the original author Frank Herbert's son Brian Herbert in collaboration with Kevin J. Anderson. Something that means one more obstacle that the new Dune movie will have to overcome.