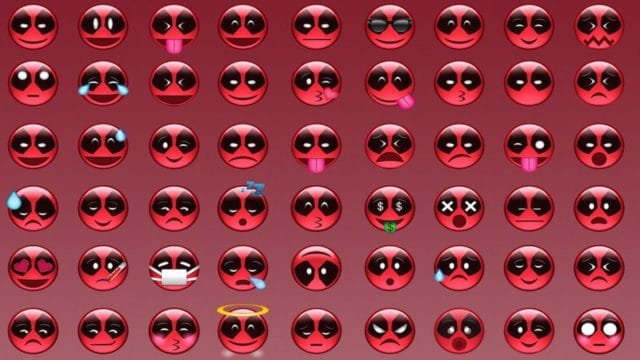 A while ago, a set of Deadpool emojis were released that were exactly what they sound like, which is to say, a set of emojis featuring said character as well as the very distinctive sense of humor that surrounds him. Given said sense of humor, Deadpool is remarkably well-suited for use in this regard, meaning that Deadpool emojis can still prove rather amusing to a lot of people out there. Something that is particularly true because Deadpool 2 is scheduled to come out soon in May of 2018.
What Are the Best Places to Get Yourself Some Deadpool Emojis?
Initially, the Deadpool emojis were made available in the usual places where people would expect to find them. For example, Android users could find them in the Google Play store, whereas iOS users could find them in the iTunes stores. Unfortunately, the Deadpool emojis don't seem to be available at those sites at this point in time, perhaps because the promotion has been over for some time. This puts people who want Deadpool emojis in a bad spot because this means that the official sources are no longer available to them. However, that doesn't mean that they won't be able to get their hands on said emojis, particularly if they are willing to put in a little bit of extra effort.
In short, there are numerous sites out there that will make apps of interest available through them. While the Deadpool emojis might no longer be available on either the Google Play store or the iTunes store, the same can't be said for a significant number of these sites. For example, a set of the Deadpool emojis for the iOS can be found on CNET, while something similar can be found on the Tom's Hardware sites as well. Meanwhile, there are a number of sites that serve as depositories for Android apps, which tend to start with APK because APK is the file format that the Android OS uses for the distribution as well as the installation of apps. As a result, if people are interested in getting a set of Deadpool emojis, they should just check out one of the sites that are suitable for the device that they are using.
Of course, there are some important things to keep in mind. For example, interested individuals need to make sure that they get the right set for the right OS, which shouldn't be a problem in most cases because said information should be available up front and center. However, interested individuals should also make sure that the site that they are getting their download from can be trusted. For example, reputable, long-standing sites such as CNet and Tom's Hardware should be trustworthy, but if people don't recognize a particular site, they might want to look up its reputation on the Internet to see whether people have had complaints about it in the past and the present. After all, it doesn't hurt to be a bit careful, particularly since people tend to use their phones for so many things that a security breach could have horrendous consequences for them.