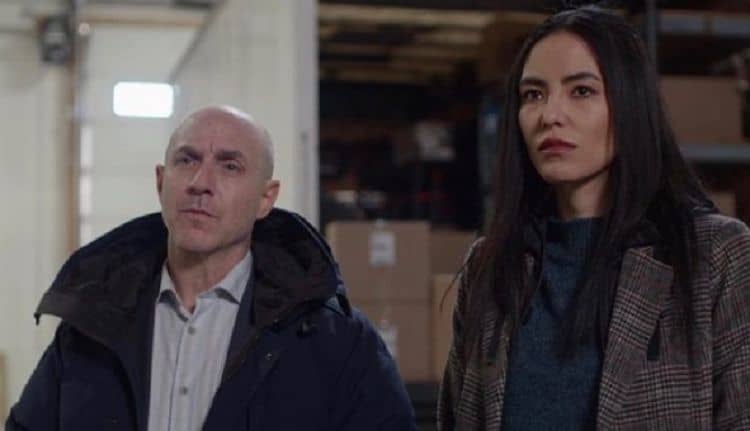 Jessica Matten is an actress. She is an activist. She is a producer. She is a CEO and a co-founder and a president, and she is so many things. Most people know that she is talented and beautiful, but how many of her fans know what she is up to when she's not in front of the camera? She may be famous for her roles in shows such as Tribal and Frontier, but she is so much more than a pretty face and a talented actress.
Her lineage and her history are so important to her. We're going to try to do right by her and explain her heritage without messing it up since it's detailed and in-depth. She is part of the Red River Metis-Cree. She is descended from the line of Cuthbert Grant, who was the first rebel leader of the Metis.
2. She is on AMC
Her claim to fame as an actress at the moment is her role on the hit show "Dark Winds," on AMC. It was slated to premiere in the fall of 2021, and it was a very highly anticipated project. It stars some seriously famous faces – we are talking about the likes of Robert Redford, here.
3. She is a Producer
When she's not busy acting, she's producing. She has a long list of things she does to add to her resume, and she is quite proud of all of them. She's a producer of a show called Tribal on the APTN network, and she also stars in it. Being able to present her own way of thinking in the way this show is produced has been such a gift for her.
4. She Has a Fitness Company
Her fitness company is focused on the Indigenous people of North America. She works to help them achieve their health goals and their life goals. Helping her own people be who they want to be both in a physical sense and in a sense of wellness has been something that's been important to her for many years, and it brings her a great deal of pleasure to do this.
5. She Works with Youth
Her other goal in life is to work with Indigenous youth. She's been doing this a long time, and it also brings her a great deal of achievement and joy. This is a project she's been working on for more than two decades, and her goal is to bring awareness to her people. There is a concern about missing and murdered Indigenous people – women, specifically – in North America, and she's been making it her goal to make her people aware.
6. She is an Activist
She's an activist. Her life is spent bringing awareness to causes that are close to her heart. She's doing this in many forms. We already mentioned that she works closely with the youth of her people to help bring awareness to murder and missing women, but she also works directly with many other groups and people to bring awareness to many other things that are important to her people.
7. She is a President
She's also the president of a company called 7 Forward Entertainment. The homebase for this company is in Canada, and it's a place that she has been working for some time. At any given moment, the company works on multiple projects in various stages of completion.
8. She is a Co-Founder
She is the co-founder of a company that is known as Herd of 1 Media. Her goal with this company is to work with the Indigenous people. She has created an Indigenous Film Academy that is both state-of-the art and something that the world has not seen before she got to work helping create this.
9. She is Very Private
She works hard, but she does not share much about her personal life. Her goal in life is to spend her time working diligently on things such as her businesses, her goals, and to help make the lives of other Indigenous people healthier and better. She's committed to making the world a better place, but she is not committed to sharing her personal life with her fans.
10. She's a Fall Baby
She might not look her age, but she was born in the fall. Her date of birth is November 30, 1985, which means she will effectively celebrate her 37th birthday close to the end of 2022. We say that like we aren't already halfway through the fifth month of the year that literally just started.