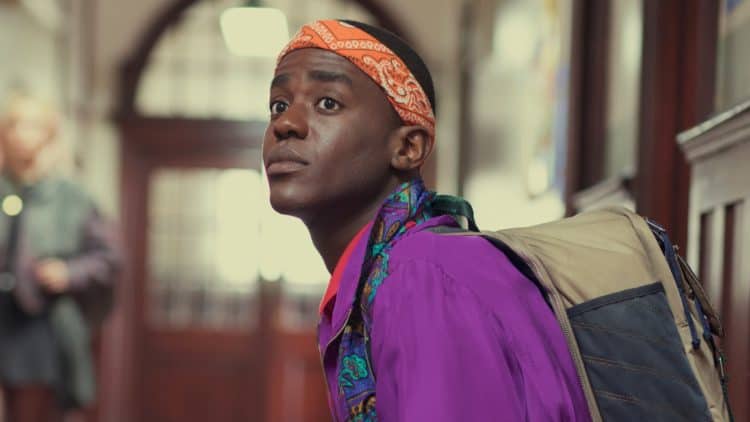 Things have been going well for Ncuti Gatwa for the last couple of years. Since being cast in Sex Education in 2019, he has gotten the chance to share his talents with the world. Being on the show has introduced him to a wide audience and his fan base has grown tremendously. However, things haven't always been easy for Ncuti and there have been many times when he's wanted to give up. Fortunately, he decided to stick with his dreams and he's finally getting the chance to enjoy the rewards of his hard work. Now, he's getting ready for a big-screen big break with the upcoming movie The Last Letter from Your Lover. Keep reading to learn 10 things you didn't know about Ncuti Gatwa.
1. He Was Born In Rwanda
Ncuti was born in an area called Nyarugenge in Rwanda. However, he has lived in the UK for almost all of his life. In an interview with Teen Vogue, Ncuti said that he "Came straight to the U.K. via Congo. And then maybe one other country and then yes, straight to the U.K. My dad started studying at Edinburgh uni [the University of Edinburgh], and so we lived in the [university's] accommodation. They had these accommodations for international families, so there was just a whole big estate with a big garden meadow in the middle. And then there were just kids from all over the world."
2. He's A Formally Trained Actor
There are lots of different paths a person can take towards becoming a professional actor, but one of the most common paths requires going to acting school. Ncuti attended the Royal Conservatoire of Scotland where he graduated with a bachelor's degree in acting in 2013.
3. He's An Award Winner
Ncuti may not have a very long acting resume just yet, but the work he's done has earned him a lot of attention. He has already won several awards including a BAFTA Scotland for Best Actor in Television. There's a very good chance he'll be taking home more awards in the years to come.
4. He's Not Into Social Media
Being on social media has become the expectation for people who work in the entertainment industry. Although Ncuti has been on social media in the past, he doesn't have any verified profiles at the moment. It's unclear if he's just taking a break or if he doesn't plan on returning at all.
5. He Isn't Afraid To Try Different Roles
There are some actors who are very selective about the roles they take and prefer to stay within a limited range of character types, but that isn't how Ncuti is approaching his career. As someone who knows how hard it can be to find opportunities, Ncuti doesn't plan on being too picky.
6. He's Been Homeless
Remember when I said that Ncuti's acting journey hasn't been an easy one? I wasn't exaggerating. Things were very tough for him before he was cast in Sex Education. According to Big Issue, Ncuti said, "For five months before Sex Education, I was couch-surfing among all my friends. I didn't have a home. I was homeless."
7. He Got Into Acting As A Teenager
There are countless actors who have cute stories about how they fell in love with acting when they were toddlers. Ncuti, however, would be considered a late bloomer to those people. He didn't develop an interest in acting until he was 17. Prior to getting into acting, he did dance for many years.
8. He Loves Food
Since the entertainment industry is so focused on certain body types, there are lots of people in the business who are afraid to admit how much they love to eat. Ncuti isn't one of those people though. He told Teen Vogue, "Food genuinely brings me so much joy. I get so happy when I have a nice meal that I'm about to tuck into."
9. He Would Love To Play A Bond Villain
As mentioned earlier, Ncuti is open to playing all kinds of different roles but there's one he would really like to do in the future. One of his dream roles is portraying a villain in a James Bond movie. He feels this would be a great chance to show that he can do more than be a sweet character.
10. He Had A Religious Upbringing
Like his character in Sex Education, Ncuti grew up in a very religious household although he hasn't gone into the specific details about what he was taught to believe. Despite his upbringing, however, Ncuti has not been involved in organized religion during his adult life.
Tell us what's wrong with this post? How could we improve it? :)
Let us improve this post!