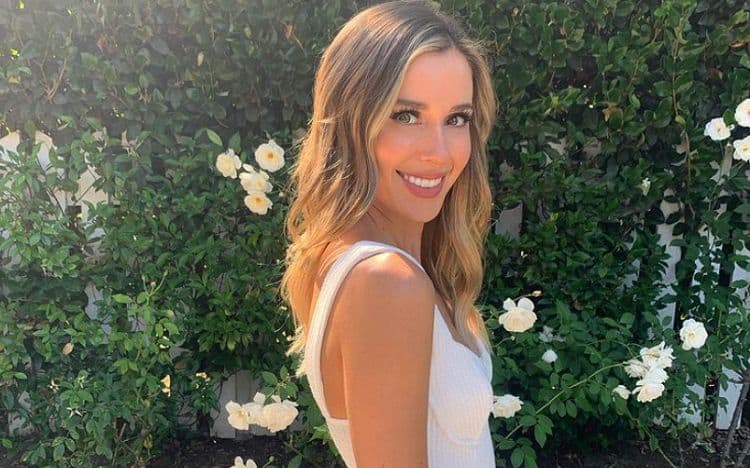 For years, Kate Gallivan has worked hard to give herself all of the things she's envisioned in life. However, there's still one thing missing: the perfect partner. Kate decided to sign up for The Bachelor so that she could possibly meet the man of her dreams. Kate's time on the show got off to a great start, and it looks like she has a solid chance at earning Clayton Echard's final rose. That said, there is still a lot more time left in the season, and The Bachelor is known for throwing curveballs. Even if Kate doesn't end up finding true love, being on the show will definitely result in lots of people sliding in her DMs. Keep reading to learn 10 things you didn't know about Kate Gallivan.
1. The Bachelor Isn't Her Only Connection To Reality TV
While it's true that The Bachelor is Kate's first time being on a reality TV show, it's not the only connection she has to a popular show. Kate is a real estate agent with The Oppenheim Group which is the brokerage featured on the popular Netflix show, Selling Sunset. If things don't work out for her on The Bachelor, she may be able to join the cast of Selling Sunset.
2. She Love To Cook
All of the foodies out there know that food is about much more than just sustenance. Food is also a way for people to connect and enjoy each other's company, and that's something Kate loves being a part of. Kate enjoys spending time in the kitchen and she loves making food for her friends and family.
3. She Is A Tennessee Native
Even though Kate has lived in the Los Angeles area for nearly a decade, she is originally from Clarksville, TN. Unfortunately, we weren't able to find any information on her upbringing but we do know that she is very proud of her roots and she still reps Tennessee to the fullest.
4. She Likes Being Outdoors
Just because Kate works a lot doesn't mean that she doesn't know how to enjoy herself. She spends lots of time outside and hiking is one of her favorite things to do. She also enjoys things like skiing and swimming. If she and Clayton are going to be a good fit, he's going to have to keep up with her.
5. She Went On A Date With Harry Styles
Apparently, Clayton Echard isn't the first big name that Kate has dated. According to her bio for The Bachelor, she once went on a date with Harry Styles. Even though a relationship never materialized between the two, she still has a pretty cool story to tell.
6. She Loves A Good Adrenaline Rush
Kate is a lot of things, but boring isn't one of them. She is someone who loves trying new things and she isn't afraid to push herself to the limit. Kate likes to do anything that gives her a rush and this is something Clayton should probably keep in mind. Instead of a simple dinner date, Kate would rather do something that gets her adrenaline pumping.
7. She's A Dog Person
The debate over whether dogs are better than cats is one that has been going on for centuries. However, Kate knows exactly which side she's on. Kate loves dogs and it appears that she has a fur baby of her own. Since we know that Clayton is also a dog person, this is an area where they can definitely connect.
8. She Likes Spending Time With Family
We don't have much information on Kate's family, but we do know that they are very important to her. Kate always looks forward to being able to spend time with her loved ones. As her time on the show continues, we will probably get to learn a little more about her family situation.
9. She Studied Journalism
Kate has plenty of brains to go along with her good looks. She attended Middle Tennessee State University where she earned a bachelor's degree in electronic media journalism. According to her LinkedIn profile, however, she has never worked in that field. All of her work experience appears to be in the real estate industry.
10. She's 32
At 32 years old, Kate is about four years older than Clayton, and she's also one of the oldest women on this season of the show. However, age doesn't seem to be a problem. In fact, being a little older might give her a slight edge over some of the other contestants because Clayton may feel like she has a better idea of what she truly wants.Clayton Echard