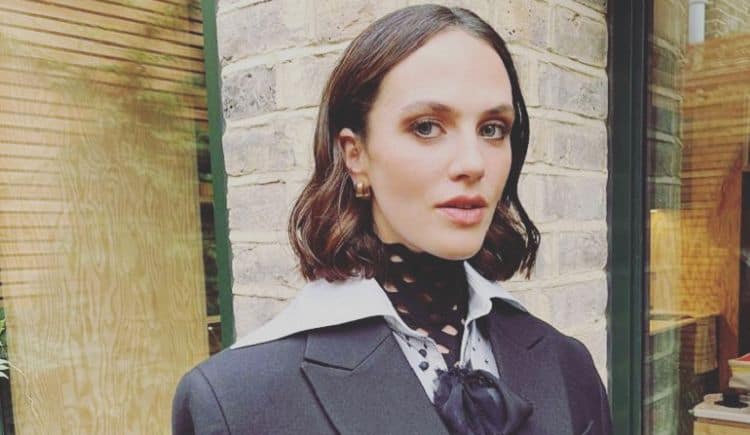 Best known for her role as Lady Sybil Crawley in the popular series Downton Abbey, Jessica Brown Findlay is truly a force to be reckoned with. She has more than a decade of experience in the entertainment industry, and during that time she has shown that she's much more than another pretty face. After leaving Downtown Abbey, she continued to work consistently and some of her more recent credits include Harlots and Brave New World. Her fans will be happy to know that she has plenty more great performances where those came from. She currently has a few projects in the pipeline, and she's excited about sharing them with the world. Keep reading to learn 10 things you didn't know about Jessica Brown Findlay.
1. She Is A Trained Dancer
The world now knows her for her work as an actress, but her journey as a performer actually started with dance. She is a trained ballet dancer who was focused on dancing for the first 19 years of her life. Unfortunately, though, she suffered an ankle injury that ended her career.
2. She's Done Voice Work
It goes without saying that Jessica's voice work is what has gotten her the most attention. As a result, some people may not realize that she is also a talented voice actress. Most notably, she was the voice of Lenore in the animated Netflix series, Castlevania. There's a good chance she will take on more voice projects in the future.
3. She Likes to Cook
For lots of people out there, cooking is nothing more than a chore that is only done out of necessity. That isn't how Jessica sees it, though. Cooking is one of her favorite ways to spend her free time. Not only does cooking give her something to look forward to (a good meal), but it's also another way for her to express her creative side.
4. She's Married
There are probably plenty of people who have Jessica at the top of their celebrity crush list, but unfortunately for them, they don't stand a chance. She has been married to Ziggy Heath since 2020. The couple has since opened up about their struggles with infertility and their IVF journey.
5. She Likes to Draw
Acting and dancing aren't the only areas of the arts that Jessica enjoys. After injuring her ankle, she went on to study fine arts at Central Saint Martin's College of Art and Design. She still loves to draw and it's pretty common for her to share images of her drawings on social media.
6. She Enjoys Spending Time Outdoors
Don't get it twisted, just because Jessica has been in the entertainment industry for many years doesn't mean that she's lost appreciation for the simple things. In fact, those seem to be the things that she appreciates the most. She loves spending time outdoors and she has lots of respect for the beauty of nature.
7. She Chose to Leave Downton Abbey
When Jessica left Downton Abbey lots of people were confused as to why. The answer, however, is actually pretty simple. According to Hello Magazine, Jessica said, "I didn't want to fall into my comfort zone too much. My contract was ending and I was unsure about signing away another year. Leaving me terrified, and that's what made me want to do it." Even though it was a scary decision at the time, things have worked out quite nicely for her.
8. She Likes to Read
We already know that Jessica loves telling stories, but she also likes to enjoy them as well. When she gets a break from work, she loves sitting down with a book and getting lost in a good story. That said, her busy schedule means that she probably doesn't get as much time to read as she'd like.
9. She Was A Waitress
Like lots of other people, Jessica worked some odd jobs before finding the right career path. When asked about her least favorite job, Jessica told The Guardian, "I used to do silver service waitressing at parties and events. The job was great, but there was constant harassment and groping from older men, and I hadn't found my voice yet. It's terrifying when you are young and you need a job."
10. She's Dealt with An Eating Disorder
Jessica has had lots of great moments in her life, but she's also had some tough times, too. While talking to the NY Daily News, Jessica said, "I've had an eating disorder since I was 14". She went on to say, "We can feed certain ideas of what beauty is and what success is. It's about learning to stand up and say, 'This is me, and that's OK'. I'm not going to be a better actor if I'm a dress size smaller. It's nothing to do with my brain."
Tell us what's wrong with this post? How could we improve it? :)
Let us improve this post!