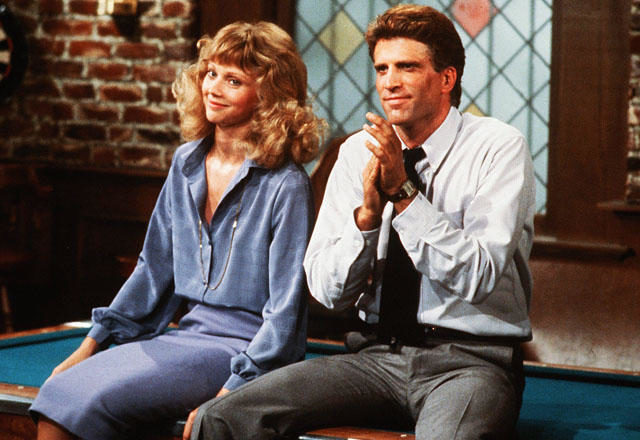 While we often relegate the vocation of a waitress to that of menial and undesired work, the truth is that being a waiter or waitress is a calling for some and the best of the best are something spectacular to watch. When it comes to fictional waitresses on television, there have been some unforgettable characters that left a lasting impression on us years after the shows left the air. Who could have ever thought a television show could be centered around a waitress and spark enough interest for shows to remain on the air for multiple seasons?
Well, below you will find our five most favorite waitresses in television history. Feel free to weigh in.
Shelley Long in Cheers
First of all, Cheers was one of the longest running shows in television history and it launched a number of actors careers into the stratosphere, including Woody Harrelson. However, one of the people that provided laughter in one of the most unique fashions, was Shelley Long. Her perspective on life and uncontaminated innocence being exposed to a bar full of jokesters created endless moments of comedic expression.
2. Rhea Perlman on Cheers
Okay, Cheers was dominant enough during its reign as the number one comedy on television to warrant two spots on the list, and second up is Rhea Perlman who played Carla on the show. Carla was the nemesis is Shelly's character and the complete opposite in every way. It was those two who gave the show its balance and reach. The two had a different type of appeal that expanded the impact that the show had on its audience.
3. Linda Lavin as Alice in Mel's Diner
If you were a kid that grew up during the 1970s, then you definitely remember the show called Alice. The characters were colorful and Mel was your stereotypical diner owner/cook. Flo and vera all seemed like they belonged there at the diner as lifers, but Alice was supposed to be just stopping by, and we all know how that can go. The show was a hit because so many people could relate to the stories and the characters. No matter what the dilemma, Alice always seemed to work things out.
4. Jennifer Aniston as Rachel Green on Friends
Again, here we have another long running show that became an American classic. The cast of friends is almost seared into the minds of millions of Americans. When it comes to famous television waitresses, one would be remiss to omit the absolutely stunning Jennifer Aniston. It was her role on Friends that literally turned her into a megastar overnight, and no one made waitressing look as goos and appealing and Jennifer Aniston.
5. Kaley Cuoco as Penny on Big Bang Theory
After Jennifer Aniston , Kaley Cuoco is another extremely gorgeous actresses that makes waitressing look awfully good. But it is not just her beauty that makes her qualified for this list. While The Big Bang Theory is not in the distant review mirror of the minds of Americans, it is already a classic, and Penny's character has given fans so much to laugh at. She definitely deserves to be on this list.
Save