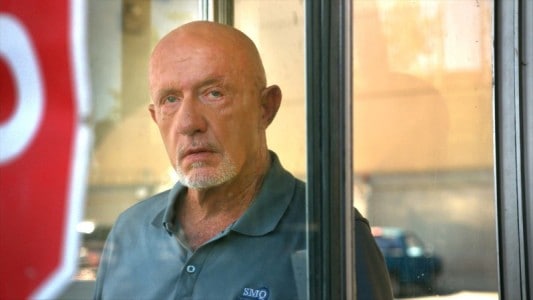 We've already seen how it ends, and more. We've seen the Cinnabon, and the garbage room, and the small house with the old television set. We've seen Mike, and the sunset, and the river; we've seen Saul's office, and the mock-up of the Constitution. We've seen all of it, and we saw it years ago.
Nobody from this Better Call Saul Albuquerque exists in the one that Saul peddles his wares. Mike is still around, sure, but he's also fundamentally different. He's not working an honest job, and committing crimes as a supplement anymore. The Mike that chose to do both is as dead as Jimmy McGill.
Howard, Chuck, Kim; Cliff, the salon, Sandpiper; Marco, Nacho, Daniel. All of these things existed here, and never intruded on the life of Saul Goodman. They were totally, completely erased. Whoever Jimmy McGill was is no longer present in Saul Goodman. There is not a shred left of a mostly-good, mostly-kind man who bent the rules. There is only the man who poisoned a child, and fled in the back of a van, and scratches his name with a nail in cinderblock walls.
How much more of this are we expected to watch? How much more can I take? Am I supposed to flinch, and hold my breath, every time Jimmy appears on screen? There is no suspense, or surprise, or drama to Jimmy's fall; only the question of he was able to blow apart his life so completely, that it's as if it never existed at all. Instead, we're forced to a watch a car crash, or a train derailment, or the slow, syrup-like fall of an airplane plummeting from the sky. Every frame, and every expression, and every hand on thigh and moments of revelation and courage and smarts and toothpaste on fingers and—
* * * *
Chuck appears, like magic, in that stupid astronaut coat. It crinkles as he sits down; it's the only genuine thing about him. He refuses the seat at the end of the table, as offered by Howard, so that he can pretend to blend in. But he took joy in the attention he was getting; how Jimmy faltered in his presence. It must've felt great; it must've felt invigorating. He'd gotten one up on Jimmy.
And then Kim puts her hand on his thigh, and Jimmy finds it somewhere inside, and he weaves a better story than the one he was telling before. Before that, he'd found a possible weak point to attack; he did that alone, in Santa Fe, and it stuck to his skin like armor. Jimmy found confidence in the touch of Kim Wexler, but she merely opened a door that had been there all along.
There was always going to be a confrontation after. Chuck calls Jimmy over, and tries to say something, anything, but then Jimmy's phone buzzes; he had never given it over, or if he had, had already retrieved it. Chuck was forced to flee, already too infirm to stand too close to his brother, and Jimmy took that weakness and jealousy that radiated off Chuck like nuclear fallout, and turned a little more of himself into the billboard that was to come.
* * * *
I leave you with my notes that I wrote as I watched, and learned, about the Hoboken Squat Cobbler:
"Art patron."
"These were videos intended… to titillate the viewer."
Dan is fully clothed in those videos.
SQUAT COBBLER?! FULL MOON MOON PIE?! BOSTON CREAM SPLAT! SIMPLE SIMON THE ASS MAN
ITS WHEN A MAN SITS IN PIE! ITS WHEN A MAN SITS IN PIE AND WIGGLES AROUND. CRY BABY SQUAT COBBLER. NOT ALL SQUATTERS CRY. THERE'S A COSTUME INVOLVED
YOURE GONNA HAVE TO MAKE A VIDEO
Summary
Mike solves a problem, Jimmy gets creative, and Nacho is paid a visit in tonight's Better Call Saul.