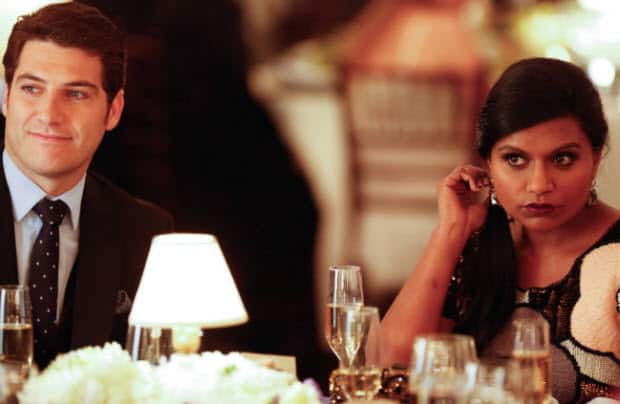 Fox recently unveiled some changes to their TV lineup. As a result of some shuffling around of shows, The Mindy Project will be put on a 3-month hiatus. I know, I am as upset as you are. We still have a few episodes left to enjoy before that times comes around like the latest outing entitled, "Wedding Crushes."
Mindy (Mindy Kaling) does not mind being single. At least that is what she is telling the mailman who has delivered a wedding invitation from Josh (Tommy Dewey). However she does have a problem that Josh s marrying a girl named Corrine. Mindy must find a date to take to the wedding so Josh does not know she is currently single. The first person she asks is Danny (Chris Messina), which makes sense since they are in love with each other and they just do not know it yet. Danny's brother Richie (Max Minghella) is visiting so he in unable to attend.
Mindy frantically searches the office for a date. Her choices are pretty slim. She could take Jeremy (Ed Weeks), who is more concerned with eating pastries or Morgan (Ike Barhinholz), who just blew his nose and took a picture of the Kleenex. Then all of a sudden an attractive young man enters the practice. Turns out it is Richie. Everyone is into him: Mindy, Tamra (Xosha Roquemore), and especially Morgan. Danny is throwing a party for his brother the same day Mindy will be attending the wedding so he won't be able to be her date either.
Mindy is getting desperate and decides to call an escort service. Upon hearing her phone call, Peter (Adam Pally) comes to her rescue. He lets her know that he is looking to meet a nice woman and Mindy agrees he can come. When he stops by the apartment to pick Mindy up, she is pleasantly surprised that he cleans up pretty nicely. It would not be an episode of The Mindy Project if we were not treated to some special guest stars. The San Diego Chargers' Shawne Merriman and the Anaheim Angels' C.J. Wilson are both guests at Josh's wedding. Shawne presents a video montage of the couple and C.J. accuses Mindy of eating all the meatballs.
To help Mindy get over her "being single blues", Peter escorts her to the empty dance floor. She quickly forgets about Josh and the wedding guests begin to crowd the floor to join the fun, just like any other TV show wedding reception. Things seem to be going great until Mindy and Josh walk in on Peter and Corinne hooking up. Now that's a twist I did not expect was coming! It is brought to light that Corinne has just got out of rehab. Josh calls Mindy pathetic for bringing Peter to the wedding and pretending they were dating.
To save Josh from humiliation, Mindy tries to take the blame for the wedding being cancelled. She alerts the crowd that she tried to seduce Josh in the bathroom and Corinne walked in. Peter verifies the story. Now everyone hates Mindy and starts to throw food at her. Mindy was right when she said she is great at ruining weddings!
At Danny's party, Richie presents him with a gift. It is a record for the Miami Vice soundtrack, a show Danny loved to watch growing up. The present is actually from Danny's father, who left when he was just 13 years old. Danny breaks the record and questions Richie about his father's intentions. Richie claims that their father wants to get to know him. Danny accuses him of being gullible, which causes Richie to storm out. Jeremy chases after Richie and mentions how excited Danny has been about Richie's visit. Richie returns to the party and the two reconcile.
On the car ride home, Peter admits that he still has not truly gotten over his ex Rebecca and that he has not slept with anyone in over a year and a half. He tells all his conquest stories to help him forget what Rebecca did to him. This side of Peter makes him a little more tolerable to watch. The episode ends with Mindy and Peter arriving at Danny's party just in time to do the limbo. What a great way to end the night after ruining a wedding and getting food thrown at you by a MLB pitcher.
[Photo via Beth Dubber/FOX]