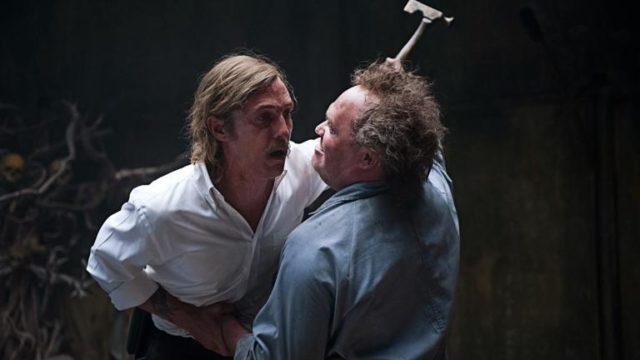 The first season of True Detective aired on HBO and by all accounts, it was one of the more interesting television shows to come along in several years. Season one featured one of Hollywood's most popular actors of all time, Matthew McConaughey, in a lead role. That was enough to make most people decide to watch the show, even if they might have otherwise tuned into something else. Today, the show has been approved for a third season but most people consider season one to be the best, hands down. Below are five of the more interesting episodes from season one, along with clips for each one.
True Detective Season 1 Episode 1 – "The Long Bright Dark"
This was actually the first episode of the entire series and it set a precedent that immediately let fans know that this was not just another police drama. In fact, many fans actually found the details of the show to be somewhat uncomfortable. The whole thing centered around a case that McConaughey's character, Rust, and his partner were working. A girl had been killed and then her body had been positioned to suggest a ritualistic killing. There's no doubt that this episode made some people turn the television to a different channel without ever looking back. However, the ones that were able to stick it out soon discovered this was one of their favorite TV shows of all time.
True Detective Season 1 Episode 2 – "Seeing Things"
If you thought things were getting weird in the first episode, they became even stranger in this one. As the second episode of the series, it served as something of a continuation of the previous episode. The whole idea of ritualistic killing becomes more obvious. It also becomes obvious that this is going to be a storyline that will likely continue throughout the entire series. This particular episode also gives fans the first glimpse into the more personal side of Rust, including the death of his daughter and the dissolution of his marriage.
True Detective Season 1 – "The Secret Fate of All Life"
This one is so complicated that it makes the other two episodes that have already been mentioned look like child's play. See if you can follow along here. Rust and his partner are hot on the trail of a suspect they think might be linked to these killings. As it turns out, they end up hot on the trail of a meth cook, thinking that this individual can lead them to the killer. They end up following their suspect into the place where the meth is being cooked, only to find two children being held against their will who are severely abused. At this point, Rust's artner loses his cool and kills the guy. Both police officers then spend the rest of the episode trying to fabricate evidence in order to make it look like they were being ambushed so no one would find out what really happened.
True Detective Season 1 Episode 6 – "Haunted Houses"
This episode deals a lot more with the personal side of things, but it's not any less complicated. In fact, this is the episode that turns what many people once considered a police drama with a little X-Files thrown in, into a full-blown soap opera on steroids. Rust's partner ends up becoming sexually involved with a person that he interviewed a few years ago, who was at the time a teenage prostitute. The next thing you know, his wife obviously wants a divorce so she decides to get Rust drunk and seduce him. By the end of the episode, the two cops are fighting right in the middle of the police station and Rust ends up quitting.
True Detective Season 1 Episode 7 – "After You've Gone"
Here, Rust and his partner are reunited although they would probably rather not be. Once again, they have new information about the ritualistic killings and this time, they think they have the evidence to figure out who's really behind it. As it turns out, it seems as though one of their very own colleagues is involved, and that he was controlling the investigation all along.