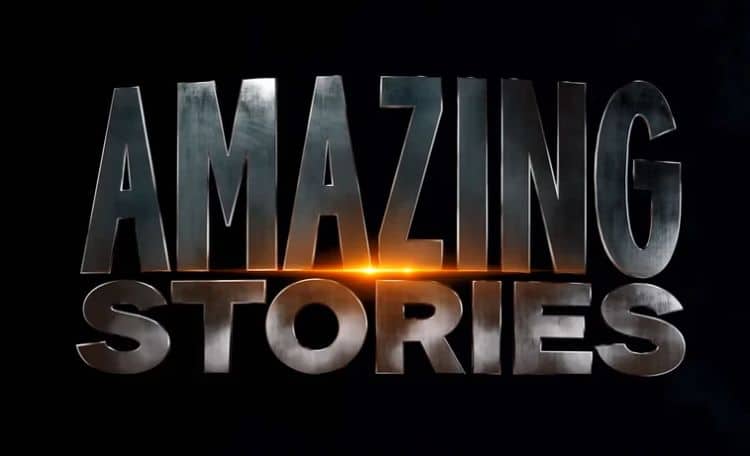 So what can we say about Amazing Stories thus far? It's a reboot of a series that emerged in the 80s, that much is obvious since it's already been stated a few times, but it was also created by Steven Spielberg, which bumps it up in the eyes of many people already since Spielberg is known to be one of the topmost leading names in the industry. This time around it appears that he'll be serving as an executive producer as the anthology series comes to Apple TV+ this coming March 6th. So far the stories look as though they're bound to be something updated thankfully and geared towards telling several stories that already look as though they'll be quite interesting and capable of keeping the attention of the audience. What little we already know is that there will be plenty of science fiction as it would appear and there might be some science fantasy within the mix as well since some of the material looks a bit fantastical in nature. The great part is that this doesn't detract from the overall look as it's already interesting enough to think of what will happen when the series is finally released. Likely as not we'll continue talking about it as each new episode comes along.
This has definitely been the era of the reboot and the remake thus far and while some have bombed out horribly others have at least had a decent showing along the way, proving that they're not such a horrible idea as they might have appeared to be in the first place. In this instance though an anthology offers up a lot of interesting directions that a story can take since with many different stories there's always a chance that something will catch the eye of a viewer and entice them to look at the rest of them. Even if they don't there's still a chance that someone will see a story and become inspired enough to write their own. There are benefits to reboots and remakes, and that's the fact that as horrible as some of them can be, they can push one person or another to come up with an even better story that can redeem an idea or make something entirely different that will be far more successful. With Amazing Stories so far it would appear that whoever is behind each story they've had plenty of inspiration and will be showing just how they've applied it in the coming weeks.
So far as Jay Peters of The Verge and many others have written we haven't gained that much detail about the show other than the trailer, which is already showing us that the show will be taking on stories that span a couple of different genres at least, and will be looking to entertain fans in a variety of ways. It's refreshing really to watch an anthology show since it allows a person to pretend that they're watching a mini-movie each time they tune in, and it's also exciting since there's always the possibility that one episode or another might actually kick off something that could exist on its own. We'll have to wait and see just how the stories pan out to decide whether or not to call for another series or movie however, but just looking at the trailer it's a hope that something will come of it, as stories tend to come from just about anywhere and ideas can emerge from even the most innocuous source. Some might say that Black Mirror has been one of the best anthology series as of late and they wouldn't be wrong, but given that Black Mirror has an obvious and very common theme among its many episodes, it's likely that Amazing Stories might be just different enough that it won't be comparable when putting the two side by side. In fact it's already fair to say that the two won't be able to be pit against each other since Amazing Stories is already far more diverse and isn't as bound to follow one them as Black Mirror did. While both of them are great as anthologies, and both will have featured great and very impressive casts, Amazing Stories is bound to have a much different feel that doesn't focus primarily on techno-paranoia and will explore the world of each story with a very different look.
In a sense it's almost as though the title of Spielberg's idea has been transplanted from the earlier series to this one, though time will certainly tell if there's any real similarity between the original and the reboot. Likely as not those that managed to watch the original will see many similarities, but for those that were too young to remember or never watched the original, this will appear as a new and highly engaging series.